The Louvre's New Islamic Galleries Honor Rich Artistic History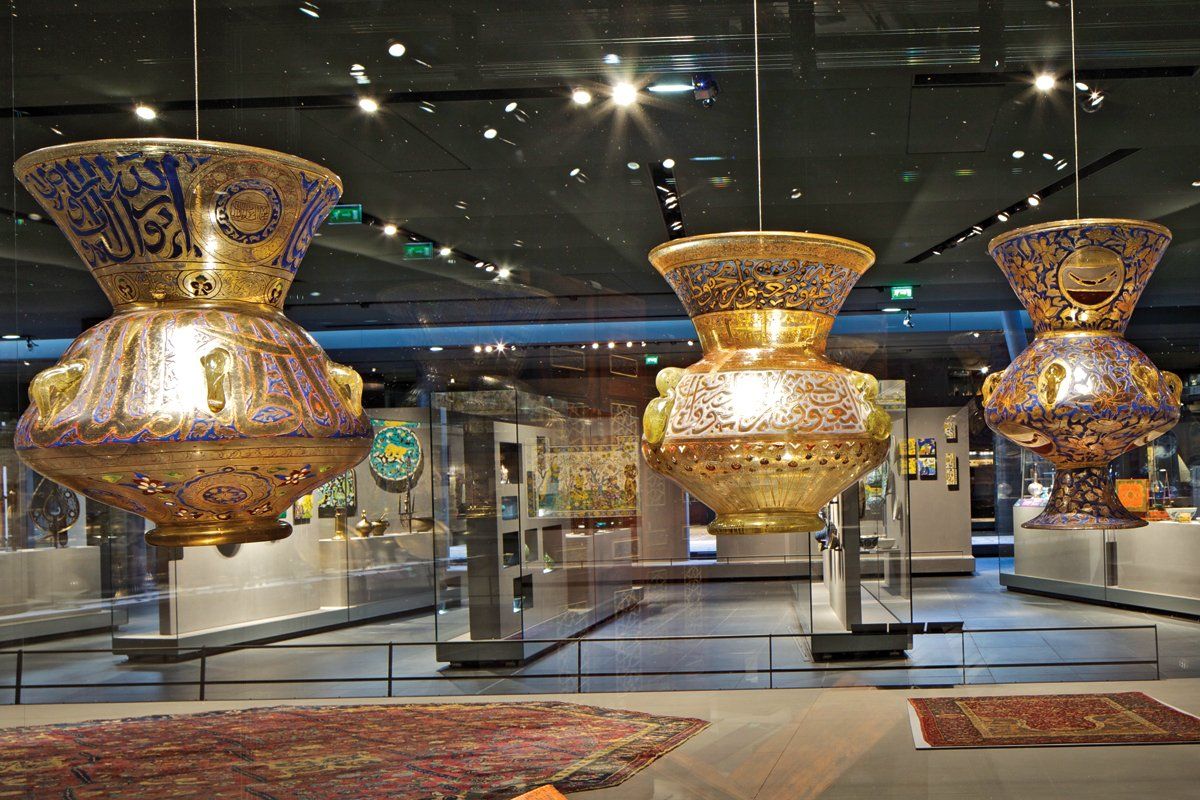 The spectacular new Islamic Art wing of the Louvre opened to the public in Paris on Sept. 22, amid violent global protests over an ugly anti-Muslim film and the publication of crude new Muhammad cartoons by a French satirical newspaper. The museum's elegant new galleries—a $126 million undertaking a decade in the making—might have wished for a softer prelude. But to the Louvre's credit, it hasn't been coy about the exhibit's raison d'être. Louvre director Henri Loyrette has touted "this grand project at once artistic and political in the noblest sense of the term." As a matter of fact, Islamic art at the Louvre has always been precisely about timing.
After decades in the shadows, one of the world's most beautiful collections of Islamic art now has pride of place at the world's most visited museum. In the Louvre's 18th-century Visconti courtyard—on the Seine River side of the former royal palace—a modern architectural marvel purpose-built for the new 2,800-square-meter galleries undulates, its mesh canopy of 2,350 golden triangles held aloft by eight sloping posts. Dreamed up by architects Rudy Ricciotti and Mario Bellini, the roof is likened to a Bedouin tent, a flying carpet, a dragonfly's wing, a sandy dune, or a veil, fluttering in the wind, shimmering gossamer. It is the most radical annex to the Louvre since I.M. Pei's once-reviled, now-beloved glass pyramid in 1989.
Beneath the canopy, a sweeping, encyclopedic review of Islamic civilization, from the seventh-century dawn of Islam and its empires up to the early 19th century, and across three continents, from Spain to India. Nearly 3,000 pieces feature from the Louvre's 15,000-item collection, alongside 3,400 more from the museum's partner, the Musée des Arts Décoratifs: ceramics, glassware, and carpets; architectural accents; colorful miniatures; sculpted ivory and jade; magnificent inlaid metalwork, brass surfaces saturated with dramatic battles, animals, and calligraphy.
A point is made here to showcase Islam as a civilization, not narrowly as a religion. Most of the objects are secular, some made by or for Christians and Jews, speaking to a long, vast cultural conversation in many languages. Here, the 10th-century Al-Mughira Pyxis—a round ivory casket 16 centimeters high, a masterpiece from Córdoba carved in intricate high-relief scenes. There, a 17th-century Mughal, India, dagger—its jade horse-head hilt, its rein in rubies, emeralds, and gold, on a blade of Damascus steel. From Iran, an astronomer's celestial globe dated 1144, brass with stars inlaid in silver, is an ode to technical prowess. A wall of 572 Ottoman tiles is a fireworks feast in reds and blues.
Many are long-neglected treasures with extraordinary stories. A dizzyingly complex vaulted limestone vestibule from 15th-century Mamluk, Egypt, stands reassembled, 300 stones in two-tone bronze and cream. It had been shipped to France in pieces to feature in the 1889 World's Fair—the one that debuted the Eiffel Tower—on a replica of a Cairo street in Paris. But reassembly proved too complicated and the stones lay forgotten in boxes until 2004.
Indeed, the broad new wing finally gives permanent display to objects that idled in museum reserves for decades, vying for space, subject to the vagaries of French tastes and relations with the Islamic world. Some pieces hail from royal collections annexed at the French Revolution, among the new museum's very first objects in 1793. The so-called Baptistère de Saint Louis, a richly figurative brass Mamluk basin inlaid with gold and silver from 14th-century Syria or Egypt, was used to baptize the French King Louis XIII. The Louvre's "Muslim Arts" section debuted in 1893 and was deluged with bequests a century ago.
But after France's North African colonies gained independence, interest in Islamic art waned. Between the late 1970s and early 1990s, pieces representing a civilization that gave the world the Alhambra, the Taj Mahal, and wonders in between had virtually vanished from the Louvre's venerable halls. When Henri Loyrette began as director—as it happens, in 2001—he found on display only a tenth of the collection, limited to smaller pieces, and vowed to give it standing worthy of its splendor.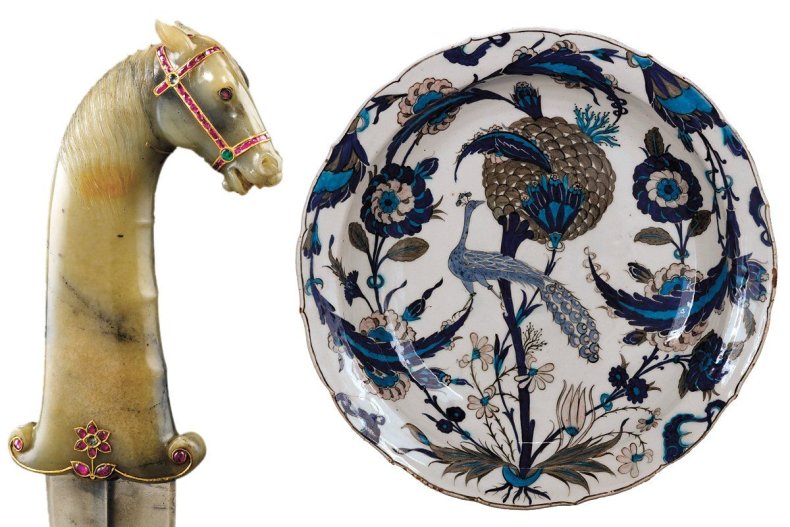 In fact, for all the recent tumult that paralleled the new Islamic Art galleries' opening, the project originated at a time arguably far more dramatic and hardly by coincidence. French President Jacques Chirac first called for a new Islamic Art department at the Louvre on Oct. 14, 2002. "It will confirm the universal calling of this prestigious institution," he said. "And it will remind the French and the world of the essential contribution the civilizations of Islam have made to our culture."
Only two days earlier, on Oct. 12, an Islamist bombing in Bali had killed 202 people, mostly Western tourists. And only two days after Chirac's Louvre proposal, as tensions mounted over weapons inspections in Iraq, he was in Egypt for the opening of the modern version of the ancient Great Library of Alexandria. He would echo the same language, calling the new library "an important element for the dialogue of civilizations—a dialogue that we clearly see today, in the tensions of the world, how essential it is and how much it must be privileged." Seconds later, Chirac would draw global attention by insinuating that France might use its United Nations Security Council veto to stop a war with Iraq.
Ten years and two presidents on, François Hollande, inaugurating the new wing last month, called it "a political gesture in the service of harmony, respect, and peace." He riffed on current events, blasting the "unfathomable stupidity" of the desecration of historic mausoleums in Timbuktu by Islamic extremists. And he declared, "the honor of Islamic civilizations is to be older, more alive, and more tolerant than some of those who abusively claim today to speak in their name." The thought dovetailed curator Sophie Makariou's exhibit introduction, in which she wrote about "giving Islam its grandeur back and not leaving it to the jihadists and those who sully it."
Judging from the mass of donations, the effort to give Islamic art a vast permanent place at the Louvre thrives at the validating crossroads between promoting understanding and conferring prestige. The new wing was the Louvre's largest patronage operation ever, with donors footing over half of the bill. First among a broad show of foreign largesse, the Saudi prince Alwaleed bin Talal ($22 million), with Morocco's King Mohammed VI, Kuwait, Oman, and Azerbaijan combining for another $33 million. (It bears noting that the Louvre's pending Abu Dhabi branch, designed by star architect Jean Nouvel, is entirely separate. That project, a 30-year deal worth $1.3 billion for France, is slated to open in 2015.)
Peace, love, and understanding can't be asked of any exhibit. But quixotic pretensions to it aren't unwelcome. And the Louvre's soft power role is real, with a record 8.8 million visitors last year, two-thirds of them foreigners, half of them under 30. In the hum of visitors discovering the new galleries, audio snippets of poetry in Arabic, Persian, and Turkish float up from elegant black stands. One, from the Ottoman poet Ahmud 'Abd al-Baqi's Diwan, asks, "Are you of Adam's race? If so, rancour has no place in your breast—leave grudges to the panther."