Demi Lovato's nonbinary announcement Wednesday came "after a lot of healing and self-reflective work," said the pop singer, who will now be using the pronouns "they/them." Lovato noted that they are "proud" to share the news with fans through a video and posts shared on social media.
Attentive fans, though, are likely not too surprised by the news. Lovato has been more and more forthcoming about their sexuality and has said before they do not hold heteronormative views.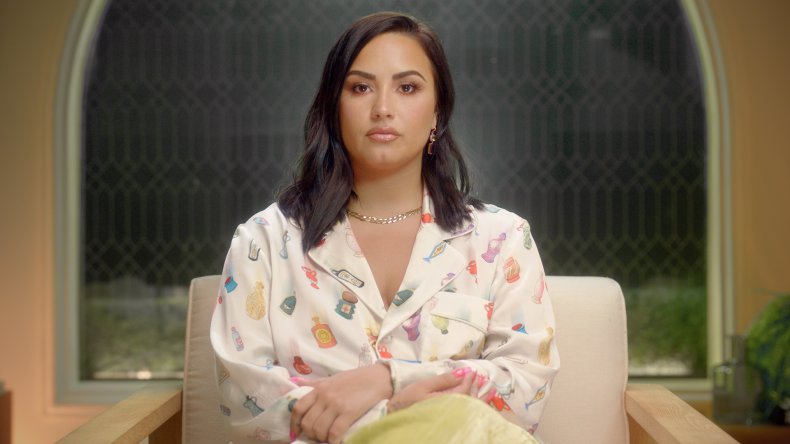 Lovato's Twitter post included a note with the video. It read: "Every day we wake up, we are given another opportunity & chance to be who we want & wish to be. I've spent the majority of my life growing in front of all of you...you've seen the good, the bad, & everything in between."
The singer added in the video, "I feel that this best represents the fluidity I feel in my gender expression, and allows me to feel most authentic and true to the person I both know I am and still am discovering."
This isn't the first time Lovato has said she was fluid. On a March 27 episode of Joe Rogan's podcast, the singer discussed their sexuality while explaining that they were interested in adopting children one day.
"I also don't know if I'm going to end up with a guy, so I can't really see myself getting pregnant," Lovato told Rogan. "I don't know. I'm so fluid now, and part of the reason why I am so fluid is because I was, like, super closeted off."
Rogan asked, "You mean like sexually fluid? You like girls, you like boys?"
"Yeah, anything really," Lovato replied.
"What do they call that, pansexual or something like that?" Rogan asked.
"Yeah, pansexual," Lovato said and confirmed that's how they identified at that time.
Before that podcast interview, Lovato had recently spoken with Glamour magazine. In an interview that was published March 11, they said at that time they felt "too queer" to be with a cisgender man.
"When I started getting older, I started realizing how queer I really am," Lovato told Glamour. "This past year I was engaged to a man, and when it didn't work, I was, like, This is a huge sign.
"I thought I was going to spend my life with someone. Now that I wasn't going to, I felt this sense of relief that I could live my truth."
Lovato also spoke with Entertainment Weekly in a story that was published online on March 25, citing a need to break away from the social tradition of patriarchy as the reason for the broken engagement. They noted at that time, "I find that I like living not in chaos or crisis but in fluidity."
Lovato, who was born in Texas, added, "Gender norms and sexuality norms aside, I kind of felt a prisoner to my entire career and childhood growing up in the South and Christian."
Earlier in the year, the "Sorry Not Sorry" hitmaker also spoke out against gender reveal parties. On February 24, the 28-year-old reposted a message on Instagram from transgender rights activist Alok Vaid-Menon, who called the parties "transphobic."
"Thank you for sharing your knowledge and educating us always," Lovato wrote in their post. Vaid-Menon's original post that was shared read: "This is not about being politically correct, it's about being correct. The refusal to acknowledge this stems from a misunderstanding of what transphobia is."
Over the years, there have been other recent public moments that pointed toward Lovato's journey through sexuality. These include their 2014 video for the single "Really Don't Care," which was filmed on a float during the Los Angeles Pride parade, and the bi-curious lyrics for the 2015 single "Cool for the Summer."
Lovato also recently shared their personal struggles in the four-part YouTube documentary Dancing With the Devil, which premiered March 23. In it, they discuss a near-fatal drug overdose in 2018 in great detail.
"My doctors said that I had five to 10 more minutes," Lovato says about the overdose in the documentary.
On Wednesday, in one of several follow-up tweets to their original post, Lovato wrote: "I'm doing this for those out there that haven't been able to share who they truly are with their loved ones. Please keep living in your truths & know I am sending so much love your way."