Love and Other Drugs: Confessions of a Viagra Salesman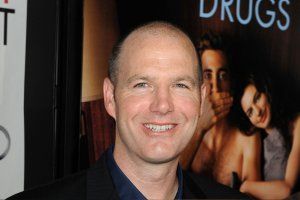 The answer is yes. The Viagra salesman has taken Viagra, even though he was only in his 20s at the time.
Jamie Reidy was an English major at Notre Dame who knew so little about science, he dropped out of chemistry because he was failing. He enrolled in the Army, then in the 1990s landed a job at Pfizer peddling Viagra. His book, Hard Sell: The Evolution of a Viagra Salesman, has been adapted into a new film, Love and Other Drugs, starring Jake Gyllenhaal. Reidy spoke to NEWSWEEK's Ramin Setoodeh about the ups and downs—and ups—of his career.
How did you get this job?
I was in ROTC when I was in college, and I spent thee years in active duty. I had one interview with Pfizer—boom—I had a job. Pfizer loves the three m's: military, minorities, and Mormons.
Why Mormons?
The logic goes, if you can sell religion in a foreign country, you can sell anything.
What did Pfizer think about Viagra when they first unveiled it?
They undersold it. They thought it was going to be big for a specific type of male patient, those diagnosed with erectile dysfunction. Pfizer was really nervous about selling outside the FDA's parameters, because they thought the big money was going to be in Viagra for women.
What went wrong?
With a man, you know if it works or not; it's pretty obvious. With women, you couldn't pin down one type of sexual dysfunction. Some women said, "I've never had an orgasm." Others said, "I've only had two orgasms." Other women didn't get enough lubrication. The scientists said, "Forget it!"
So you went back to marketing it to more men. Who was the target audience?
I had a urologist pull me aside and say, You know who your target audience is: guys who are 45. It's not like how it was when you were 18, and they want to get it back. He's right. If you look at any commercial for Viagra, the guys don't look 60. It's pretty transparent what they're trying to do.
Do these men want to have sex with their wives or their mistresses?
Anecdotally, we heard so many stories about guys begging for the drug. Urologists would discern they weren't this excited about having sex with their wives. On the flip side, I heard stories about husbands and wives sitting in front of the urologist. The urologist says, "Why are we here today?" The man says, "I have no idea." The woman elbows him and says, "We're here for the Viagra. We need to get this straightened out." No pun intended. That's a common problem when you discuss Viagra. Every sentence is a double entendre.
Did you ever take Viagra yourself?
Yeah. Come on. How could I ever sell a drug that I didn't try out? Of course, I never took Zoloft. I never took Diflucan for yeast infections either. Viagra is fantastic after one of those 13-tequila nights. That's a huge other market—recreational use for people in the party scene. I was once at a conference near San Francisco. One of the doctors asked if it could be used with poppers—an amyl nitrite, is the chemical term. Poppers are really big in the gay community. I said, no! Pfizer also discourages use with heroin and cocaine. We are not touting the combination with illegal drugs.
What are some of the side effects?
The three most common were headache, flushing in your face, and congestion. The cooler side effect was blue-green vision.
Blue-green vision?
About 3 percent would get a blue-green tint in their eye. If I was selling an antihistamine, doctors would not be cool with that. But because it was a little blue pill and it's about sex, the green tint was cool. They thought it was trippy.
What about the four-hour erection?
Every guy who I've ever been around says if he had a four-hour erection, he'd call everyone he knew. But that's actually really dangerous.
Why?
When the muscles get locked like that, it can cause irreparable damage. Guys have to get it drained.
That sounds painful.
Oh, I imagine it is.
Is the movie faithful to your book?
My book is definitely the jumping-off point. I think they captured the lighthearted spirit. Jake's character had an arc, which I didn't have at all. I was the same jackass at the end.
I'm sorry to say I haven't read the book—was there a love interest?
There is not. Don't worry about not having read it. My mom hasn't finished it. She thought I gave away too many family secrets and stopped reading on page 17. I left out any love interest, or crazy sex stories with nurses, because I thought my mom was going to read it. All my buddies were like, "Dude, what about that crazy nurse in Merced?"
What crazy nurse?
She was insane. Let's say when Shakespeare in Love won the Oscar, that was the best movie I didn't see all year.
I'm not following this story.
We were the only two people in the theater. She said, "Let's do bad things."
That doesn't seem so crazy to me.
You're living a charmed life, then, my friend. To me, that was craaaaaazy. But if people think I had all the sex that Jake had in the movie, well, people will think what they want to think.
Ramin Setoodeh is a senior writer at NEWSWEEK who covers movies and pop culture. Follow him on Twitter.