Love Is Blind: After the Altar is streaming on Netflix now. The three individual episodes see the Love is Blind cast reunite to celebrate couples Lauren Speed and Cameron Hamilton and Matt Barnett and Amber Pike's two-year anniversary.
The Hamilton's and the Barnett's are the only two couples still officially together since Love is Blind aired in early 2020, which saw 30 men and women speed-date for 10 days, getting to know each other but never seeing each other during their dates.
So what happens when all of the contestants get together in the same space two years after everything unfolded?
Newsweek has everything you have to know about the reunion and who is still together.
Part 1: Two Years Later
Part one of the Love is Blind: After the Altar reunion caught up with each of the contestants, as couples who are still together and as an individual.
As expected, Lauren and Cameron are still happily married alongside Matt and Amber.
Damian Powers and Giannina Milady Gibelli are still dating and have been for the past two years but things seem unofficial between the pair.
To begin with, Damian and Giannina's relationship got off to a rocky start, after Damian rejected her at the altar. Two years later, the pair seem to be taking things slowly but at this point, nobody knows why.
One of the most jaw-dropping moments of part one was when Damian asked his friend Francesca Farago, from Netflix's Too Hot to Handle, about the reunion party which Giannina was also attending.
Puzzled about the status of their relationship, Francesca asked whether she was going as his date or as a friend, to which Damian replied: "We will go as friends and see where the night goes."
Just months before the reunion, Damian and Francesca were snapped by paparazzi linking arms they let L.A. restaurant, Eveleigh.
In a statement to E! News, Damian insisted they were "not dating or romantically involved but remain friends."
He explained he and Jessica share the same attorney and had been out for dinner with friends. He said Jessica had held onto him in "an attempt to shield herself from the paparazzi as [their] entire group entered the car."
Elsewhere in the first episode, it was revealed Mark Cuevas and his new girlfriend were having a baby.
His two former flames Lauren 'LC' Chamblin and ex-fiancé Jessica Batten were reunited over lunch, where they shared their experiences with Mark and how they dealt with allegations he had cheated on them.
Episode 2: Married, Single and It's Complicated
Episode 2 of Love is Blind: After the Altar brought the first argument of the reunion.
LC sat down with Diamond and Amber to discuss what happened with Love is Blind co-star Mark Cuevas when the show ended in February 2020.
LC dated Jessica's ex-fiancé, Mark, for six weeks beginning in May 2020 but things didn't work out.
From LC's point of view, the pair were exclusively dating because of the outbreak of COVID-19 but in Mark's opinion, this was not the case.
LC found out about Mark's new girlfriend on a Reddit post titled "My close friend's co-worker is dating Mark!!"
In the post, a Reddit user had shared a picture of what appeared to be Cuevas on a date with another woman.
"This is awkward because I live in Atlanta and I've been dating mark since the beginning of May....," LC commented. "Oh, and btw, this is LC from Love is Blind. Feel free to DM me on Instagram if you would like more information!"
LC added she had broken up with Mark and thanked the user for saving her from "dating another liar."
In a statement to PEOPLE, LC said: "Mark and I were casually dating, but talked about remaining exclusive, especially because of Covid-19, but that's over now."
Mark denied to PEOPLE he was in an exclusive relationship with LC while they were together. He said: "I enjoyed spending time with LC for a few weeks, but at no point were we in an exclusive relationship, as LC confirmed herself. I wish her the absolute best."
At the Love is Blind: After the Altar reunion, Amber attempts to defend Mark's actions and Diamond tries to stick up for her friend LC. The argument goes round in circles, with LC and Diamond eventually walking away.
In Amber's words, "Mark is a different person now" and he did not attend the reunion. His girlfriend, Aubrey Rainey recently gave birth to their son.
Newsweek has approached Netflix for comment.
Elsewhere in Episode 2 of the reunion, Diamond showed up with her new man and it was revealed Amber was diagnosed with epilepsy.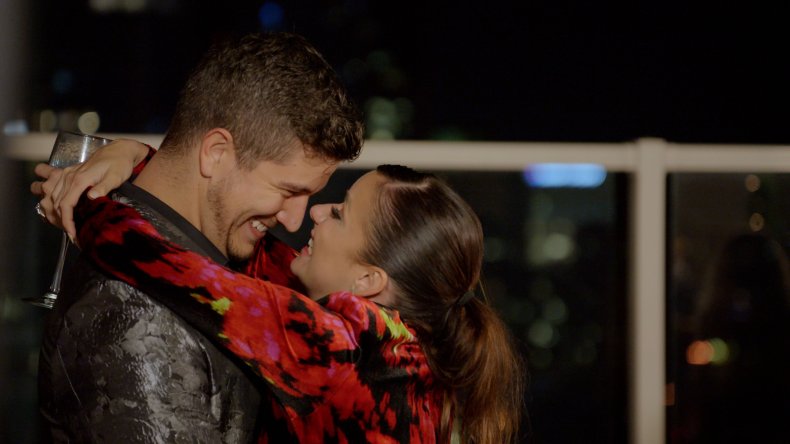 Episode 3: Celebrations and Confrontations
Yes, Damian really did have the nerve to invite Francesca to the reunion and she was brave enough to show up.
One thing is for sure, Damian's girlfriend Giannina was not happy about it at all, and eventually approached the pair for a chat about their friendship. She even warned Francesa not to try and date her man, exclaiming "you messed with the wrong b****".
Damian hovered in the background at first, buying shots for the trio and insisting he and Francesca were just friends, but when Giannina asked if they were "dating", both Francesca and Damian did not deny it, despite their claims they were "just friends."
Francesca took control of the situation and left the party, telling Damian he should have been more "upfront" with her about the fact he and Giannina were still together.
As the reunion drew to a close, Giannina also confronted Damian on his behaviour and his relationship with Francesca.
Thankfully, he apologized but Giannina confessed she could no longer trust him, causing him to walk out of the party.
As for the future, Damian remained hopeful but whether they are still together or not remains unknown.
Elsewhere, there was a spot of drama between Amber, Matt, and Jessica. In the original Love is Blind, Jessica, Amber and Matt were part of a love triangle, with Matt flirting heavily with them both during the "pod-stage."
In the end, Matt chose to be with Amber and Jessica gave Mark a chance at marriage. It all looked like everybody had eventually moved on after Jessica asked Mark if he was sure about his relationship with Amber during a trip to Mexico before their respective weddings.
However, at the most recent reunion, it appears not to be the case.
Jessica approached Matt with an anniversary gift for him and Amber, which he reluctantly accepted, before running off to his wife Amber, leaving the gift in Jessica's hands.
Apologizing to Jessica, he said: "I'm not allowed" suggesting Amber has laid down the law on their contact with Jessica, after all, the married couple have blocked her on Instagram.
At the After the Altar reunion, Amber is heard telling her husband Jessica is "not a part of their world" and will not be accepting fake apologies, leaving Jessica standing with her gift of two Tiffany glasses in her hands.
Love is Blind: After the Altar is streaming on Netflix now.
Correction 07/29/21, 9:25 a.m. ET: Contestants names have been amended in this article.