'Love Is Blind': Are Rumeal and Diamond Still Dating?
Love is Blind: After the Altar is now streaming on Netflix. The three-part reunion special sees the original cast of Love is Blind get together two years after filming ended to celebrate the anniversaries of Cameron and Lauren Speed-Hamilton, and Matt and Amber Barnett, the only two couples still married from the original series.
Many of the show's original contestants turned up solo to the reunion, but Diamond Jack brought Rumeal as her date to the party but sadly, things did not go as smoothly as Diamond hoped.
Are Rumeal and Diamond Still Dating?
In Episode 1 of Love is Blind: After the Altar, Diamond was set up on a blind date with Rumeal by close-friend and former Love is Blind contestant Ebony Alexis.
The pair instantly hit it off and things looked semi-promising for the pair, but sadly, it does not seem like it was meant to be.
If the events of the reunion party and social media are anything to go by, Rumeal and Diamond are not still dating and have called it quits on their romance.
In her talking head following the reunion party, Diamond said: "Unfortunately, not everything went well with Rumeal and me. I thought tonight was going to be amazing, maybe end it with a nice kiss. Maybe end it with a future with Rumeal. But it's not like that.
"It's extremely hard to find a good quality man. Honestly. The keyword is 'quality'.
"I've been searching high and low. I've literally followed every rule in the rule book of how to find a man, and it's just devastating to me that I'm still single over 30 right now."
At the moment, they both do not follow each other on Instagram and Ebony also does not seem to follow her boyfriend's friend.
Unfortunately, very little is known about Rumeal but judging by his Instagram, he is involved in the Atlanta nightlife with his feed featuring lots of videos and pictures of him partying.
Rumeal did accompany Diamond to the party but things turned sour between the pair when Rumeal decided to leave the party early.
During the party, Diamond revealed to her co-stars she and Rumeal had not spoken in the days leading up to the party and she had to send him a message the day of the event to find out whether he would be attending.
Surprisingly, Rumeal decided to show up but spoke very few words to Diamond and spent most of the night sitting around on his phone.
During the party, he told his friend Ebony he had no interest in getting to know the rest of the Love is Blind cast and admitted he would rather be on his phone and chat with his friend Brett.
He said: "I'ma chill at the bar, with my phone, talk to my man Brett. It's probably gonna look bad."
Rumeal continued: "I don't see myself, 'Hey, what y'all talking about?' You know? I don't give a f***."
He eventually left the party early alone and Diamond watched on as he exited to the elevator and down, out of the building.
Immediately afterward, Diamond broke down in tears, telling Ebony "I don't like your friend. He said, 'I'm ready to go. I do not want to be here.' He's clearly not having a good time."
Through tears, Diamond told Ebony: "And he don't wanna be here so I mean, it hurts."
She went on to say how "hurtful" Rumeal's behaviour was. "To hear him say, 'D don't want to be here. I'm ready to go' Like, wow." she said.
"The crazy part is the fact that I haven't spoken to him since Sunday. I thought that was very strange. I was literally looking at my phone like, 'Damn, is he gonna text me? What's up?' Most guys who are interested, they message. After speaking with you, you said he was interested. So I just knew he was gonna contact me or hit me up but that never happened. I had to message him today. I think if I had never messaged him, he would've never reached out."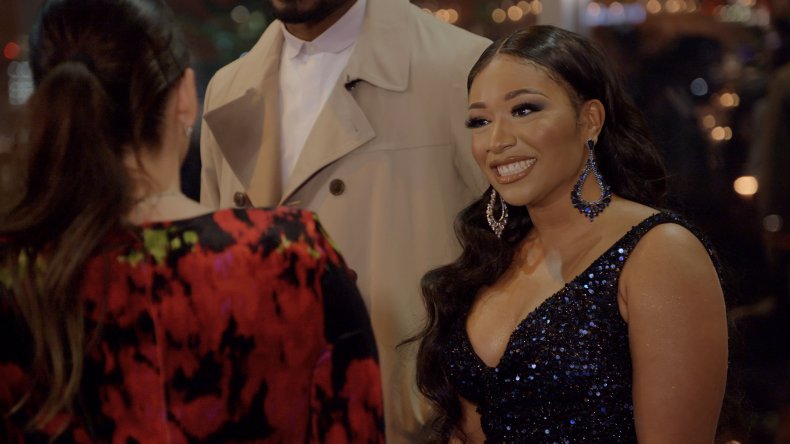 What Happened Between Diamond and Carlton Morton On 'Love is Blind'?
In the original Love is Blind, Diamond was engaged to Carlton Morton. However, the pair went their separate ways after the Love is Blind post-pod trip to Mexico.
They had a huge argument after Carlton came out as bisexual after their engagement. Diamond asked him a few questions about his sexuality but Carlton shut her down, leading Diamond to concede she had felt misled by Carlton.
Things only got worse for the couple, with Carlton calling her "ignorant" and telling her "This is why I don't deal with b****** like you."
The argument culminated in Diamond launching her engagement ring into the pool and storming off, quoting Beyonce's "Don't Hurt Yourself."
Speaking in an interview with PEOPLE Magazine in February 2020 after the first series aired, Diamond admitted she would have handled the situation differently.
She said: "I would change the approach of it. I was trying to be very understanding, but I had questions because I've never been with a bisexual man.
"I don't really know that community that well, but I respect the community. I love the community. I just had questions."
At the first Love is Blind reunion, Carlton got down on one knee and apologized to Diamond. He said: "I hope that you take this ring again as a significant piece of our friendship and the start of something beautiful without any type of plan."
Diamond responded: "I do accept your apology, and I forgive you", but the pair never rekindled their romance and they did not even cross paths at the Love is Blind: After the Altar reunion.
Diamond's Love is Blind journey may have not gone to plan but outside of the dating world, she is thriving, running her own clothing business, The Lady Box and studying for a Ph.D. in optometry.
Love is Blind: After the Altar is streaming on Netflix now.