'Love Is Blind: Are Francesca Farago and Damian Powers Dating?
Love is Blind: After the Altar saw the original Love is Blind contestants reunite, two years after they filmed the original series. The contestants were also celebrating the two-year anniversary of Lauren Speed and Cameron Hamilton and Matt Barnett and Amber Pike, the only two couples officially still together from the series.
Damian Powers and Giannina 'Gigi' Gibelli revealed during the reunion they were still dating, despite Damian saying "I don't" at the altar, leaving Gigi on her own after saying "I do."
The pair were open about their ups and downs over the past two years but were committed to making things work.
However, the seriousness of their relationship was called into question with Damian inviting Too Hot to Handle's Francesca Farago to the Love is Blind: After the Altar party, just months after Damian had to squash rumours he and Francesca were dating.
Newsweek has everything you need to know.
Are Francesca Farago and Damian Powers dating?
At the moment, there are no signs indicating Francesca Farago and Damian Powers are dating.
The pair do not even follow each other on Instagram, unlike Damian and Gigi.
Earlier this year, Francesca was dating The Only Way Is Essex star Demi Sims and in June 2021, she posted pictures online with her Too Hot to Handle ex Harry Jowsey.
In an interview on the Domenick Nati Show in June 2021, Francesca also admitted they were "getting to know each other slowly", but things did not work out.
She added: "I'm super, super single. I hate everyone pretty much."
In a recent interview with Insider, Gigi confirmed she and Damian were no longer dating.
She said: "Damian and I ended our relationship, and I wanted to start traveling and wanted to start experiencing new things."
What Happened Between Francesca Farago and Damian Powers?
Rumours Francesca Farago and Damian Powers were dating first began circulating in August 2020 after the two were snapped by paparazzi leaving an LA restaurant hand in hand, despite him being in a relationship with Gigi.
After the photos went viral, Damian released a statement to E! news denying they were together, explaining they had been at dinner with the attorney they share along with a few friends.
He told the outlet: "Francesca grabbed onto me in an attempt to shield herself from the paparazzi as our entire group entered the car.
"Francesca and I are not dating or romantically involved but remain friends."
As seen in the Love is Blind: After the Altar reunion, Damian went to lunch with Francesca, where they exchanged flirtatious compliments over a few glasses of wine.
Despite already having a date at the party—his girlfriend Gigi—Damian invited Francesca to the reunion party.
However, when Francesca asked for clarification on whether she was going as his date or just as a friend, Damian responded: "We will go as friends and see where the night goes."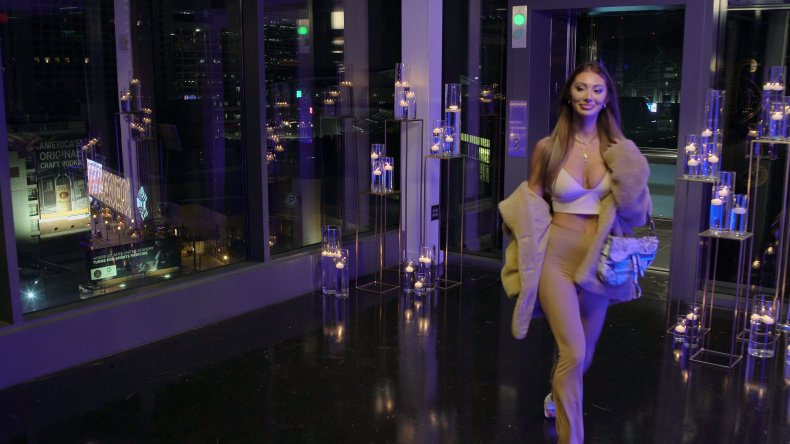 Francesca accepted the invitation and showed up to the Love is Blind: After the Altar reunion party and came face to face Gigi, who was unaware Damian had even invited a plus one.
The entire situation blew up in front of Damian's face, with Gigi telling Francesca to stay away from Damian and Francesca calling out Damian for not being fully honest about the seriousness of his and Gigi's relationship.
When Gigi asked if they were "dating," both Francesca and Damian did not deny it, despite their claims they were "just friends."
What then occurred was a three-way argument, with Damian ultimately losing both women.
Francesca left the party solo and Gigi told Damian she could not trust him anymore, causing him to storm out of the party exclaiming Gigi's remarks were "b*******."
Since Love is Blind: After the Altar has dropped Damian, and Francesca have not spoken publicly about what happened.
Newsweek has approached Netflix for comment.
Love is Blind: After the Altar is streaming on Netflix now.