Love Is Blind star Abhishek "Shake" Chatterjee made waves on Instagram with harsh words for the show's co-host, pop star Nick Lachey.
In a now-deleted post following the Season 2 reunion special, Chatterjee slammed Lachey, accusing him of being an "impartial host," and bristling at comments Lachey made against veterinarians, Chatterjee's profession.
During the reunion special, things got heated between Chatterjee, Nick Lachey and co-host Vanessa Lachey. Vanessa Lachey had a dim view of how Chatterjee treated the other contestants, while Chatterjee explained that he wasn't attracted to any of them.
"Unfortunately, the only woman I'm attracted to here is Vanessa—and I wish I wasn't!" he said. "The point is, it's not a choice."
"And I've done nothing but berate you this entire time. That's a messed up relationship," Vanessa Lachey replied.
"That's what I'm saying, I don't want to. You don't choose. It's nature, baby. We're animals," Chatterjee said.
"No, you treat animals. We're human beings," Nick Lachey rejoined. "I can see now why you don't treat human beings."
"The vet community is not going to like that," Chatterjee added.
However, that was not Chatterjee's last word on the affair. On Instagram, Chatterjee shared a screenshot of the special, according to reporting by Us Weekly.
"You put a doctor on the show... of course you were going to see some critical thinking," Chatterjee wrote. "Speaking of which, @nicklachey you're a massive tw*t for your comment dragging vets. You do realize that becoming a veterinarian considerably more difficult than becoming a human doc right?"
"Also consider learning how to be an impartial host before the season 3 reunion airs. Sorry I didn't play along with your narrative like the rest of these puppets. Say hi to @vanessalachey for me," he added.
After the post was removed, Chatterjee took to Instagram Stories and said his post had been taken down by Instagram.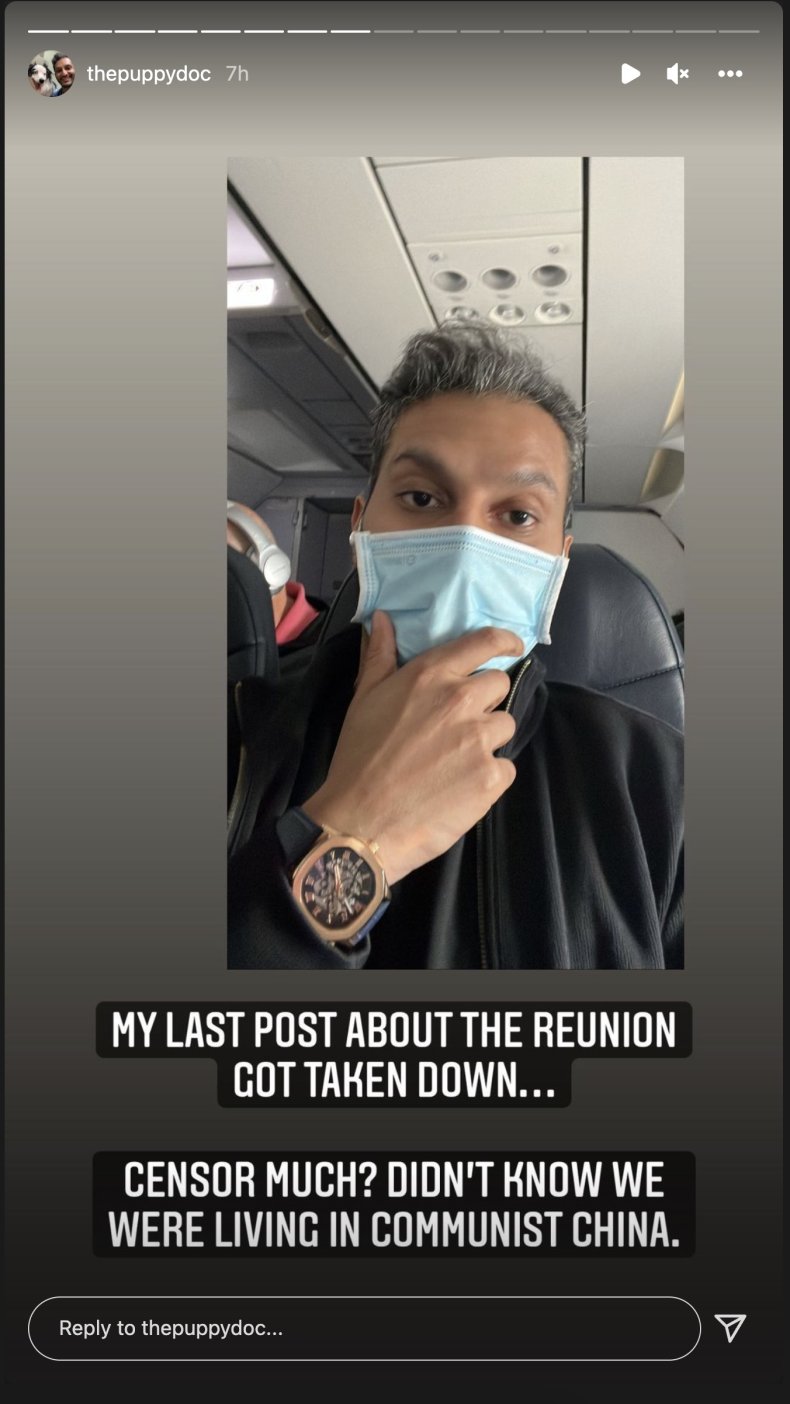 "My last post about the reunion got taken down... Censor much? Didn't know we were living in Communist China," Chatterjee wrote, alongside a photograph of him in a plane wearing a face mask.
His Instagram story also included a number of screenshots of comments from fans and supporters, including a tweet from Kim Kardashian.
"Love is Blind 2 is everything!!! I'm invested! Shake is my favorite [heart-eyes emoji," Kardashian is seen tweeting in the Instagram story, which Chatterjee has captioned "Love you too boo [kiss emoji]".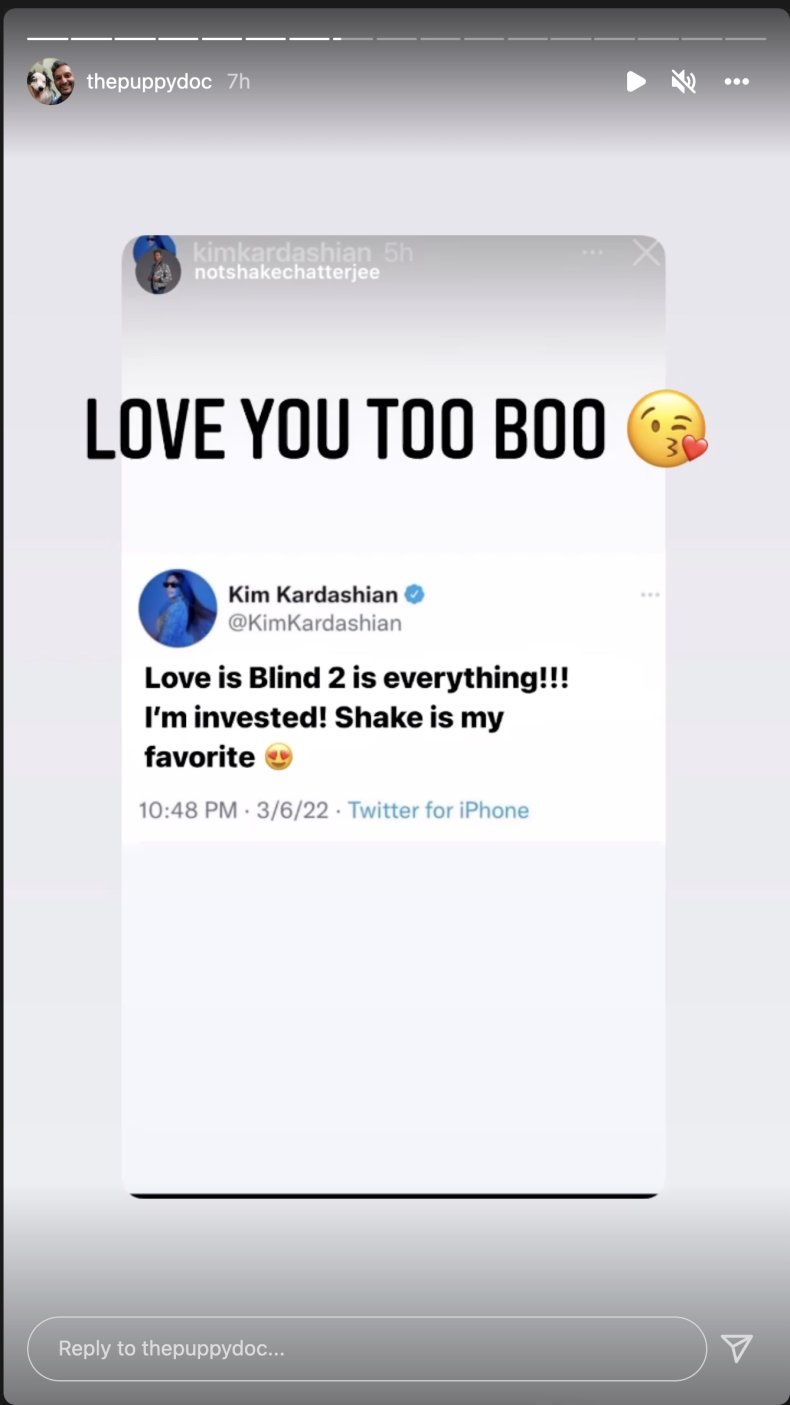 However, on Kardashian's official Twitter, the tweet ends at "I'm invested," with the same time-stamp as the tweet in Chatterjee's Instagram story.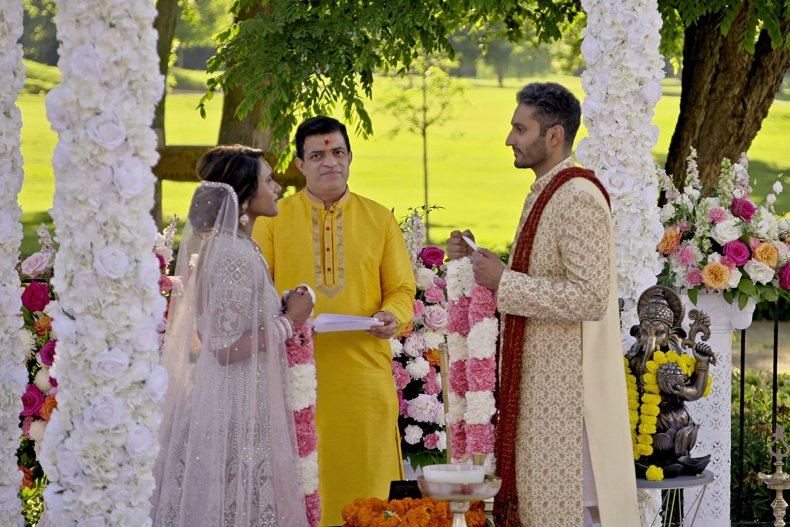 The slam against veterinarians and Nick Lachey's alleged impartiality are not the only issues Chatterjee has had with the show. In the reunion special, while he admits some blame for how he acted, he put the onus for how he was perceived by viewers on how the show was edited.
Show creator Chris Coelen disputes that the production set out to make him look bad.
"If we were afraid of that comment, we could have taken it out. But I'm not afraid of that comment, because during this process, we want to give people the opportunity to say whatever they want to say," Coelen told Variety on Friday. "Every other member of the cast seems to think that he got a pretty good edit."
Newsweek reached out to Lachey's representatives for comment.