'Love Is Blind's' Jessica Was The Reality TV Villain We Needed
Netflix dating show Love Is Blind came crashing into fan's lives with an unbelievable plot, memorable drama and an immediate villain. Matt Barnett was the first, hated contestant to come out of the reality series, but it didn't take some viewers long to realize there was another, unassuming bad guy hidden behind a kind-hearted demeanor and the voice of a baby doll.
Barnett was quickly slammed by audiences who saw him initially unable to decide between Amber Pike and Jessica Batten. There was reason to find frustration with Barnett. He represented the guy many viewers have dated—the one who goes back on their word and seems so flaky you want to shake him. Shockingly, though, Barnett did make up his mind, and shed his bad-boy characteristics the second he had the right girl in front of him.
Jessica, however, regressed into something much more devastating. Through much of her interactions with Barnett, it seemed viewers were rooting for Jessica to win his heart. She seemed sweet, established in her career, and ready for love. But she proved quickly that love wasn't what she was after. Jessica seemingly came for validation.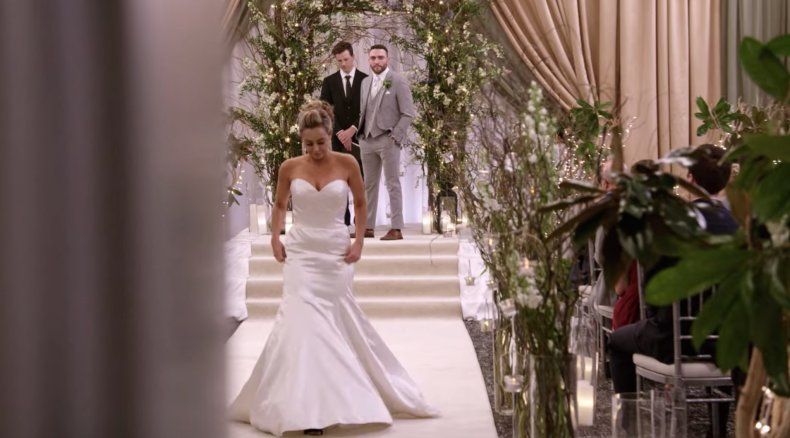 Love Is Blind forced 30 singles into an odd dating predicament. In order to go on dates,they each had to enter a "pod" that prohibited them from seeing the person they were speaking to. Engagements were the only way to meet one another in person. From there, the couples quickly moved in together and had to prove if love is truly blind by agreeing to, or denying, a marriage at the end of four weeks.
When Barnett turned her down, Jessica committed to Mark Cuevas though she saw immediate problems between them. While Mark was nothing but loving toward her, Jessica seemingly had her mind in two other places: still on Barnett and contemplating the 10-year age difference between herself and Mark.
It was natural to hope for the best between Jessica and Mark, but there were likely more moments viewers shouted at the screen as Jessica admitted she wasn't ready for the relationship. Her time spent trying on wedding dresses could have been a reality TV Super Bowl with viewers' frustration rising as she admitted she just didn't feel right wearing a wedding dress. Fans felt even more shocked when Jessica let her golden retriever drink out of her wine glass while hounding Mark with questions about their future, each time assuming they couldn't find a middle ground.
Jessica assumed her friends and Mark's family would slam their relationship based on the age difference, but everyone showed support for their "true love". The path she'd seemingly lined as her exit route before the "I do" turned to gravel and collapsed. She apparently couldn't place her discomforts and tried to convince herself that Mark was the right guy for her, both in interviews with Netflix producers and drunken conversations with other cast members.
The way Mark fell into Jessica's hurricane was unfortunate: it seemed he does have something great to give to the right relationship. While Jessica couldn't see past the fact that he was 24, viewers argued he must be much older considering his obvious maturity. But Jessica's problem may have been one of two things: her broken relationship with Barnett or her broken relationship with herself.
Jessica continued to flirt with Barnett even after he'd proposed to Amber. In their last conversation, it seemed she may be waiting for him to say he'd made a mistake by forgoing the relationship with Jessica. From that perspective, Jessica seemed to be heartbroken and trying to fill the gaping hole in her chest with a new relationship that was never the right fit.
She's recently admitted, though, that she was struggling with personal issues at the time of filming. "There were some really cringe-worthy moments for me..." she said during the Love Is Blind reunion. "It's tough, watching it back. It was obvious I was working through some things. I didn't like the person I saw."
Jessica is a reality TV villain to remember because she's unassuming and easy to relate to. She rewrote the role with a building frustration no viewers saw coming. Through much of the season, she had reality TV fans on her side, until sporadic moments throughout the season that forced them to give up their support and side in sympathy with Mark.
She was able to uproot Mark's life and provide adequate drama in another relationship, all while seemingly trying to do what was right. When, if ever, Jessica realized she was on the wrong path is unknown. She made it all the way to the altar, where she left Mark with tougher words than most.
What's tough to face, though, is that Jessica is utterly relatable. In modern dating, which consists of insecurity, lack of commitment, ghosting and more, Jessica is the face of indecisiveness and trying to force love just for the sake of comfort. It's something most are guilty of—trying to ease their own pain with the help of outside influences, be it material goods, substances or another person. The whole time, it seemed, her intuition was fighting against her draw toward the relationship with Mark that she may have thought she needed in order to be secure.
In the end, Jessica ended up being the villain for the same reason as Barnett, who viewers immediately hated for being so indecisive. Barnett, however, found his path and stuck to it while Jessica apparently couldn't stop looking backward.