Love Canal's Toxic Legacy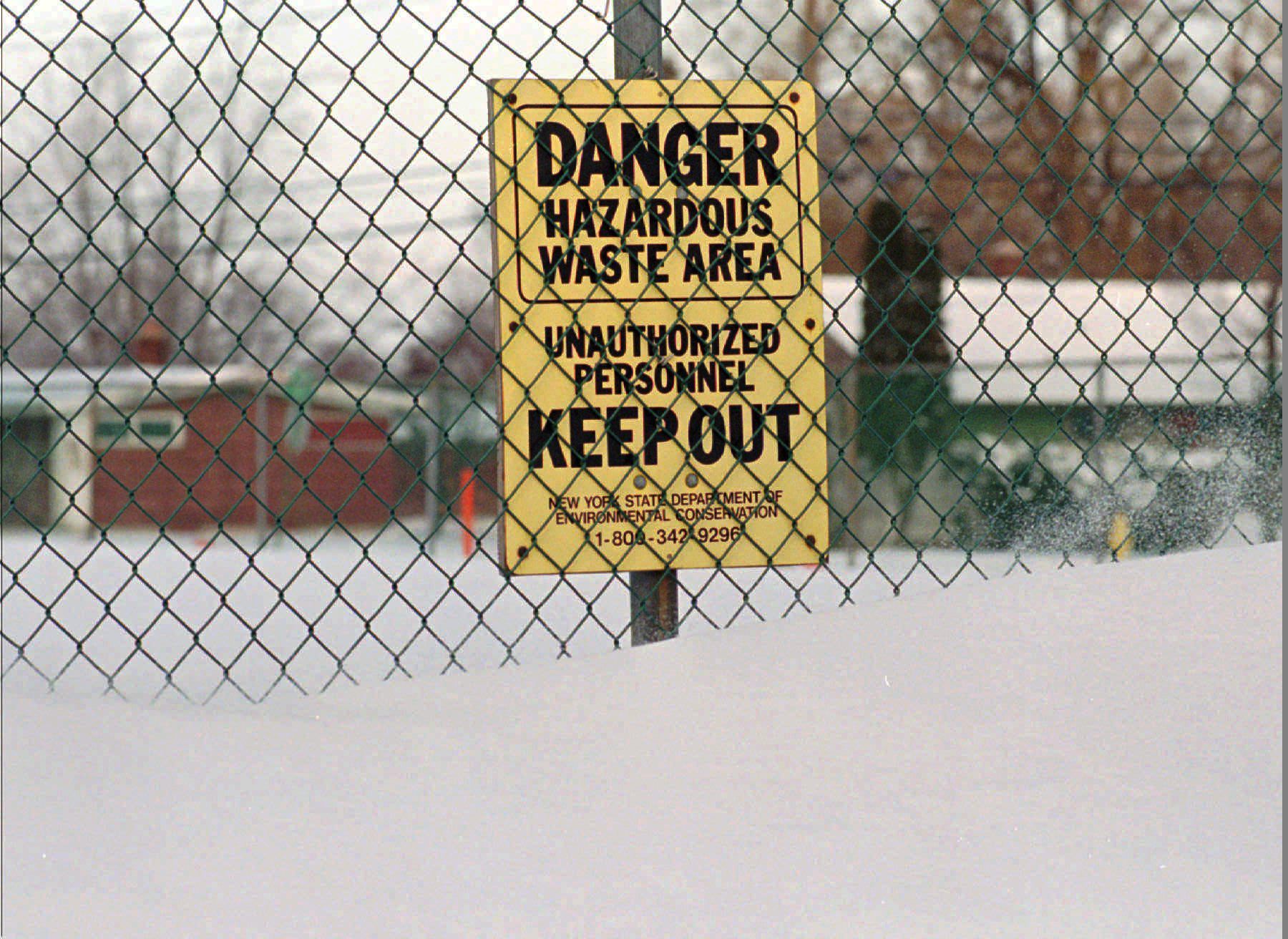 There are sinkholes on Floyd Maines's property, and there may be cancer in his lungs. The former are plain to see; the latter is suggested by the low thunder of his cough, though what he surmises may be a "spot" of mesothelioma does not prevent Floyd from lighting a Seneca cigarette. As for the sinkholes, he proudly takes me from one to the other, grinning every time I feel a depression in the grass.
"What's under there?" I say.
Floyd grins. His voice is raspy, and slightly insouciant. He sounds like a man who knows he has cheated death and may do so again.
"Who knows?"
He is right. After all, this is Love Canal; Floyd's low red-brick house is on the edge of America's most notorious toxic waste dump. Could be anything down there, and it probably isn't good.
This fall marks 35 years since Love Canal became "one of the most appalling environmental tragedies in American history," as the Environmental Protection Agency called it back then. It was in August 1978 that New York officials declared a State of Emergency in this working-class community at the base of Niagara Falls, deeming Love Canal a "public nuisance" and ordering pregnant women and toddlers to leave.
Five days after the state's declaration, President Jimmy Carter stepped up with funding for the evacuation of the first wave of families. Over the next two years, nearly 1,000 left their homes by government order. And most never came back.
But after a massive clean-up and government assurances of safety, about 200 rehabilitated homes on the north and west end of the canal were sold to the public starting in 1990. The new neighborhood was called Black Creek Village, because people wanted to forget.
And yet Love Canal clamors for our attention, and concern, once again. Some of the people who came to live in Love Canal after the government spent some $400 million and 21 years to clean up the site - are claiming there is still poison in ground. Three lawsuits have been filed, with more on the way, claiming that "toxins are leaching out every day."
Some residents, like Floyd, have watched the whole thing unfold from a front-row seat. He moved into the area in 1972 with his mother. They both worked in the chemical industry, which dominates western New York, despoiling the Great Lakes region. He worked for DuPont, she in the cafeteria of Hooker Chemical, the company (now called the Occidental Chemical Company) that was responsible for the 21,000 tons of pollution still sitting in a capped, fenced-in field several hundred yards from where Floyd and I are standing.
"This was the most dangerous stuff on Earth," he says with perverse pride.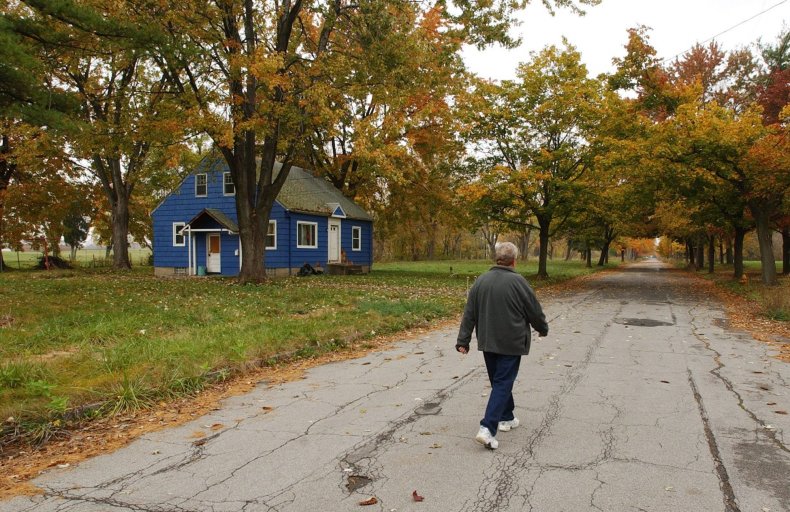 Nefarious Purposes
If you stand with your back to the chain-link fence that bounds Love Canal and look out at the overgrown fields just beyond the forbidden zone, there is nothing to suggest the profligate man-made carelessness that transpired here. It is shabbily bucolic, a rusted lawnmower sitting on an unclaimed stretch of pavement that was, long ago, probably a driveway; a television pokes out from tall weeds. Two beagles play in the tall grass, their owner watching from inside a car. Songbirds announce evening, as do the sun's auburn rays.
And then you turn around. Behind the fence is an enormous field almost entirely absent of trees. The slight rise of land looks almost like the grave of a giant. No signs announce that these 70 acres gave birth to the modern environmental movement, led to the creation of Superfund (official known as Comprehensive Environmental Response, Compensation, and Liability Act, signed by Carter on December 11, 1980), which for the first time held American industry accountable for what it put into American soil.
And no sign honors Lois Gibbs, the woman Audubon magazine says might be "the Rosa Parks of the environmental movement."
Today, Gibbs is the head of the Center for Health, Environment & Justice, a grassroots group based in Falls Church, Va., that helps communities across the nation fight against their own versions of Love Canal. Back in 1978, she was a stay-at-home mother of two. Michael, 7, attended the ill-placed 99th Street School - and it was making him ill. He was tormented by epileptic seizures and other ailments, as were some of his classmates.
"Those sidewalks used to be full of children," Gibbs says with wistfulness.
Love Canal was supposed to be Model City, the vision of a Gatsby-like figure named William T. Love, who arrived in the area in the 1890s, aiming to build a canal from the Niagara River that would harness the water's flow to supply electricity to his little utopian community, set on what he believed to be "the most appealing and beautiful town site in existence."
Some ideas are bad. Some are just failures. Love's was both. As local historian Dick Cary told the Associated Press some years ago, Love was "a con man." All he managed to do was dig a 3,000-foot-long trench. Local kids used it as a swimming hole; years later, Hooker Chemical used it for more nefarious purposes: starting in 1942, it dumped "halogenated organics, pesticides, chlorobenzenes and dioxin," according to the EPA, not bothering to properly seal the 55-gallon drums of waste. It figured that laying a layer of clay atop the waste, before covering it with topsoil, would render the dump impermeable.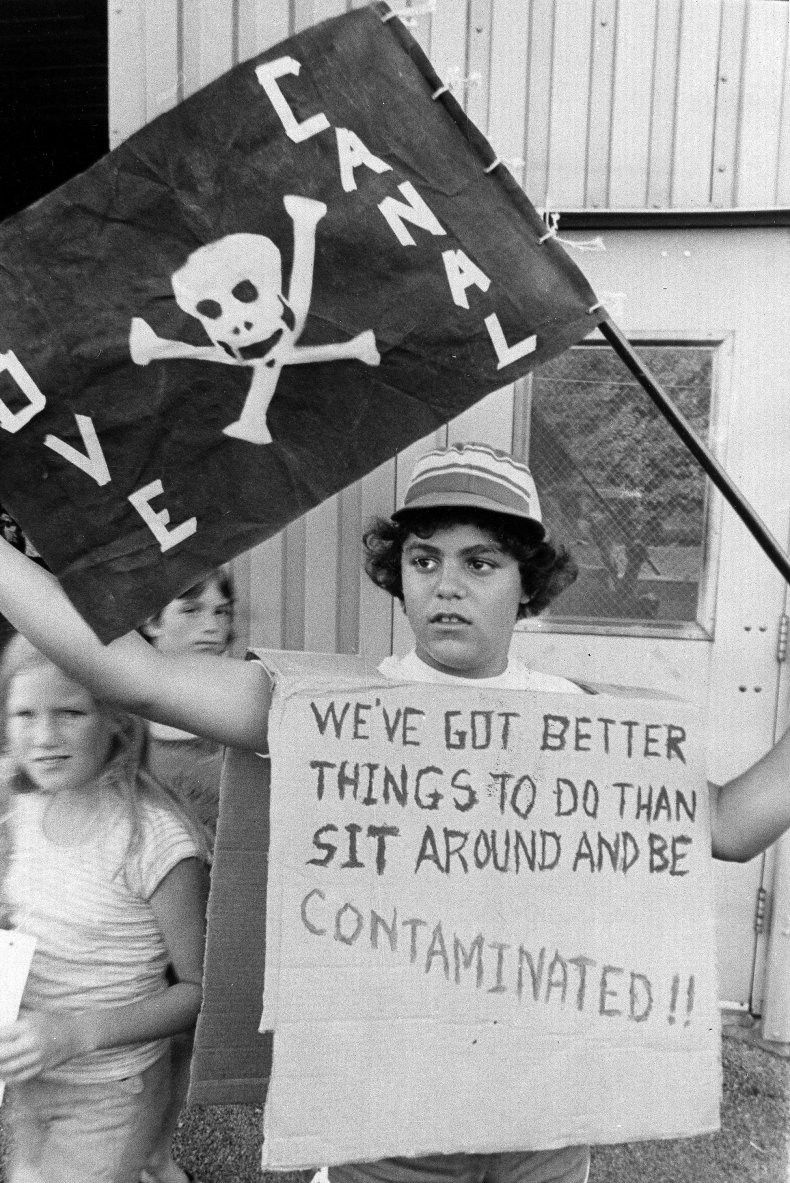 In 1953, the Niagara Falls School Board bought the land over Love Canal - a lightly covered dump, essentially - from Hooker Chemical. For a single dollar. They knew it was ruined earth: The quit-claim deed with which Hooker relinquished its ownership says "the premises...have been filled, in whole or in part, to the present grade level thereof with waste products resulting from the manufacturing of chemicals." Did Hooker reveal the full extent of the waste it had crammed into William Love's woebegone trench? Did it even know how dangerous those chemicals were, or how unruly they were in spreading through the earth? The answer is elusive, but probably "no." Then again, nobody bothered to ask.
Until, that is, Lois Gibbs came along. Through most of the 70s, she was what we used to call housewife, but she started reading the articles of local journalist Michael H. Brown, who had been investigating Love Canal for the Niagara Gazette. As Gibbs told People many years ago, she saw in Brown's reporting an explanation for her son's illness: "This was the answer I'd been looking for."
Gibbs turned his journalism into activism, organizing residents of Love Canal before there was any science to support her findings, using personal stories to stir outrage. Children playing with phosphorous rocks that "would pop like firecrackers," seepage of chemicals into basements, a "stagnant" smell that on humid nights seemed to "envelop you and smother you," as she writes in her 1982 book Love Canal: And the Birth of the Environmental Health Movement. Door to door Gibbs went, telling her neighbors that "you can't trust government to look out for your interests."
Next Tuesday, Gibbs returns to her old battleground for a 35th commemoration of the fight that has almost entirely defined her life. There will also be a press conference at the canal itself, as well as the protest of a new trash incineration plant.
Not everyone will welcome her back gladly, because not everyone appreciates the attention she brought to Love Canal. Floyd Maines, for one, calls her a "rabble-rouser." Emily, an elderly widow who had come from Slovakia long ago, said she saw no reason to ever move from the neighborhood, even though she lived in what had been the evacuation zone. "No matter where you go, it's the same thing," she said.
The house closest to the canal is slight, blue and unkempt. When I ring a doorbell, a man with bad teeth emerges. He is in pajamas, and there is an unlit cigarette in his mouth. "I'm just a renter," he says when I ask him about Love Canal, as if carcinogens somehow know the distinction. "It's all on Wikipedia," he hastens to add. "I am very busy right now." Fearing that I have stumbled into a scene from Breaking Bad, I flee.
The Enough already! sentiment is echoed in the world outside Love Canal, especially among conservatives who think the environmental movement needlessly constrains American industry and that Superfund is nothing but a cash cow for municipal governments. Plus, these critics claim, the science never supported Gibbs's claim of cancer. Writing for the libertarian Reason magazine, one journalist noted that, "it turns out that Love Canal residents are not especially prone to early mortality, cancer, or birth defects," basing that conclusion on a 2008 study by New York state.
Gibbs thinks otherwise, as do the 493 supporters of a Facebook page titled "Love Canal Made Me Sick," who leave comments like "The nightmare continues." She points to a CEHJ study of Love Canal births between 1974 and 1978, a period during which 56 percent of the 16 children born in the neighborhood had birth defects. That claim is supported by a 1985 study from the prestigious Roswell Park Cancer Institute in Buffalo that found increased birth defects at Love Canal over a control group, as well as a "prevalence of low birth weight," which often presages future health problems. As the epidemiologist Richard Clapp warns in a 2009 article for Environmental Health Perspectives, "The full story about the health impacts of living near Love Canal is yet to come."
Public epidemiology is a notoriously tricky science. There are so few confirmed residential cancer clusters in the United States - Toms River, N.J; Woburn, Mass.; Hinkley, Calif. - because it is so difficult to prove that a single chemical is the culprit. Yes, your child may have played atop the toxic dump, but did you also smoke in the house? Did you feed her hot dogs? Miscarriages and birth defects are even harder to track back to a single cause, the former sometimes resulting spontaneously and without explanation, the latter the product of chromosomal abnormalities that cannot always be easily explained.
So we are left with sick people, many of whom are convinced that pollutants are at fault. The chemical industry throws up its hands, saying it has paid for its sins, did all it could, followed whatever imperfect guidelines it was told to follow. And science, frustratingly vague, hints at dangers while often unable to confirm them.
That was Love Canal in 1978. For some, it is also Love Canal in 2013. Even as Gibbs and others celebrate her fight, new chemicals are being found at Love Canal, suggesting that the site was not remediated to nearly the extent either government officials or Occidental Chemical have claimed.
Is History Repeating Itself?
Last month, I visited Love Canal with Charlie Specht, then a reporter for the Buffalo News (he has since decided to take a job in urban planning; just days after leaving the profession, he was called the state's best young journalist by the Associated Press) who had been covering the discovery of trichlorobenzene in Love Canal after a pipe rupture two years ago at Colvin Boulevard, just north of the canal site.
I contacted him after reading the articles he wrote with Dan Herbeck - which read as if they were written 35 years ago: birth defects, cancer fears, families fleeing, accusations flying. I figured Specht was a seasoned investigative reporter; he is, in fact 25, though he lays to waste pretty much every conception of the Millennial as a lazy slave of self-involvement. He is from Buffalo, a neat Catholic kid whose vowels are as flat as the surrounding country. He lives in the same South Buffalo house where he was born, with his wife and daughter, a second child on the way. Before we went to Love Canal, he drove me around the so-called City of Light, of which he is immensely proud.
Then he drove me toward Niagara Falls, along a riverfront lined with chemical plants, including one that belonged to Occidental. Some white smoke in the distance looked like the poisonous exhaust of yet another chemical plant; this, Specht explained, was mist from Niagara, the nation's oldest state park. As we stood in front of the Falls, he posed a question to which he did not expect an answer: "How ironic is it that one of the world's natural wonders sits five minutes from one of the worst environmental disasters?"
The story of Specht and Gibbs and Love Canal converge in the Blizzard of 1977, which took place in late January of that year, 70 mph wind gusts off Lake Erie covering the city in drifts that are said to have reached 25 feet in height. When the snow melted, it led to a rise in groundwater. In Love Canal, that water mixed with the chemicals seeping out of drums before dispersing into the neighborhood.
Specht was working as a city hall reporter in Niagara Falls when he "heard whispers" of new worries about Love Canal, a site that had been removed from the Superfund designation in 2004, with an EPA administrator saying at the time, "The good news here that needs to be told is that we now have a vibrant area that has been revitalized, people living in a place where they feel happy, and it's once again a nice neighborhood."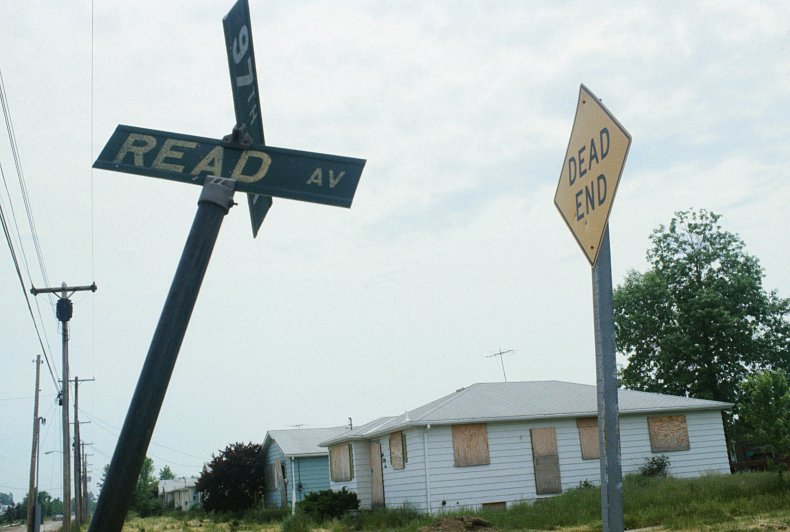 According to some, though, that was a Panglossian assurance. In an article earlier this year whose headline asked, "Is History Repeating Itself?" Specht and Herbeck chronicled how the "routine maintenance job" on a sewer beneath Colvin Boulevard in January 2011 turned ominous:
"[While] inside the trench, the workers found sediment contaminated with toxic chemicals, including some so caustic that they disintegrated the shoelaces of one worker. The chemicals found at the site 'can be directly linked' to the Love Canal waste site, [a lawsuit] asserts."
That suit has been filed by Joann Abbo-Bradley, a local hair stylist who has three children, Melanie and Zachary Herr, who have two children, and Nathan and Elena Korson, whose son was born with clubbed feet, among other birth defects. The Korsons had not known about Love Canal when they moved to 92nd Street in 2008, on the supposedly safe northern side of the canal. As Specht and Herbeck reported, the couple was eventually told about the history of the fenced-in field just several hundred yards from their house by a neighbor.
Whether the pollution allegedly still seeping from Love Canal is responsible for Logan Korson's defects is impossible to say, but some people will make such connections even when science can't. The Korsons made theirs. They now live near Harrisburg, Pa. Their light blue house on 92nd Street sits empty and unsold.
The three families are seeking $113 million from the city of Niagara Falls, Occidental Chemical and other entities that, their lawyers say, failed to adequately clean up Love Canal. The lawsuit alleges that residents are still suffering from "birth defects, chromosomal abnormalities, bone marrow abnormalities, cardiac conditions, pulmonary symptoms, unexplained fevers, skin conditions, behavioral problems, learning disabilities, and loss of teeth."
William Mack, of the New York firm Phillips & Paolicelli, represents the three families in their lawsuit. Two more have been filed; "There will be additional complaints," he said, citing "widespread illnesses" in Love Canal. He speaks in that frustratingly deliberate way of lawyers, but his confidence shows. "There are a lot of sick people up there."
Melanie Herr wonders: "What else did they miss?" In other words, what if Colvin Boulevard was not an anomaly? What if pockets of waste remain buried beneath Black Creek Village or Love Canal or whatever you want to call it?
Assertions of neglect - municipal, corporate - are vigorously denied by New York State's Department of Environmental Conservation (DEC), which has primary custodianship of Love Canal (though the EPA still submits five-year reports). A DEC report on the Colvin Boulevard spill says "the remedial system at Love Canal is effective, operating as designed, and is not the source of the chemistry observed in the section of sanitary sewer pipe beneath Colvin Boulevard just east of 96th Street." It further explains that "the approximate 50-foot-long low spot in the Colvin Boulevard sanitary sewer has acted as a sediment trap." In other words, the chemical deposit was an anomaly that shouldn't worry residents.
But it does. The report was done by Conestoga-Rovers Inc., an environmental consulting company contracted by Glenn Springs Holdings, a subsidiary for Occidental Chemical. Conestoga-Rovers does all the monitoring of Love Canal, which the DEC seemingly approves with little independent oversight. That means the fate of one of the most polluted sites in America is wholly in the hands of the polluter, with few (if any) governmental checks.
Superfund was supposed to compel polluters to pay for cleanup (an edict that was weakened when the so-called "Superfund tax" on industry was allowed to expire in 1995). At Love Canal, it seems like the very people who ruined the land have once again been trusted with its care. That wasn't how the program was supposed to work.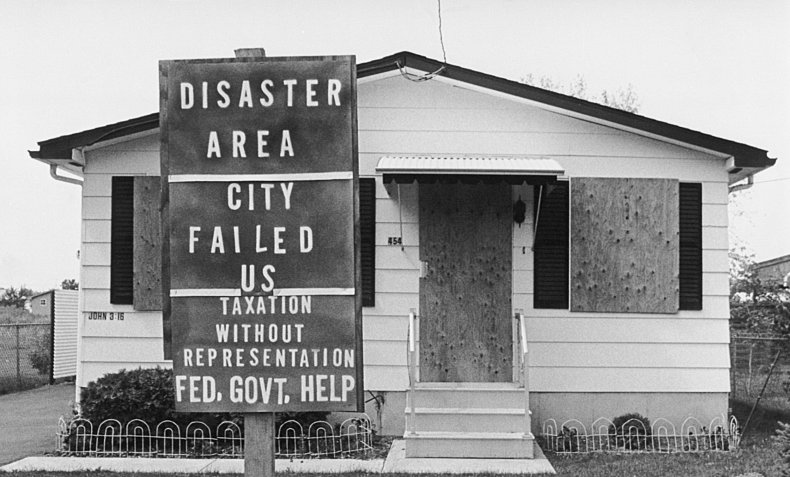 Occidental Chemical spokesman Eric Morse says Conestoga-Rovers is an independent contractor and points out the DEC has made no effort to disguise the provenance of its Love Canal report. "Data from sampling over the past 25 years have demonstrated that the containment system is operating as designed and is protective of health, safety and the environment," he says.
Peter Constantakes, a public information officer for DEC, says "all samples taken by [Conestoga-Rovers] are analyzed by a [state-]certified laboratory," citing numerous ways in which DEC monitors Love Canal. However, the Buffalo News reported just a few months ago that it has been two years since "independent examinations" from Love Canal's monitoring wells have taken place. Another Phillips & Paolicelli lawyer representing the plaintiffs acidly compared the situation to "an anciently legal doctrine called 'putting the fox in charge of the henhouse.' "
Lois Gibbs, that tireless housewife, remains outraged - it is, after all, perhaps her greatest skill. "That was pretty predictable," she says of the new lawsuit. She is convinced that the lines of the Love Canal containment site were arbitrarily drawn, and that the plumes of waste are likely much more extensive than the government has acknowledged. And she remains suspicious about the clean-up: "It's just as contaminated as the day we lived there."
Then again, some want to believe that all is well here in Love Canal. And not just old-timers like Floyd Maines. Next to the waste site is a playground. It is only feet from where the Colvin Blvd. chemicals were found. There, a young girl plays. Her mother, in a Marines T-shirt, is named Kristen. She does not know about the new lawsuit, nor is she much concerned about it on this warm September day.
"Some people like to blame their chemicals for their problems," she says. Behind the young mother, her daughter plays. And behind the daughter sits Love Canal.