Love Field Shooting Suspect Portia Odufuwa Busted Robbing Bank 3 Years Ago
Portia Odufuwa, the individual suspected of opening fire at the Dallas Love Field Airport on Monday morning, was previously busted for allegedly robbing a bank three years ago.
In April 2019, local news station KDFW News reported that Odufuwa, who was 34 years old at the time, was arrested and accused of robbing a Bank of America in Wylie, Texas. After police arrived, they were told by employees that Odufuwa handed a bank teller a note in which she ordered the teller to give her money. According to local news station KXAS-TV, Odufuwa was caught by officers shortly after and was charged with robbery.
Shortly after it was announced that Odufuwa, 37, was identified as the suspected shooter on Monday, social media users made the connection to the 2019 incident.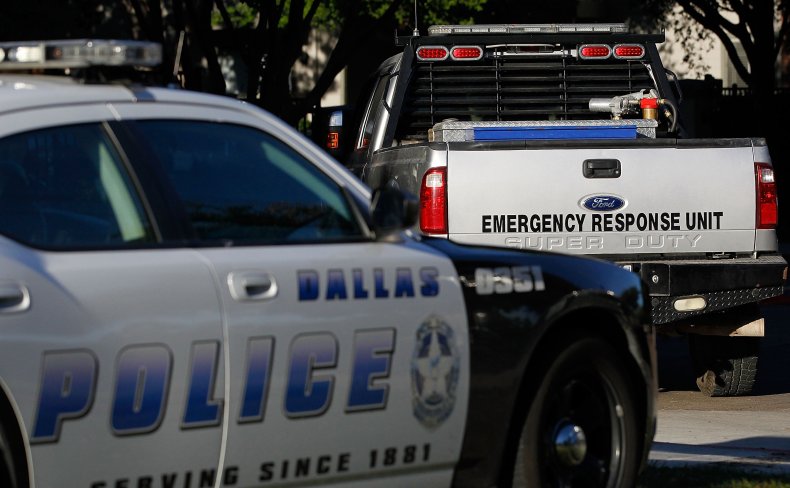 "Dallas police have identified the @DallasLoveField shooter as 37 yr old Portia Odufuwa. She has a criminal history. This is her mugshot for a bank robbery arrest in Wylie back in 2019," reporter Alex Boyér of KDFW News wrote on Twitter.
Similarly, Meredith Yeomans of KXAS-TV posted a tweet, which said: "Officials confirm the suspect in today's shooting at #LoveField was arrested in 2019 for bank robbery in Wylie. Portia Odufuwa was found incompetent to stand trial, according to court records. Case was dismissed in lieu of the civil commitment for mental health."
The Dallas Police Department said Monday that Odufuwa was dropped off at the airport and traveled inside to a terminal.
"Odufuwa went inside a women's restroom and a short time later comes out into the ticket counter area and fires a weapon several times," the department said in a blog post. "A member of the Dallas Police department nearby quickly engaged with the suspect, firing their weapon and hitting the [woman] in the lower extremities...There were no passengers or DPD officers who were injured. The suspect was transported to a local hospital."
According to police, the shooting currently remains under investigation, and the FBI is currently assisting.
The Airport Updates Travelers
Meanwhile in a statement posted on Twitter, the airport said that shortly after the shots were fired, airport officials ordered an evacuation and a shelter-in-place.
"Operations are currently suspended and passengers have been cleared from the sterile portion of the terminal for rescreening by TSA," the statement said.
Operations at the airport resumed at approximately 3:40 p.m., local time, but travelers were still encouraged to check the status of their flight, KXAS-TV reported.
Newsweek was directed to the blog post after reaching out to the Dallas Police Department for comment.
An Eyewitness Account
While speaking with KXAS-TV, a witness of the incident, identified as Colby James, said that Odufuwa made an announcement prior to opening fire, which included remarks about her husband.
"She basically said her announcement, talking about her husband was cheating or something. And she basically said she was about to blow this sucker up. After she said that she pulled out a gun. She fired the first shot in the air and basically, everybody scattered," he said.
Newsweek has been unable to independently verify the witness' account.