'Love Island U.K.' Week 2 Recap: Drama, Dinner Dates and Dumpings
Love Island U.K. has already seen bombshells and dumpings galore, and the second week was just as full of surprises as the first.
When Love Island started, it was just five girls and five guys, who coupled up quickly to try and find their love connection. Very soon, more men and women were brought onto the island, muscling in on other people's turf to secure their spots.
The second week in the Love Island villa was, in many ways, much the same as the first, with new arrivals threatening to turn heads and others being forced to depart after days on Friendship Island. Newsweek has a full recap below.
Love Island U.K. Week 2
Chuggs Is Dumped
In the first recoupling, the girls got to decide who is their ideal bed-mate for the next week or so.
New girl Rachel then arrived, providing a second chance for either Brad or Chuggs.
Despite his best graft and hat business to boast about, Chuggs was unsuccessful in his attempts to woo the luxury travel agent.
As a result, Rachel opted for a chance with Brad, only for Chuggs to have to leave just two days after his arrival.
Hopefully, he can find a woman with a penchant for bucket hats on the outside.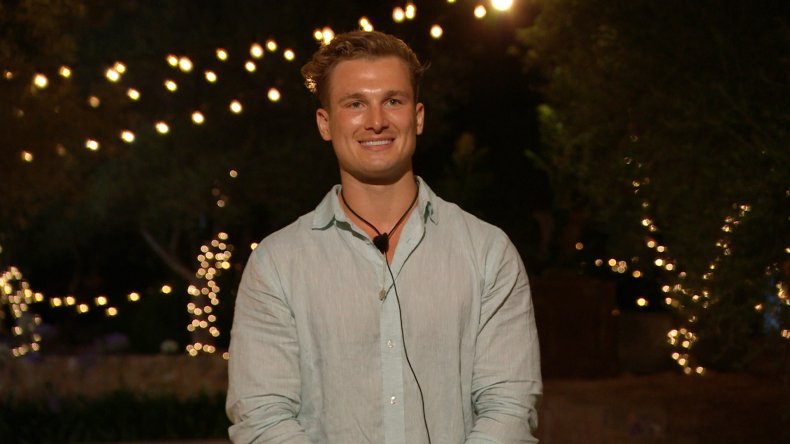 The Morning After
After the shock (to absolutely no one) upset of Chuggs' departure, the couples had the chance to indulge in a little brunch.
This allowed them to get to know their partners a little bit better, and for Rachel to delve into whether she really was the perfect type for Brad.
Clearly, given he spent most of the brunch telling her to keep her eyes peeled for potential, his type must have swerved, leaving Rachel in tears about her decision.
It was also made clear that certain couples may not be ideally matched, such as Faye and Liam.
Liam was determined to hate Faye's cats, so it was clear where that relationship would go.
Similarly, Aaron gave his pitch for his ideal woman: a doting baby maker. In contrast, Sharon explained her biggest goal for the future was having an Aston Martin DBX, suggesting this probably wouldn't be a couple that went the distance.
Hugo In Tears After Fake Comments Stir Up Trouble
Later that night, the couples played a Mr and Mrs quiz, with Chloe and Hugo hosting as the friendship couple.
The quizzers tried to guess everything from sexual positions to pet peeves, with the latter causing some trouble with the girls.
After the boys had to guess what cosmetic enhancements the girls might have had, a question on pet peeves arrived.
Hugo used the word "fake" a number of times as something he hated, in "both looks and personality."
Given many of the girls, especially Sharon and Faye had outed themselves as having had some enhancements, they took great offense to the comments.
The vibe changed very quickly in the game, and Hugo was left confused as to why the girls were going off him.
Quickly he realized his words had caused some upset and blubbed his way through an apology.
This argument put the nail in the coffin of Sharon and Aaron's budding romance, as he felt that her anger at Hugo made it clear she wasn't the one for him.
Lucinda and Millie Shake Things Up
The following day, Aaron, Hugo, Liam and Brad were all on the hunt, and very soon their prayers were answered.
The girls went out for a cheeky brunch to catch up on all the gossip, with no idea about the two gorgeous blondes who were about to rock the boat.
Lucinda Strafford, 21, an online boutique owner, and Millie Court, 24, a fashion buyer's administrator, were the bombshells who very quickly turned heads.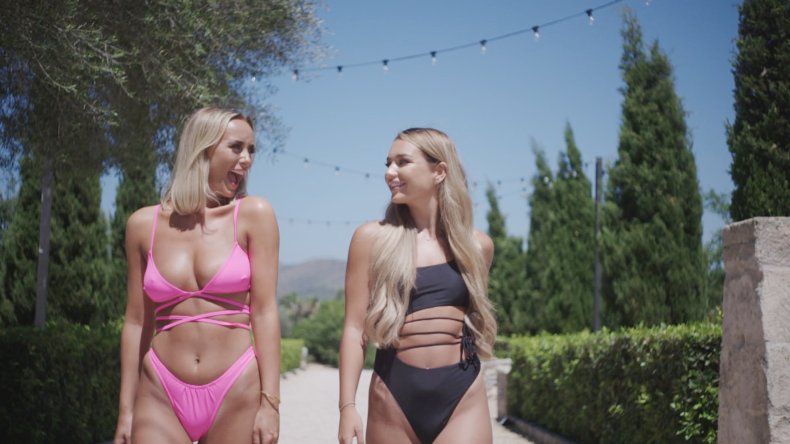 The girls were allowed to ask three lads each to make a course at dinner for them, and both opted to spend some time with Hugo and Aaron.
Millie also went for a date with Liam, and had some very flirty conversation, while Lucinda went after Brad, who laid it on thicker than butter on a slice of toast, but it did seem to be working.
The question will be who the girls ultimately pick, and which girls will be left single by their decisions.
Heads Have Turned
It all started kicking off. Aaron dumped Sharon because he likes to handle things in a "cool contained manner," whereas Shaz likes to stand up for herself.
Thank you Hugo for bringing some much-needed drama to the Love Island villa.
Sharon saw right through Aaron, insisting he used her personality and the fact she doesn't want kids anytime soon as a "cop-out." I mean, it is quite obvious he only has eyes for the new girl, Lucinda. "Reaaaally?" Yes, really. Sharon is probably going to be just fine on her own two feet.
Aaron better watch out though, because Brad has fallen head over heels with Lucinda.
Ah Brad, he isn't too great with words is he? You know he is coming from a good place, but he confessed his undying love for Lucinda in a low-key way right to Rachel's face. That has got to hurt.
Brad really is smitten with Lucinda. Here's hoping she doesn't break his heart.
Chloe Goes for Toby
As if Chloe's ego couldn't get any bigger, all of the boys recently voted her as the person they fancy the most in the villa. But the only boy Chloe paid attention to was Toby.
She unashamedly upped her flirting game, proudly stating in the beach hut that flirting is her favorite thing to do. As expected, Toby was willing to throw away his entire relationship with Kaz for a different girl.
During the Line of Duty challenge, called Line of Booty, Chloe took the plunge and kissed Toby, in front of Kaz and in front of everybody.
Let me get this right, Toby thinks his connection with Chloe is a "test" of his relationship with Kaz? Kaz doesn't seem the kind of girl who is going to play any sort of games.
There's a New Boy in the Villa
It was all about the girls for a few days and then we finally got some male eye candy in the villa.
Meet Teddy Soares, 26, from Manchester. Outside of the Love Island paradise, Teddy works as a senior financial consultant. As he enters the villa, Teddy shares that he wants to get to know "all of the girls."
"I'm not afraid to step on toes to get the girl I want," he confidently says. Here we go!
The islanders had the pleasure of choosing four girls for Teddy to speed date. Kaz, Rachel, Sharon and Faye were the lucky ones.
Teddy and Faye hit it off straight away—could this be our next Love Island power couple?
Kaz and Toby Are Over
Praise the Lord. Kaz had the self-respect to not entertain Toby any longer when she learned he and Chloe shared a kiss on the balcony after the Line of Booty challenge.
They called an end to their relationship, so Toby is free to explore things with Chloe and Kaz is free to run into the arms of a man who will treat her right. Wherever he is, because one thing is for sure—he isn't in the villa.
Liam and Millie Couple Up
And just like that, we have Liam and Millie. You heard it here first.
Liam was coupled up with Faye, but it was very obvious that they would each have had more chemistry with a bit of cheese.
Faye's now single and she better get grafting on Teddy ASAP. There's a recoupling on the cards.
Love Island U.K. continues Monday to Friday and on Sundays on Hulu.