'Love Island U.K.' Week 3 Recap: Romance, Recouplings and Red Flags
Love Island U.K. is heating up fast and week 3 has shown no signs of things slowing down. Reeling from the events of last week which saw several couples call it quits on their relationships and three new Islanders enter the villa, the drama continues in week 3 with several dumpings and recouplings on the way.
Another Recoupling and a Dumping
Can you believe it's been two weeks since Love Island U.K. began? As per Love Island tradition, day 14 requires another recoupling.
This time around, the boys got to pick which girl they wanted to "pull for more chats," "get to know better" and/or "cuddle."
As expected, Jake and Liberty remained a couple but is this because the new blonde bombshell Millie was chosen by Liam?
Aaron picked his BFFL Kaz and Brad obviously chose new girl Lucinda, whom he has well and truly "lost his head" over.
Hugo coupled up with Sharon, whom he has friend-zoned from the very beginning, and Toby picked Chloe.
New boy Teddy chose to couple up with Faye—move over Jake and Liberty, we may have our new power couple.
Sadly, Rachel was left the last girl standing and was sadly dumped from the villa just days after choosing to couple up with Liam over Chuggs, who has moved on very quickly to new girl Lucinda.
Brad's Dreams Come True Before a Shock Dumping
Brad, who has never been on a date before in his life (can you believe it?), is breaking his dating virginity with Lucinda.
His dreams temporarily came true and he got to have Lucinda all to himself as they went on a date outside of the villa.
The pair spent the sunny afternoon getting cosy in a courtyard with a bottle of wine.
Brad and Lucinda's love fueled high came crashing down when it was revealed they were voted by the public as the "least compatible" couple.
Between them, Brad and Lucinda had to decide which one of them should leave the villa.
As expected, Brad sacrificed his place in the villa for Lucinda, promising to wait for her on the outside. God, her Pretty Little Thing dreams must have really flashed before her eyes.
Bless Brad, he really seems to like Lucinda and wants the best for her. Let's see how long it is before another man catches her eye.
Toby and Chloe Butt Heads
There is trouble in paradise with Chloe and Toby.
The newly formed couple found themselves in the bottom two with Brad and Lucinda but were ultimately saved.
Toby however was not pleased with the fact he and Chloe were deemed as "least compatible" and somehow was angry at Chloe for this—some might say it is a bit of a "red flag."
Toby stormed off and threw a tantrum over the entire thing, whereas Chloe could not care less.
The pair came head to head over how they handled the situation with Chloe insisting she was not phased at all and Toby should really take a leaf out of her book. Maybe the public was right? Because judging by this outburst of rage from Toby, he and Chloe don't seem to be on the same page at all.
Stags vs. Hens
Challenges on Love Island don't usually inspire much excitement—it's just scantily clad models running about and getting slimed.
The Stags vs. Hens challenge, however, had a little extra spice as the winning gender would earn the right to welcome a new person into the villa: of the opposite sex.
Given Hugo has been stranded on Friendship Island for his entire Love Island experience, the boys were desperate to win, though the girls also wanted a new boy for their beloved ladies Kaz and Sharon.
After a giant beer pong and other silly rounds, the boys were victorious, which meant they got the chance to meet a new lady.
AJ Enters the Villa
That lady was AJ Bunker, a 28-year-old hair extension technician from Hertfordshire, U.K.
The other girls were forced to watch AJ's arrival from the terrace, where they not-so-subtly stared at their latest love rival, acknowledging her beauty through gritted teeth.
The boys were on Cloud Nine as they welcomed in their new arrival, whose opening gambit was: "Eyes on the prize, boys," which needless to say had the girls so furious you could see steam rising from the roof.
She sat with them and it was clear Hugo was who she was after, but all the girls who want a chance at coupling up say that, right?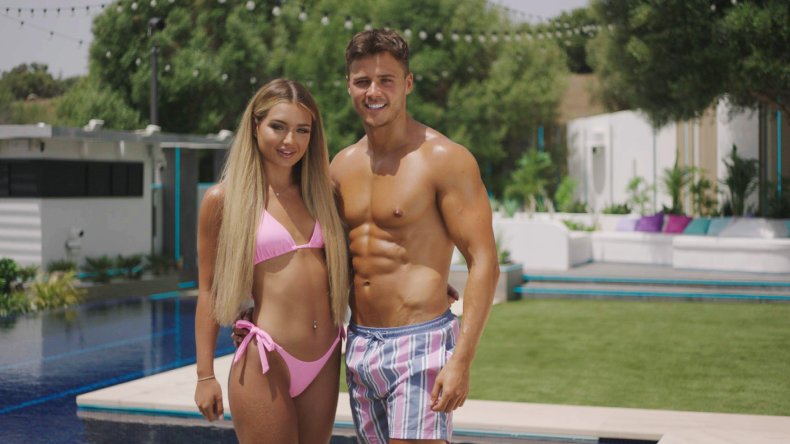 Danny Enters the Villa
Despite losing the challenge, soon the girls got their wish at another boy: enter 25-year-old plumber Danny Bibby from Wigan, U.K.
He invited Sharon and Kaz for a date each and chatted to them about his up-and-coming "high-end" clothing brand.
It seemed he was definitely interested in Kaz's "energy," and the ambitious Sharon also seemed to entice him.
The following day, however, he chatted a lot to the newly single Lucinda, who had previously been receiving some potential interest from Aaron.
Though Lucinda and Danny clearly did not get on very well, or make much sense as a couple, our spidey senses were expecting an upset at the recoupling.
The Recoupling
This recoupling switched things up, as the two newbies got the chance to choose their partners first.
AJ opted for Hugo, leaving Sharon vulnerable and desperately hoping for Danny's affections.
Then it was Danny's turn, and clearly his desire for "real connection" was nonsense, as he opted for Lucinda, leaving Aaron confused and heartbroken.
This meant Kaz and Sharon both missed their chance with the new man and were hopeful one of their mates in the villa would save them.
As was expected, Liam chose Millie, Jake chose Liberty, Teddy chose Faye and Toby chose Chloe, meaning it was all up to Aaron on who to save.
He decided to save his girl Kaz, choosing his closest friend in the villa over his old flame, meaning it was all over for Sharon.
Hugo was devastated to see his mate leaving, as were Faye and Kaz, but at least now she can try her luck finding a new beau back in Parliament.
Love Island U.K. continues Monday to Friday and on Sundays on Hulu.