'Love Island U.K.': Who Won Season 7 and What Prize They Won
Love Island U.K. has been a rollercoaster for its contestants, with relationship tests and turning heads to deal with. In the end, four couples remained for the finale, and one of them was set to win the big prize.
In the U.K. Love Island, it is not as simple as winning a prize, but the winning couple is also faced with a stunning twist which gives them the chance to prove whether they truly love their partner, or were just in it to win it.
Now the four couples will all go home and fans will be watching eagerly to see whether they stay together, or if the trappings of their newfound fame tear them apart.
We break down what happened in the Love Island final, and what coveted prize the winners took home.
Who Won Love Island U.K.?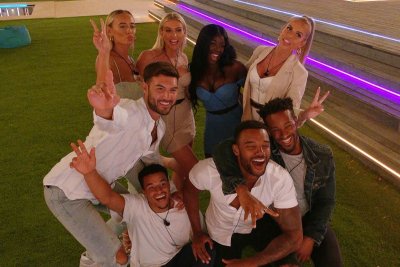 In the live final, there were four couples still in the mix: Kaz and Tyler; Chloe and Toby; Millie and Liam; and Faye and Teddy.
None of these couples had a smooth ride in the Love Island villa, with all of them breaking up for a time only to come back together eventually.
There would have been five couples lasting until the end this year, however, Liberty and Jake made a shock departure the day before the final, after their longest-standing love connection ran its course.
Before the announcing took place, the couples' final day in the villa was shown, which included learning to salsa, having a spa day and making declarations of love to one another.
Some opted for rhyming couplets while others chose to pop the question, meaning while Kaz and Tyler, and Millie and Liam were exclusive, both Faye and Teddy, and Chloe and Toby were officially boyfriend and girlfriend by the time of the live final.
The four couples were then announced in order, with Kaz and Tyler being named the fourth-place couple.
After this, Teddy and Faye were given the bronze medal for their love efforts, and it came down to the final two.
Fans of Liam's singing Tom Jones were pleased to see the Welshman and his Millie-Moo take the win, with Chloe and Toby coming second.
The pair were jubilant, especially as, in their final interview, Liam popped the question to ask Millie to be his girlfriend.
The Prize On Love Island U.K. — And The Twist
Of course, Love Island is nothing if not a relationship challenge, and in the end the winners were given one final test.
The prize for winning Love Island U.K. is £50,000 ($69,000) which someone takes home with them.
Both winners are given two envelopes and one chooses to open one, while their partner chooses the other.
In one envelope is the whole prize pot, while in the other is completely nothing.
At that point, the person holding the prize fund must decide whether to split it with their partner or take the whole thing home themselves.
This time, Millie opened the money envelope, meaning she had to choose whether she came to Love Island for love or money.
Needless to say, she chose to split her prize fund with her dashing hunk Liam, and the pair kissed and hugged and were immediately rushed by their Love Island pals to celebrate.
In Love Island U.K. history, no one has ever chosen to steal the prize fund, though given how some of the relationships ended, it's likely some wish they had after all.
Host Laura Whitmore confirmed the show would be back in 2022, helping new singletons find love.