'Love Island U.K.' Week 5 Recap: Betrayal and Broken Hearts
Love Island U.K. is getting interesting now with Casa Amor on the horizon. So far, the drama this year has been kept to a minimum and romance is not exactly flourishing throughout the villa. Thankfully, that is all set to change in week 5 with the arrival of 10 new islanders and three days of separation between the original islanders. Here is everything that happened in week 5 of Love Island U.K.
'Love Island U.K.' Week 5 Recap
It's Sports Day
The latest challenge for the Islanders saw them go head to head on sports day, making for some hilariously awkward encounters.
First of all, Abigail and Chloe had to compete in the sack race, just one day after Abigail effectively stole Toby from her.
Faye then cracked the savage joke on Abigail's behalf "I took your man and I'll take you this," which fell on deaf ears.
If that was not awkward enough, Toby and Hugo went head to head in the sack race, with Toby winning the title.
Hugo's team won the sports day challenge overall, something Toby was not pleased with at all.
Cut to Toby, lifting weights and watching himself in the mirror in a bid to prove he actually was the alpha male in the villa. Absolute comedy gold.
Aaron and Lucinda Are Dumped
Day 28 saw another dumping from the island. The couples had been voting for their favorite couple and unfortunately, Faye and Teddy alongside Lucinda and Aaron found themselves as the least popular.
The public got their say on who was leaving the villa this time around and in the end, it was Aaron and Lucinda who were dumped after receiving the lowest number of votes.
Their romance was short but sweet but will Brad be waiting for Lucinda on the outside? For his sake, let's hope not.
Casa Amor Looms
After a tough night, the couples need time to think about what has happened, bond together to try and move past the upset of the night before.
While that may be what they needed, it certainly isn't what they got, as the boys received a text to tell them they were heading to Casa Amor straight away.
The girls were furious to discover the boys had gone, with Faye screaming and laying on the kitchen counter shouting: "I just opened up!"
The lads were also screaming, in glee and excitement as they turned up at their new home to be confronted with a group of beautiful girls.
These girls were Kaila Troy, 28; Salma Naran, 20; Lillie Haynes, 22; Clarisse Juliette, 23; and Amy Day, 25.
There were some very quick attractions, as Jake told his mates to make the most of this opportunity, while he mopes around with his ball and chain keeping him from doing the dirty.
Meanwhile, the girls welcomed the arrivals of Dale Mehmet, 24; Sam Jackson, 23; Medhy Malanda, 24; Jack Barlow, 26; and Harry Young, 24.
Unfortunately, the girls were not as open with the new boys as they patiently waited for their men to come home (except for Chloe, who grabbed the opportunity with both hands.)
Naughty Games
On the first night, the girls played Never Have I Ever with the new boys, and frankly, very little of interest was revealed and everything was incredibly PG.
In Casa Amor, however, Truth or Dare was played, meaning things got a little saucier as the boys snogged, toe-licked, and made their favorite girls very happy indeed.
Teddy kissed Clarisse on her turn, while Toby went for Mary on any occasion, as did Hugo, who was also liking a bit of Amy.
Amy and Tyler were not shy about their attraction and ended up sharing a bed on the first night.
In fact, all the boys except for Teddy and Jake shared a bed with one of the girls, suggesting perhaps these guys are not as loyal as the girls back in the villa.
After this, more games took place when the Raunchy Races saw the two villas compete to complete the sexy challenge the fastest.
The prize was a villa party, meaning everyone went big, even Jake and Liberty agreed to kiss others in order to take home the gold.
Having said that, some clearly enjoyed their kisses more than a loyal partner would, and this set in motion some intriguing changes.
The Boys Get Grafting
After that evening, the Casa Amor boys started doing some grafting, though looking back they would probably not care to admit it.
Tyler, despite professing he only came in the villa for Kaz, was very interested in spending time with Clarisse, and soon the pair were kissing and, when in bed together, had some fun under the sheets.
Meanwhile, Toby also continued to flirt with Mary, leaving fans shocked at the idea he might trade up AGAIN for another girl.
The saddest of all was Liam, who liked the look of Lillie and, though he was desperate to deny it, was feeling pretty keen on getting to know her.
In the end, he agreed to share a bed with her after all, with Millie sleeping on the day bed at home.
Finally, for the Casa lads, Hugo was all eyes for Amy as he tried to prime her for a return to the villa, and she was very keen to stay with him.
Back at the villa, only one boy had much of a chance. Dale managed to make a connection with the only woman willing to speak to any of them: Chloe, who was very happy to be chatted up by any of the boys.
A Postcard Arrives
Everything changed for the girls once the postcard arrived, which showed them some of the exploits of their men.
The two girls most hurt were Kaz and Faye, who saw pictures of their boys sharing beds or kissing girls in Truth or Dare.
Abigail was far more philosophical about what Toby was getting up to, thinking she may still win him over because sure he can't already be prepared to switch partners?
Liberty and Millie were unfazed by their boy's actions as well, believing the best and hoping their men would return to them.
Kaz and Faye almost immediately decided to crack on, eyeing up Matthew and even kissing him before the day was out, as the pair vowed to share a bed that night.
Faye went for Sam, who gave as good as he got with banter and also helped her keep warm at night with some spooning.
The boys, unaware of how their antics were being perceived, kept cracking on as well, but soon the whole thing was going to fall down when the truth came out.
The Recoupling
As if Casa Amor wasn't dramatic enough, there was a recoupling on the way.
Chloe and Hugo were the only people not coupled up when Casa Amor occurred, meaning there was a lot of pressure on the original couples during this recoupling.
If one decided to recouple and the other did not, then they would be single but still remain on the island. If both recoupled then they would both remain in the villa with their new partner, and any remaining single new islanders would be dumped.
The recoupling saw the boys make their way, some with their heads hanging, back to the main villa.
As expected, Liberty and Jake decided to stay together, the only original couple who remained loyal to each other on both sides.
Hugo decided to couple with Amy while Chloe decided to couple with Scotsman Dale.
Sadly, Tyler decided to recouple with new girl Clarisse, and Kaz chose Matthew, after seeing Tyler kissing Clarisse.
At the recoupling ceremony, Kaz was not ashamed to admit she would not have coupled with Matthew if she had not seen the picture. Poor Matthew, that has got to hurt.
Faye, who also acted out in self-defense decided to couple up with new boy Sam, after seeing the picture of Teddy kissing Clarisse.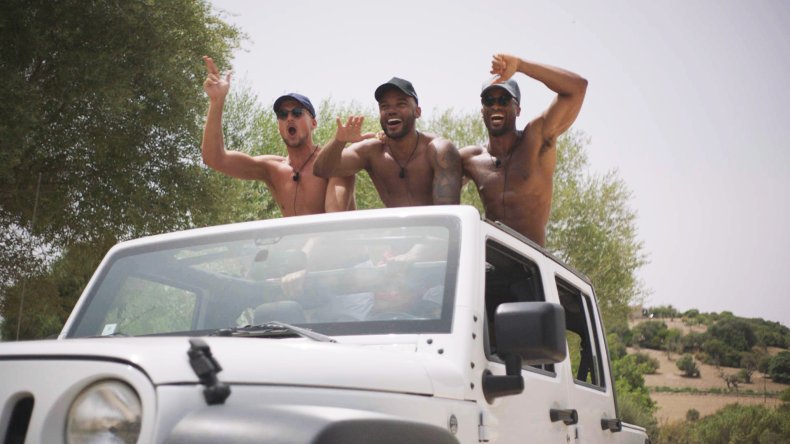 Little did Faye know Teddy had remained completely loyal to her the entire time in Casa Amor and returned to the villa on his own.
In heartbreaking scenes, he was holding tight onto Faye's teddy, before putting it down on the ground and sitting around the fire pit. Faye was then awkwardly seen walking to pick up the teddy before sitting back down next to Sam and far away from Teddy, putting her head down, probably out of shame.
Toby, whose head would probably turn for host Laura Whitmore if he was given the chance decided to recouple with Mary, leaving Abigail single. Abigail remained loyal to Toby the entire time and thought she would be safe, considering he had dumped Chloe for her just days before Casa Amor began. She was so very wrong.
The biggest shock of the recoupling was when Liam returned to Casa Amor on his own, meaning Lillie would be dumped from the island.
Millie, who had remained faithful to him in the original villa and had not had her head turned at any point was overjoyed to see Liam returning on his own. Liam also looked over the moon to see her waiting for him—of course, he was, he had his fun.
Lillie Spills the Tea
As the recoupling ceremony came to an end, host Laura Whitmore asked the dumped islanders—Harry, Jack, Kaila, Lillie, Medhy, and Salma—how they were feeling, to which Lillie had a lot to say.
She said she was "shocked" to be standing single, after enjoying a connection with Liam in the villa.
"I feel like it was very reciprocated. I felt like it was really 50/50," Lillie said. To which Liam responded: "I'm here on my own for a reason."
As the camera panned to Millie's reaction, her smile turned into complete shock. She edged away from Liam, stating: "You should have just come back with her then."
After the recoupling ceremony ended, Liam took Millie to the side to explain his side of what happened in Casa Amor. While he admitted to kissing and sharing a bed with Lillie, he confessed: "Her being there completely cemented for me how I feel about you.
"I won't be giving up. I've realized what I want, and that's you."
Will Millie and Liam be able to get through this? Fans will have to wait to find out.
Love Island U.K. continues Monday to Friday and on Sundays on Hulu.