'Love Life' Season 2: Why Anna Kendrick is No Longer the Lead of the HBO Max Show
It's been a long time coming, but Love Life Season 2 has finally arrived on HBO Max—only this time the focus will no long be on Anna Kendrick's character Darby.
Despite fans being super excited for the latest installment in the romantic comedy series, they should be prepared for some big changes.
The biggest alteration of all is that the narrative shifts away from Darby and focuses on a brand new lead.
Newsweek has everything you need to know about Love Life Season 2.
Why Anna Kendrick is no longer the lead of Love Life
Anna Kendrick starred in the first season of Love Life as New Yorker Darby Carter, navigating her love life throughout her twenties.
By the end of Season 1, Darby had finally found her soulmate in Grant (played by Kingsley Ben-Adir) but sadly, their new relationship is not set to be explored in greater detail in Season 2 of Love Life, with Anna Kendrick taking a step back as the lead character.
Kendrick's exit is simply a result of the style of the show. Love Life is an anthology series, meaning each season will follow a different story.
Instead, the new episodes will follow, Marcus Watkins (William Jackson Harper), who makes his debut in the premiere episode as part of a flashback. Bringing Marcus and Darby's worlds together, it turns out Marcus was actually a guest at Darby's wedding to Magnus (Nick Lund), whom she married before meeting Grant. The new series will continue in New York City, with Kendrick's Darby set to re-appear from time to time.
Unlike Darby, Marcus has known who is soulmate is his entire life, but as he attempts to settle into married life, he begins to doubt whether the concept of "forever" is for him.
Speaking to Deadline about stepping down as Love Life's lead, Kendrick said: "Now that I'm not the lead of the show, I feel like I'm finally allowed to say, 'I love this f***ing show so much. It's so good!' I watched Will's [Jackson Harper] episodes and I'm like, 'Damn, this is just so good.'"
Jackson Harper, who will be filling Kendrick's shoes, added: "I watched the first season because I'm not really a rom-com guy but it just dives into so much other stuff. It was really like what it's like to be twentysomething in New York and dealing with life in general. It's like a bunch of people in a tiny apartment are all on top of each other and the doors to your room are all see-through. It feels so real."
Speaking to The Hollywood Reporter co-showrunner and executive producer Rachelle Williams explained: "You don't have to put your romantic lead in a box.
"They don't have to look a certain way ... if the story's there, you're gonna connect with whoever the person is. I think that's why Will [Jackson Harper] is so fantastic this season, that you just instantly lock in with him, and then hopefully people start to think outside the box in all love stories."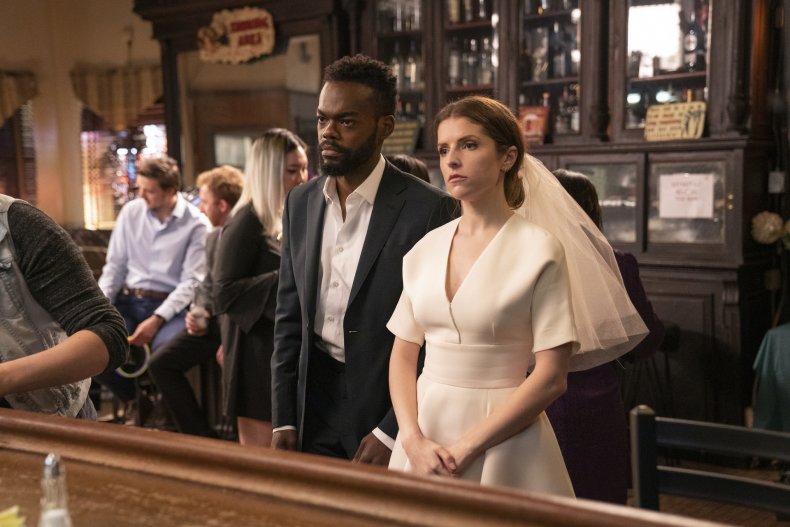 William Jackson Harper is best known for his role as Chidi Anagonye in The Good Place, for which he received a Primetime Emmy Award nomination for Outstanding Supporting Actor in a Comedy series.
He is also well known for portraying Josh in Midsommar and James Ross in Dark Waters.
Also joining the cast of Season 2 is Succession's Arian Moayed, Iron Man's Leslie Bibb, The Knick's Maya Kazan, SNL's Ego Nwodim, Dope's Kimberly Elise, Quantico's Blair Underwood, Pose's Janet Hubert, and Big Time Adolescence star Jordan Rock.
Alongside the occasional appearance from Kendrick, fans will also see the return of Zoë Chao as Sara Yang, Peter Vack as Jim, Sasha Compére as Mallory Moore, and Nick Thune as Magnus in the new series.
However, this time around Rick and Morty's Keith David will serve as the show's narrator, replacing Lesley Manville who narrated Season 1.
Love Life Season 2 airs Thursdays on HBO Max.