'Love Nikki' Star Spirit Event Guide: 2v2 Battle Tips, Bonus Item Tickets and More
The latest Love Nikki Star Spirit event is here! Check out our complete guide with tips for using Lucky Item Bonus tickets, winning 2v2 stage battles like Wonderful Pigeon Trip and more.
Love Nikki Dress Up Queen is celebrating its second anniversary with two special events: Star Spirit and the ever-popular Miraland Quiz. In addition to these two events, ELEX has granted players a special Anniversary Party gift that includes a cute Innocent Grey Bunny suit, free coins, and 10 Lucky Bonus Item Tickets.

How Bonus Item Tickets Work - If you've never gotten Lucky Bonus Item tickets before, chances are you have no idea how they work. Basically, these tickets increase your chances of getting item drops in Princess Stages. You can't choose when to use these tickets as they are automatically used any time you play a Princess Stage. The best strategy when you receive these tickets is to play Princess stages that have items you need for suits you are crafting.
In this guide, we'll be focusing on the Star Spirit event along with tips and suits to use for each set of 2v2 battles. You can check that out below. For those looking for help with the Miraland Quiz, you can check out our guide with all the quiz answer, here.
'Love Nikki' Star Spirit Event Guide: How 2v2 Battles Work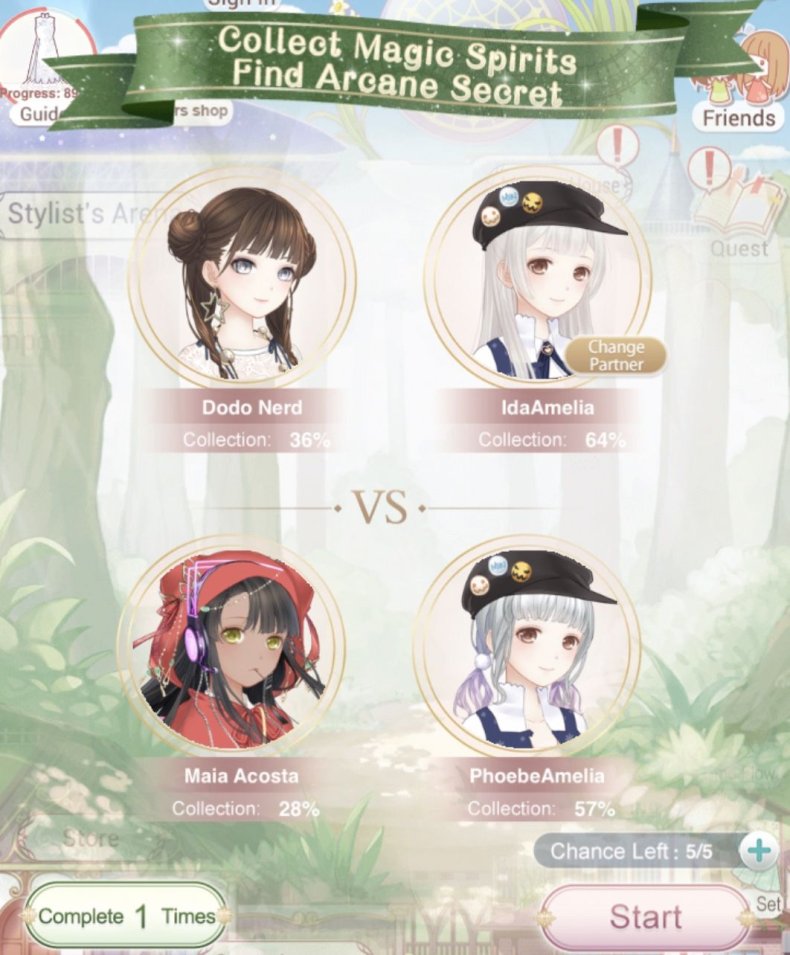 The latest Love Nikki event takes place in the Pigeon Forest where Starlet and Nikki have come looking for inspiration. During the event, players will collect Magic Spirit in order to gain rewards like gold, stamina and star coins as well as pieces to two beautiful new event suits: Spring Wonderland and Colorful Gift. To earn Magic Spirit, players will team up with another stylist for 2v2 styling battles. These battles will use themes similar to those found in the Stylist Arena. The main difference is that these battles will be 2v2.
When you start a stage you'll be automatically assigned a partner. If you aren't satisfied with your partner's collection percentage, you can tap on the "Change" button beside your partner's name. You'll be taken to a screen with six potential partners to choose from. Once you've chosen a partner you'll then be assigned an opponent. You'll each put together the best outfit you can to meet the theme requirements. Your scores will be combined and the team with the highest score will win the match.
Players will receive five Magic Spirit for each victory and three Magic Spirit for losses. Players can participate in five free battles per day yielding up to 25 free Magic Spirit per day. Additional battles will cost 24 diamonds each.
Star Spirit Daily Battle Guide: Tips For Getting High Scores On Every Stage Of The 2v2 Event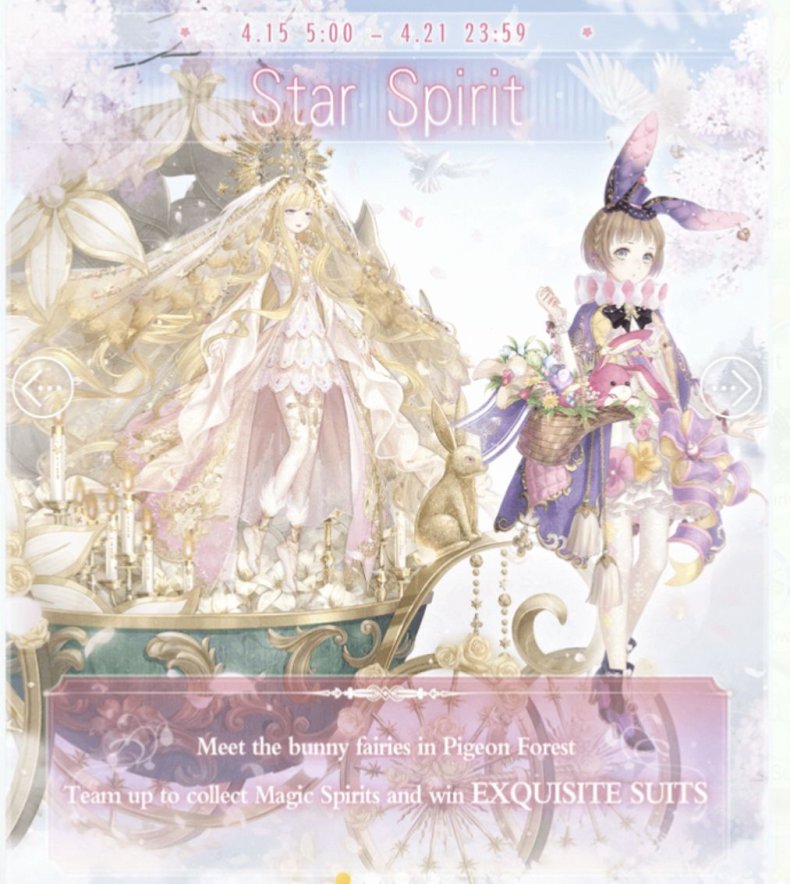 Each day, event stage battles will have a different theme and styling requirements. Here are tips for putting together the best outfits for each battle.
Stage/Day 1 - Wonderful Pigeon Trip
Attributes Judged: Simple (5), Lively (5), Cute (3) Pure (2), Warm (1)
Suits You Can Use - Although stage battle scores will depend on your opponent, here are suits we used to get winning Scores:

Blessed Bark (Approximate solo score: 72,000)
Power Reinforce - (Approximate solo score: 83,000)
Fondant game - (Approximate solo score: 50,000)
Youth Storm - (Approximate solo score: 67,000)
Crime Buster - (Approximate solo score: 50,000)
Sweet Superstar - (Approximate solo score: 38000)
Zashiki - (Approximate solo score: 50,000)
Angelica's Dream - (Approximate solo score: 40,000)
Shiba and Croak - (Approximate solo score: 58,000)
Cherry Youth - (Approximate solo score: 58,000)
Golden Sunshine - (Approximate solo score: 32,000)
Gifty's Adventure - (Approximate solo score: 59,000)
Long Street Flavor - (Approximate solo score: 48,000)
Sugar Cheerleader - (Approximate solo score: 41,000)
Sweet Sunshine - (Approximate solo score: 87,000)

Other Suggested Items: You can check out a list of highest scoring items, here. To see combinations that have worked for players of all levels, check out this event post on the Official Love Nikki Facebook Group Page.
Stage/Day 2 - Elegant Afternoon Tea
Attributes Judged: Gorgeous (5), Elegance (5), Mature (2) Sexy (2), Warm (1)
Suits You Can Use - Although stage battle scores will depend on your opponent, here are suits we used to get winning Scores:
Stage/Day 3 - Brilliant New Fairy
Attributes Judged: Gorgeous (5), Cute (5), Lively (2) Pure (2), Warm (2)
Suits You Can Use - Although stage battle scores will depend on your opponent, here are suits we used to get winning Scores:
Stage/Day 4 - Timid New Friend
Attributes Judged: Cute (5), Lively (4), Pure (3) Simple (2), Cool (1)
Suits You Can Use - Although stage battle scores will depend on your opponent, here are suits we used to get winning Scores:
Stage/Day 5 - Growing Trouble
Attributes Judged: Mature (5), Sexy (5), Gorgeous (2) Elegance (2), Cool (1)
Suits You Can Use - Although stage battle scores will depend on your opponent, here are suits we used to get winning Scores:
Stage/Day 6 - Sacred Ceremony
Attributes Judged: Pure (5), Elegance (4), Cute (3) Gorgeous (2), Cool (1)
Suits You Can Use - Although stage battle scores will depend on your opponent, here are suits we used to get winning Scores:
Stage/Day 7 - Parting Light
Attributes Judged: Cute (5), Pure (5), Lively (2) Gorgeous (2), Warm (1)
Suits You Can Use - Although stage battle scores will depend on your opponent, here are suits we used to get winning Scores:
​