'Love Nikki' Fairytale in Bottle Event Guide: Tips & Suits For Stage Battles
The latest Love Nikki Fairytale in Bottle Event is here! Check out our complete guide to stage battles, here.
Love Nikki Dress Up Queen 's latest event, dubbed "Fairytale in Bottle" kicked off Tuesday, Sept. 4 and will continue through Sept. 10. With it comes new stage battles to complete in order to win the beautiful new Witch's Perfume (Lilith) and Fairy in Bottle (Pigeon) suits. To help you make the most of the event, we've put together a guide with tips for mastering every stage of Fairy Tale in Bottle.
Love Nikki Fairytale in Bottle Guide: How Stage Battles Work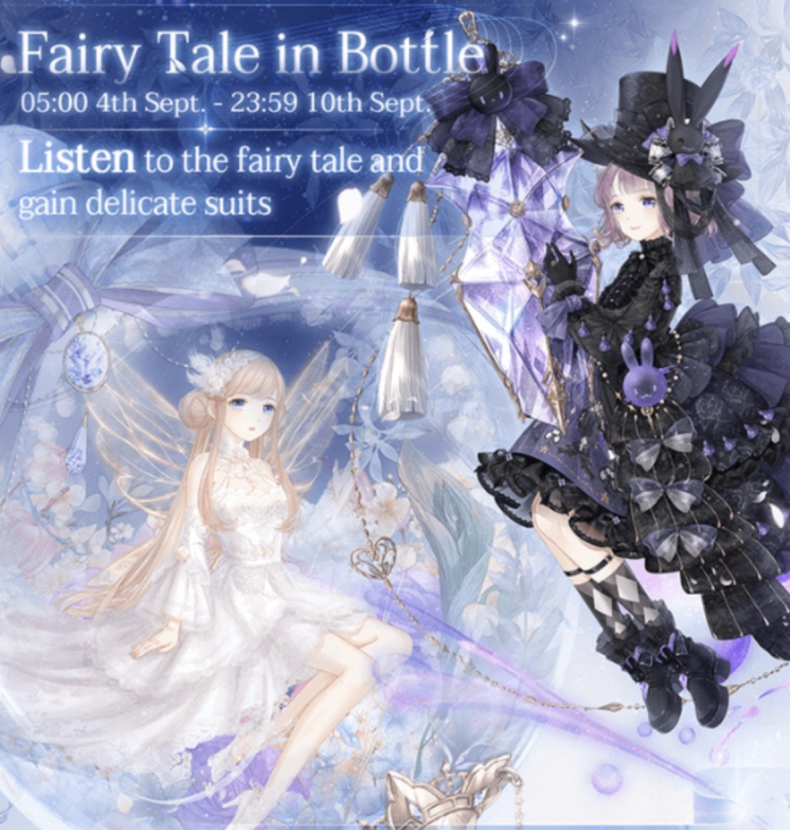 The latest Love Nikki event takes place in Fairyland, where players will choose which Dream Path they want to take in order to gain pieces of the event suit. Players must finish the entire suit they chose before they can complete the second one.
After you've chosen the suit you want, you'll be taken to the stage battle screen where there are five stage battles to complete. This time stage battles will be slightly different than with past events in that every stage features two themes. The tricky part is you can only style one outfit to suit both themes. Your outfit must receive scores that are close to one another to rank high in the event. If you manage to keep the difference between your suit scores within the target range, you will earn up to six wish bottles per battle. You can participate in five free battles per day allowing you to earn up to 30 free Wish Bottles per stage per day for a total of up to 150 free Wish Bottles. As you gather Wish Bottles, you'll use them to unlock different pieces of the story suit you have chosen. You can reset a level for five additional tries. The cost is 30 diamonds. After you finish your first suit, you'll be awarded an additional 1,000 Wish Bottles for use towards the second suit.
Fairy Tale in Bottle Suit Costs
First Suit Cost
Total Currency Needed: 2425 Wish Bottles
Free Currency (Gaining 6 Each Attempt): Up to 1,050 Wish Bottles
Extra Currency Beeded: 1474 Wish Bottles = 246 Extra Tries
246 Extra Tries = 50 Resets = 1,500 Diamonds
Both Suits Cost
Total Currency Needed: 4850 Wish Bottles
Free Currency (Gaining 6 Each Attempt): Up to 1,050 Wish Bottles
Extra Currency Needed: 2800 Wish Bottles = 467 Extra Tries
467 Extra Tries = 94 Resets = 2,820 Diamonds
Fairy Tale In Bottle Stage Battle Guide: Tips & Suits For Best Scores On Every Stage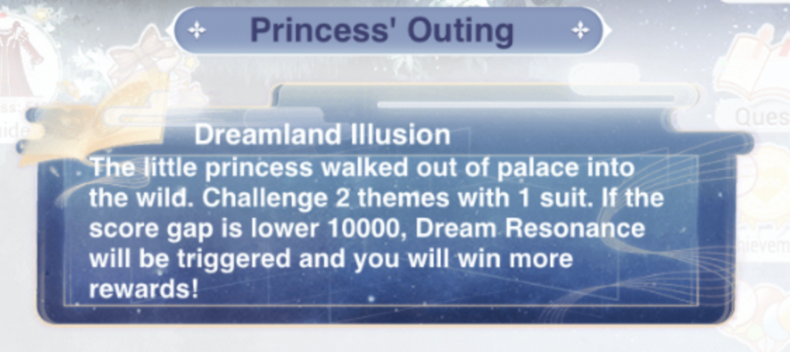 Stage 1 - Princess Outing
Stage 2 - Fairy Elf
Stage 3 - Witch Banquet
Attributes Judged: Mature/Sexy and Gorgeous/Elegance
Max Score Difference : 5,000
Suits You Can Use - Light Fairy, Wind Deep Legend, Tengu, Tornado Rhapsody, Madam Butterfly, Brocade Jade (unposed), Deicide Kalpa (unposed)
Other Suggested Items: A list of winning items for all player levels can be seen here, courtesy of the Official Love Nikki Facebook Group.
Stage 4 - Triumphant Uniform
Stage 5 - Dusty Pearl