'Love Nikki' Happiness Event Guide: Hall Of Oath Fireworks, Starphenie's Letter And Other Honeymoon Holyland Stage Tips
UPDATE 06/01/18: This event has ended. You can find a guide for the current Love Nikki Dream Love Happiness event, here.
The March Love Nikki latest Happiness Event aka Honeymoon Holyland has begun and there a ton of new stages or chapters for fans to complete in the Hall of Oath in order to win beautiful Happiness themed suits. To help you make the most of the new event, we've put together a complete event guide, plus tips for mastering every stage of the Hall Of Oath.
Love Nikki Hall Of Oath Guide: Tips For Making The Most Of The Latest Happiness Event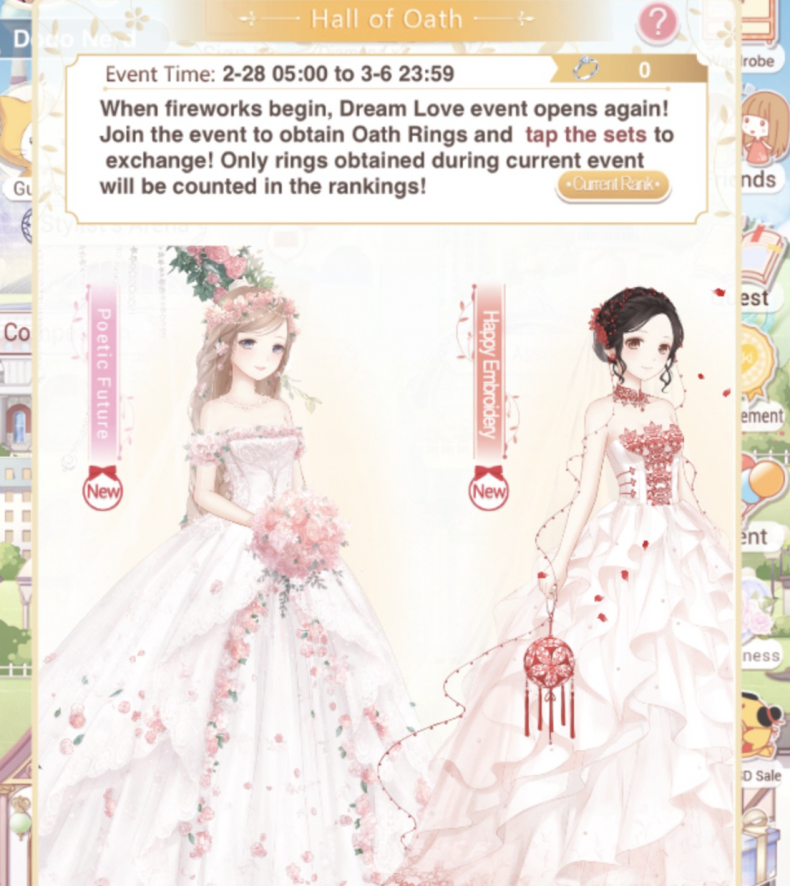 How Long Does Hall Of Oath Happiness Event Event Last?
The event kicked off Wednesday, Feb. 28 and will run through March 6.
How Does The New Happiness Event Work? How Do You Earn Oath Rings?
The lastest Happiness event, Honeymoon Holyland, has players completing stages on the Hall of Oath event map. As players complete each stage, they will collect Oath Rings which can be exchanges for wedding outfit pieces. Players get three free tries a day per stage and are allowed to complete a total of five stages per day. You will receive five Oath Rings for every stage you win and three Oath Rings for losing attempts
Which Suits Are Part Of The Honeymoon Holyland Event?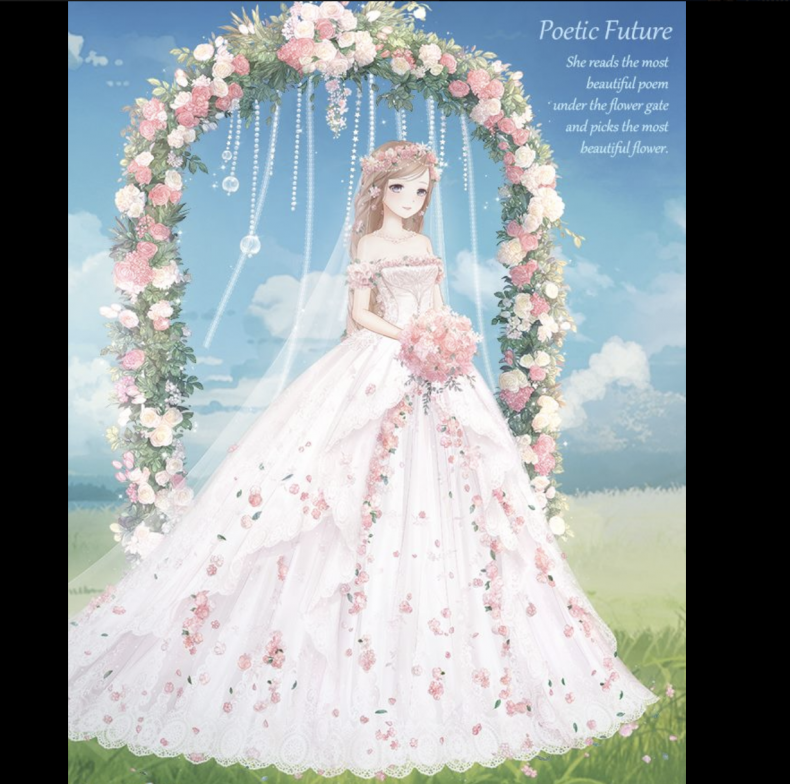 All event suits are from the Happiness section of the Gallery, found within the Achievement menus. They Include:
Season 1: Childlike Love, Destined Fate,
Season 2: Oath of Flower Rain, For the vows of Love
Season 3: Poetic Future, Happy Embroidery, Wisteria Vow
Hall Of Oath Chapter Guide: Tips For High Scores During Happiness Event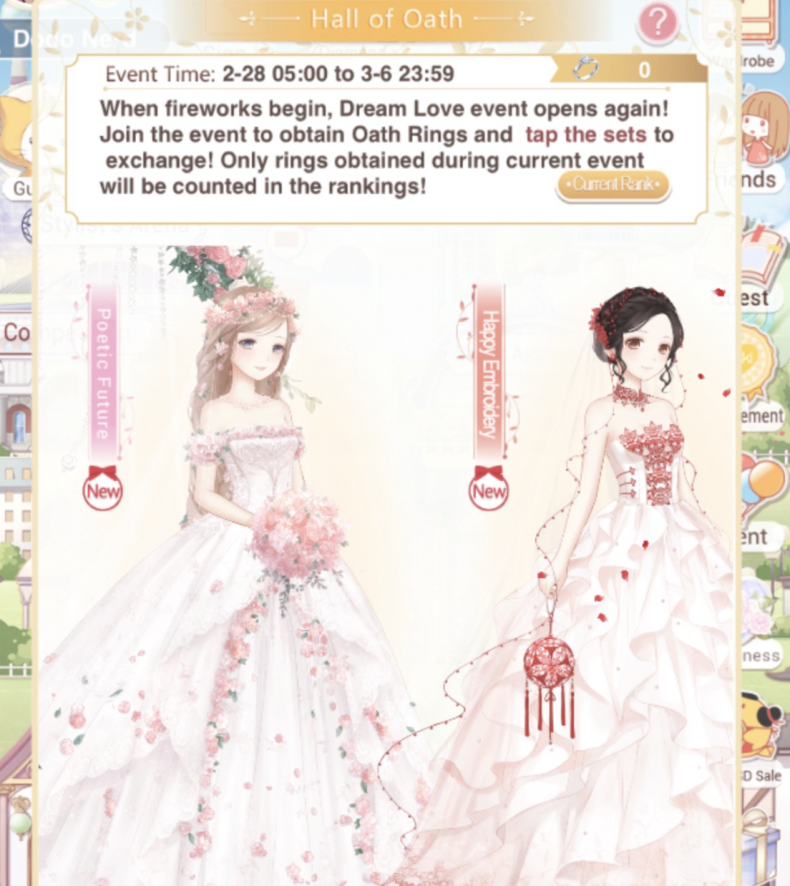 Stage 1 - Starphenie's Letter

Attributes Judged : Gorgeous, Cute, Cool, Elegance, Pure
Similar levels : 5-5

Stage 2 - Ominous Fortunetelling

Attributes Judged: Lively, Simple, Cute, Pure, Cool
Similar levels: 4-5

Stage 3 - Firework Accident

Attributes Judged: Lively, Simple, Pure, Mature, Warm
Similar levels: 2-5

Stage 4 - Fortunate Wedding

Attributes Judged: Elegance, Simple, Mature, Cool, Sexy
Similar levels : 10-5

Stage 5 - Ball Under the Starry Sky

Attributes Judged: Gorgeous, Elegance, Mature, Sexy, Cool
Similar levels: 5-9
Love Nikki Happiness Event Suits Cost: How Much Stamina And Diamonds Are Needed To Complete All Suits?
According to redditor wrlddmntr, completing all suits will cost the following amounts of stamina and diamonds.
Season 3 Hapiness Suits
Poetic Future
Daily Total w/ Free Tries (only getting this suit): 780-1980 diamonds
Daily Total w/o Free Tries: 1830-2610 diamonds
Stamina: 724-1207 stamina
Wisteria Vow
Daily Total w/ Free Tries (only getting this suit): 0-270 diamonds
Daily Total w/o Free Tries: 810-1320 diamonds
Stamina: 315-525 stamina
Happy Embroidery
Daily Total w/ Free Tries (only getting this suit): 870-2130 diamonds
Daily Total w/o Free Tries: 1920-3180 diamonds
Stamina: 759-1265 stamina
Happiness Suits Season 3 Summary:
Happiness Season 2 Suits
Oath of Flower Rain
Daily Total w/ Free Tries (only getting this suit): 600-1680 diamonds
Daily Total w/o Free Tries: 1650-2730 diamonds
Stamina: 652-1087 stamina
For the Vows of Love
Daily Total w/ Free Tries (only getting this suit):780-1980 diamonds
Daily Total w/o Free Tries: 1830-3030 diamonds
Stamina: 724-1207 stamina
Happiness Season 2 Suits Summary
Happiness Suits Season 1
Destined Fate
Daily Total w/ Free Tries (only getting this suit): 780-1980 diamonds
Daily Total w/o Free Tries: 1830-3030 diamonds
Stamina: 724-1207 stamina
Childlike Love
Daily Total w/ Free Tries (only getting this suit): 270-1140 diamonds
Daily Total w/o Free Tries: 1320-2190 diamonds
Stamina: 520-867 stamina
Happiness Season 1 Suits Summary
Daily Total w/ Free Tries: 2070-4140 diamonds
Daily Total w/o Free Tries: 3120-5190 diamonds
Total Stamina: 1244-2078 stamina
TOTAL FOR ALL SUITS