'Love Nikki' Sky & Sea Event Guide: Echo Conch, Suits, Recharge Deals and More
The Love Nikki Sky & Sea Event here! Check out our complete guide to the event including dates, suit cost, recharge deals and more, here.
Two exciting Love Nikki Dress Up Queen events kick off Wednesday, July 4 at 10 a.m. EDT and will run through 11:30 a.m. EDT on July 10. The first event, Sky & Sea a.k.a Caelum et Ocean, is similar to May's Miracle Concert Hell Event and features five beautiful ocean-themed suits. In addition, a Miraland Quiz event will take place at the same time, featuring stage battles and quizzes to answer for rewards such as diamonds, coins, stamina and suit pieces. There is a lot happening for Love Nikki fans this week, so we've put together guides to help you get the most out of both events. In this guide, we'll be specifically covering the Sky & Sea event. If you are looking for Miraland Quiz answers, you can find that in our separate Miraland event guide.
Love Nikki Sky & Sea Event: Echo Conch, Story Suits Cost and More Explained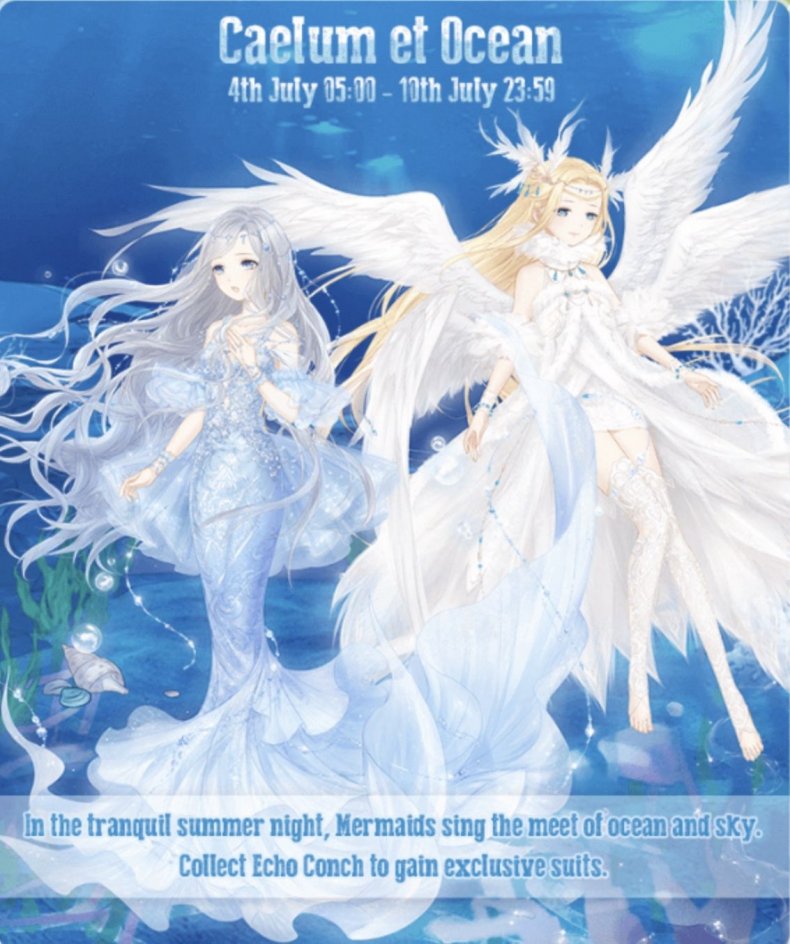 What is the Sky & Sea Event? How Does It Work?
The Sky & Sea event runs similar to a Love Nikki Hell Event. During the event, players will spend diamonds to complete gatcha pulls from the designated event tab. Players are given one free pull per day but each additional pull will cost 30 diamonds. You may receive some currency rewards like diamonds, coins and stamina after a pull, as well as an event Echo Conch. To unlock event suits you'll have to complete a specific number of pulls called a node. After completing each node you will receive a random event suit set.
Which Suits are Featured in the Sky & Sea Event?
The Sky & Sea event features five different suits and three backgrounds. We have posted photos of the suits and backgrounds below.
Suits
Winged Journey (Story)
Ocean Dream (Journey)
Rippling Silk (Apple)
Shiba and Croak (Apple)
Crimson Creek (Cloud)
Backgrounds
Cloud Dream (Obtained with Winged Journey)
Song of Dew Ocean
Night Siren
How Much Does Each Suit Cost?
Here are the pulls required per node/suit unlock along with how many diamonds each suit pull will cost you. The exact suit you will receive at each milestone is not yet known, but members of the Official Love Nikki Facebook Page have made some predictions, which we added below. As more information is available, we'll update the post.
Node/Milestone 1: 15 Pulls - 450 Diamonds (240 Diamonds with free pulls)

Predicted Suit Pull: Shiba and Croak or Rippling Silk

Node/Milestone 2:40 Pulls - 1,200 Diamonds (990 Diamonds with free pulls)

Predicted Suit Pull: Rippling Silk or Shiba and Croak

Node/Milestone 3:80 Pulls - 2,400 Diamonds (2,190 Diamonds with free pulls)

Predicted Suit Pull: Winged Journey or (Tiny Possibility) Ocean Dream

Node/Milestone 4: 150 Pulls - 4,500 Diamonds (4,290 Diamonds with free pulls)

Predicted Suit Pull: Crimson Creek, Ocean Dream or (Maybe) Winged Journey

Node/Milestone 5:220 Pulls - 6,600 Diamonds (6,390 Diamonds with free pulls)

Predicted Suit Pull: Crimson Creek, Ocean Dream or Winged Journey
Cumulative Recharge Event: Diamonds, Suits and More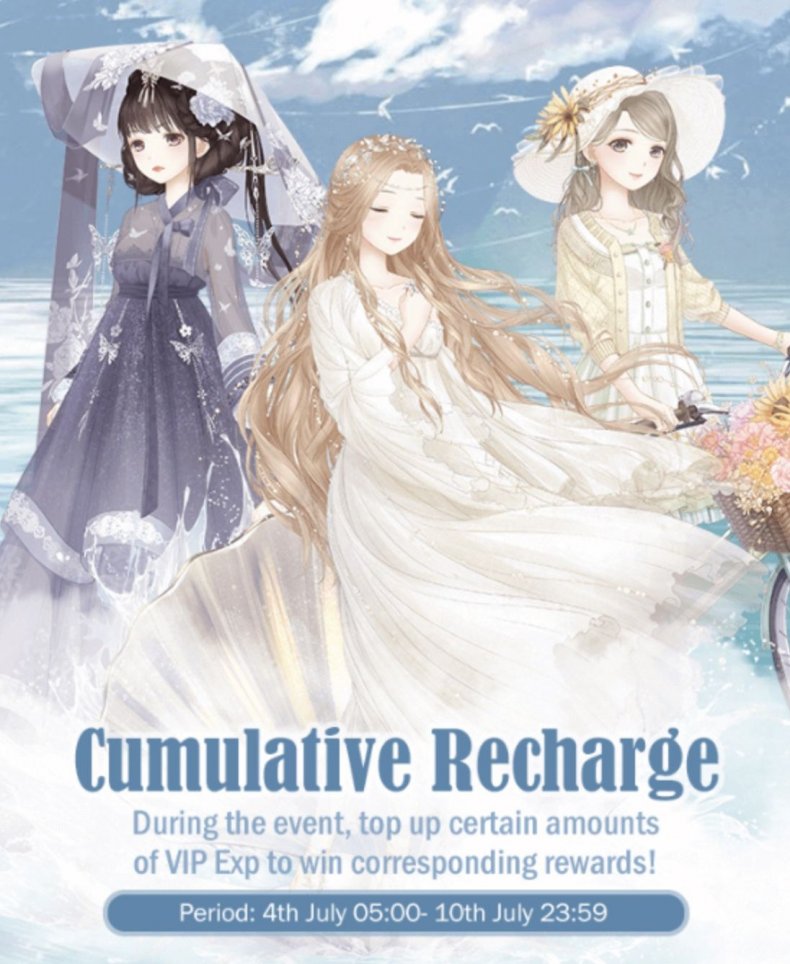 While many players stockpile diamonds waiting for an event like this, if you find yourself a little short this time around there is an in-game Cumulative Recharge event that runs during Sky and Sea. Players who recharge up to 1750 VIP Exp will be gifted three beautiful new suits. Each diamond you buy will grant you a VIP experience point. Here are suits by recharge amount:
260 VIP Exp to receive Bouquet Bikesuit

Includes Elegant Lady Bike

550 VIP Exp to receive Jewel of Oceansuit

Includes a giant picture frame Engraved Moment, an exclusive Deep Sea Pearl and new makeup Goddess's Favor. You will also receive a new free background called Flower's Kiss.

1750 VIP Exp to receive Fallen Butterflysuit

Includes the fancy decoration Butterfly in Waves and new makeup Understanding Flower.
What do you think of the latest Love Nikki Mermaid Hell Event? Which suit are you dying to snag? Share in the comments below.