There is a pause that sits in between the words "you have" and "terminal cancer."
It's the last moment before your universe shifts forever. Typically these words are handed down by a medical professional who has years of practice, but in my family's case my father was in a coma when we received the news and when he woke up, it was me who delivered the diagnosis to him.
It is a physiological truth that when our brain experiences trauma it goes into survival mode. But what does survival mode look like when your favorite person is given a terminal cancer diagnosis and less than six weeks to live? How do you complete a lifetime of experiences within an expiration date, and moreover, what happens when your six week timeline turns into two years? Two years of holding your breath and waiting for a person you love to die.
Survival mode for me meant that my life got sectioned into a "before "and an "after." Knowing someone is going to die laser focuses the rest of your life. It also means acknowledging that everything known to be true about love might need to be unlearned.
Like most people my view of love stemmed from my childhood. For me, that meant believing that love doesn't stay. My parents divorced when I was young, and I had a difficult relationship with my step father and complicated family ties.
Add a heavy dose of romantic comedies and a few seasons of How I Met Your Mother and the precedent was set for the type of love I believed I should accept for myself. I sometimes chose romantic partners who weren't always the healthiest choices for me, but I had the idea that if I gave enough of myself to the relationship without asking for anything in return, maybe it would stick.
Then, my dad was diagnosed and we knew that his life would end sooner than we'd ever be ready for. Medically, we knew he would need a lot of help and hospice care. He asked me within the first week if we could do it together as a team. Years before, we had made a promise to one another: that there would never be a movement in life where we would let the other feel alone. So, I didn't hesitate to say yes.
As I stared at a scan learning of the tumor that had centered itself around my father's upper lung, trachea and bronchus, I went, in an instant, from being a 24-year-old trying to navigate early adulthood, to a person taking a crash course in understanding cancer. My days became filled with counting pills, making medical decisions when he was no longer fit to make them on his own, managing hospice and tasks like pain killers or daily bath times.
The core idea I kept coming back to was this was temporary for me and permanent for him. We found out in February of 2020 that the cancer had spread to my dad's brain. This was right around the time the U.S. was just starting to pay attention to COVID-19. By April I had lost my job. While that wasn't easy, looking back, it allowed me to give my father my undivided attention. And, I learned quickly that you have to create your own happiness.
That meant having dance parties with my dad in waiting rooms, giggling over Chinese takeout after receiving news we didn't want, or perhaps having a harmless flirt with nurses. It meant creating our own pockets of joy wherever we could. But when the brain cancer started stealing my favorite pieces of him, I began missing him before he even left me.
My father had a favorite phrase. No matter what I was complaining about, after listening, he would ask, "Now what are you going to do with it?" This simple shift of focus would remind me that things could be hard, but you can make something out of it. After he passed in November of 2020, those words became even louder. I knew this loss could lay the groundwork for me to help someone else in their journey of grief.
There will always be a huge hole where my father would have stood during the big moments. I won't have his arm to steady me as I walk down the aisle towards my future partner, and I won't get to see his face light up at news he will be a grandfather. But the happiness I miss is also the small moments. I miss the mundane. I will miss sneaking desserts with him, long before dinner starts. I have an insatiable craving for those pockets of joy that my father and I worked so hard to create in the last years of his life.
So, I spent the eight months after his death building out a contemporary poetry book to pay tribute to his legacy. It was released on his birthday, August 30, and I think it might be the best birthday gift I have ever given to him.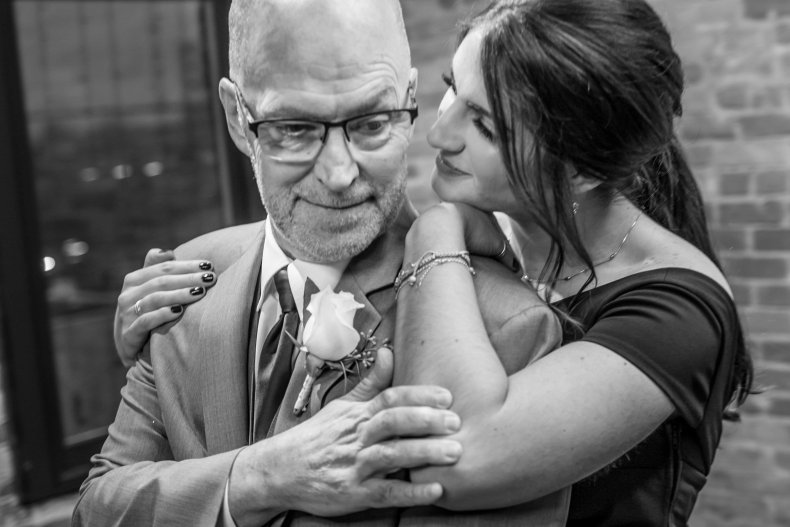 My advice to anyone who is going through grief is to give yourself the space to experience emotions as they come: feel everything. For me, no two days have looked similar, but I am learning that I need them all. I need my angry days to remind me that there is enough passion in me to fight, my sad days to remind me that this loss exists because the love I share with my father is so great.
My dad had wanted a full blown party in lieu of a funeral. As I planned it, I was debilitated by the idea that this was the last thing he had asked me to do, and that when I completed it, he would be gone for real.
Looking forward now, I know this is not true. Carrying out his legacy will change over time as I find new ways to honor him and tell his story. I know now that one thing we can always do for those we love, even after they have left us, is keep talking about them.
I know now, that in the years spent being his caretaker I gained far more knowledge in what being a partner looks like than any romantic relationship will ever teach me. I know that the bare bones of love lies in unconditional choosing. The romantic stuff is the fluff. I too have been guilty of being swept up in the fancy dinners or the trips, and found that I have stayed with someone because they're "nice enough." None of that is what makes a partnership, true love lies in choosing everyday to do the hard parts.
This experience of "doing life" with my father, especially at the end of his, created a structure for how I will handle all my relationships moving forward. I know the people around me will feel him in the way that I show up for the relationships in my life. The romantic bar that was previously set by unhealthy ideals and movie scenes is now set by the partnership my father and I created together.
That bond took time, work, and a whole lot of hard, honest conversations. I now know what it looks like to approach an issue big or small as a team and without any judgement, it is vital that my partner will be able to do the same with me. The loss of my father has not made me shy away from dating, instead it created a foundation of standards for my future relationships. I know the version of me that will one day be in a marriage will be the best version of me because of the lessons I have learned through this process.
It's infinitely harder to allow myself to settle for a "good enough" relationship when I know what a real teammate and unconditional love is supposed to look like.
All I now know to be true about love I can attribute to the relationship I built with my father. We learned and grew together, and though I don't have him holding my hand, or sharing a sarcastic joke, he will continue to be my guiding light.
Every day I can hear him asking me to live for him and for myself; to love fiercely and unconditionally. I hear him telling me I must never allow someone to feel alone, and reminding me that there's not a whole lot a dance party can't fix.
Mercedes Wallace is the author of the recently released, and Amazon best selling new release in contemporary poetry, One Without The Other In addition to being a writer she is a fierce activist, a communications strategist, and her most honorable title of all: Duane's daughter.
All views expressed in this article are the author's own.