'Lovecraft Country's' Wunmi Mosaku Talks Ruby's Rage in That Stiletto Scene We Can't Unsee
From the moment viewers were introduced to Ruby Baptiste on HBO's new series Lovecraft Country, audiences were immediately drawn to her.
The educated and sophisticated singer possesses a captivating air of enchantment that was noticeable from her first appearance. In episode one of Lovecraft Country Ruby performs on stage in that curve-hugging blue dress—viewers start watching her then and just don't stop. Although her little sister Leti (Jurnee Smollett) steals the spotlight after being coaxed onstage by the crowd, Ruby's flair and sharp tongue made her a delight to watch, particularly during a haughty exchange in episode 3.
But, finally, Ruby's depth and the impeccable talent of actor Wunmi Mosaku, who plays her, got the chance to dominate the screen during Sunday night's thrilling episode of the sci-fi series.
Taking full advantage of the powers given to her from a blood tonic, Ruby transforms into the unimaginable: the well-to-do and white Hillary Davenport, an "imported good" of sorts, as Ruby describes her during a job interview at Carson's department store.
Like much of the series, which combines the mystical with the racism of the Jim Crow era, Ruby's arch—despite an entertaining one—is a hard pill to swallow. Moonlighting as a white woman gives a peek into a world of privilege and access she could actually never experience as a Black woman, especially in the 1950s. Yet, it begs the age old question— is the grass really greener on the other side?
Ruby's quest to find the answer releases a rage so deep-rooted that it brings out something much scarier than the magic that powers her shapeshifting. And it exposes the true nature of the white supremacy and inequality Black people in America are still exposed to today.
"The thing that Misha Green [creator and executive producer] put so well was, 'Actually, being black isn't the issue. Being a woman isn't an issue. The issue is how society treats you,'" Mosaku said in a recent phone interview with Newsweek. "I have no problems. I love me. The problem is you guys out there doing what you do and treating me how you treat me. That's the problem. That's always been the problem. It was hard to get my head around Ruby and the decisions she makes. But the conclusion she comes to is like, 'Well it's not me that needs changing, it's you.'"
While it takes an unhinged Ruby and a stiletto to get that message across to one unlucky man, it's an adage that resonates with many Lovecraft Country fans.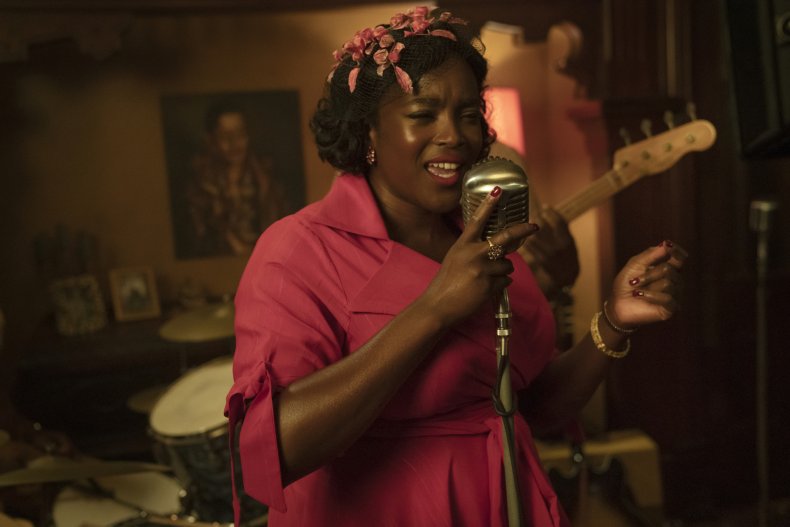 How did you get involved with the show?
My agent and manager sent me the pilot to tape for, and I just happened to be in L.A. that week for my anniversary and managed to fit in an audition. I went into the casting director's office and read a few scenes, and I had a recall over Skype with Yann [Denmage, director] and Misha. That's when I realized where the character was going and the range she was getting. I started reading the book between the second and third rounds. I auditioned with Jurnee for my final round. It was a really cool audition. There was so much energy between us. I think we were playing quite nice in the beginning and by the end of the audition, we were having this full-on argument. When it was over we were like, "Whew, sorry. Nice to meet you."
Did that intense audition with Jurnee help you ladies facilitate that sibling rivalry that plays so well on screen between Ruby and Leti?
For sure. By the end of the audition, we had really let some walls down with the sibling rivalry and anger. In the room, we kind of talked it out. We drew from our own experiences. We both have siblings and sisters. We both understood each character in different ways, and by the time we came to shoot it, we had already done the work of building [Ruby and Leti] and our relationship as women.
Can you talk about your experience working with Misha Green and the rest of the cast and crew?
It was quite extraordinary having certain people in front of the camera and behind the camera become people you really care about while you're dealing with issues that still affect your day to day—you know, white supremacy and the horrors and injustices of inequality and racism. So to be able to talk about these things on set with people who truly understand, and to realize things I don't know about as someone who is British, it just created a safe space where we could kind of get to the bottom of all of these emotions and conflicts—personal conflicts and conflicts with society. I've never been on a set that was Black, diverse, had so many women in charge of things. It was great. It was really wonderful being able to have that experience and be in it honestly.
The timing of the show's release in the midst of the pandemic and all the protests surrounding police brutality and inequality in America right now makes Lovecraft Country feel all the more impactful. Would you agree?
I do feel like the themes of the show, the reality of life as a Black person in the U.S., the U.K., around the globe, is cataclysmic. It's always been relevant but the timing of the pandemic and people realizing that not being not racist isn't enough, it's about being anti-racist and understanding we have to come together, it has to be a collective effort—it's amazing to see the community. And I think the pandemic really helped. We're all responsible for each other during this pandemic, caring for someone other than yourself and the people outside of your household. I feel like that action, that care that we have to take for our fellow human beings, it feels like more people are finally realizing we need to do that with everything—injustice and equality, racism, white supremacy, the patriarchy, all of it. If we want the world to change, we can change it. But in order to change it, the world collectively has to do better.
When you got to the script for episode 5 and you read what Ruby was going to be doing, what were your first thoughts about her willingness to drink the potion and essentially trade her blackness for whiteness?
It hurt. We work every day to love ourselves. You get to a certain age and you start comparing and being uncomfortable in one's body. And then you get to a place where you start to love yourself, accept yourself, celebrate and honor yourself. Ruby making that decision was so tough for me. No one gets that in real life. No one gets the opportunity to just shapeshift. It felt like a betrayal because I match Ruby. I look exactly like Ruby. I had to work on understanding why [she made that choice].
You and Jamie Neumann must have spent a lot of time together to play that character so seamlessly as she switched races. Whether she was black Ruby or white Ruby, she felt like the same Ruby through the whole episode.
That is really Jamie's genius. She really is an incredibly talented actor with a really open heart. We spent a lot of time together, but it was a lot more of her trying to follow my Ruby rather than it be a collaboration. It was really down to her genius and paying attention and us talking and understanding how Ruby feels, why she does the things she does, her movements, her actions. I would record lines for Jamie. We'd be on set together and watch each other's work, ask each other questions. But she really just attached to Ruby. It was incredible.
How did you prepare for that ending stiletto scene? It was hard to watch but I couldn't turn away.
It was painful. It really shook us up—both Jamie and I. It was quite an emotional day on set. The reality is what Ruby is doing is not correct. It is sexual violence to a man. It's not ok, like it really is not ok. I couldn't fathom it and I wouldn't replicate it. I don't agree with her decision, but you have to understand her rage. That was kind of a scary thing for me. I had to really dig deep and uncover a lot of the rage that I myself feel. When you get to a place where a person is so angry that they can do anything—it's a dark dark place. That day [we filmed the episode] Jamie and I were both shaking, like tearing up. To understand and feel that rage and execute that act—it was unimaginable when I read the script. I was like, "What? Whoa!" Ruby's been walking around with this rage untapped, and then it just pours out.
What can viewers take away from Ruby's storyline?
It's interesting because even though you may not agree with what she does, you can't help but feel empathy for her rage, her frustrations. This is someone who is so unbelievably qualified that when she walks into a department store as a white woman she gets a managerial role immediately. Whereas as a Black woman she can barely walk through the door. She can't even get an interview. The rage of someone who continues to strive so hard and work so hard but is interrupted every day by society, by racism, by white supremacy, by the patriarchy—how can you not feel empathy? We don't have magic at our fingertips, but that rage is still there. That inequality is still happening to me. It happens to my family, the women in my family. It happens to my Black colleagues and friends. They are not being afforded the same opportunity or what they actually deserve.
How does it feel to be a part of a show like this that is generating so much fanfare?
It feels good. It feels revolutionary. It feels bold. It feels wild. It feels brilliant. The show is all of those things. And it's odd. I'm so very proud of it. It feels amazing. I needed this. I needed Ruby—more than I knew—to speak out. I needed Jurnee, Misha, Aunjanue Ellis—all those women—to talk to, more than I knew. I feel changed by it, by just being in that space with those people. I hope that people watching it feel changed too.