HBO has aired a whole host of literary adaptations this year, from Westworld to The Plot Against America to My Brilliant Friend, but none of them featured a single monster with monstrous tentacles. That could change, however, with Lovecraft Country, the cable network's adaptation of Matt Ruff's 2016 novel of the same name.
Many horror movies have mined America's racist history for subtext or text, from George Romero's Night of the Living Dead (in which a Black man survives hordes of the undead, but is shot to death by a white man once the attack has ended) to Jordan Peele's recent films like Get Out and Us.
Lovecraft Country, both the book and the HBO series, mines similar ground. According to the novel's synopsis, the book "makes visceral the terrors of life in Jim Crow America and its lingering effects" by combining two sets of terrors.
First, the very real fear that Black people felt in the 1950s in white neighborhoods where any interaction with a white person that goes slightly awry could be their last. Second, the fear of the sort of creatures that inhabit the work of pulp horror novelist H.P. Lovecraft, whose most famous invention is Cthulhu, a giant monster with the body of a man, the wings of a dragon and a face of octopus-like tentacles.
In the novel, these monsters act as a metaphor for the racism, which is more insidious than monsters and so much harder to escape from: After all, you can run from a giant monster, but not from an oppressive system.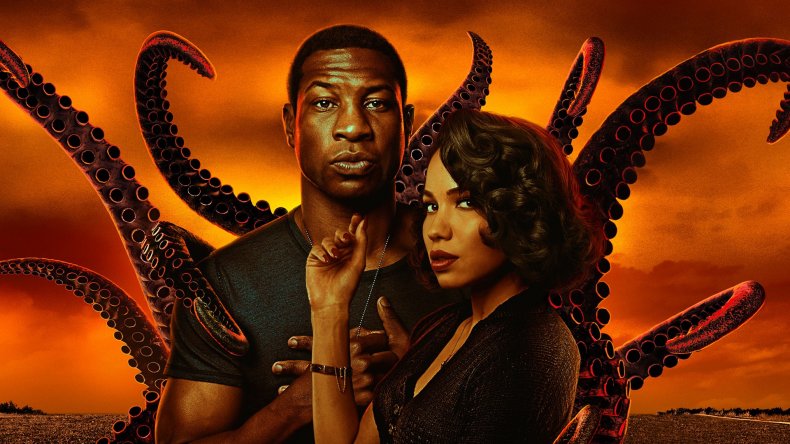 Speaking to IndieWire, star of the show Jonathan Majors said: "With a monster, you know what you get. The unfortunate thing about the spiritual warfare that our characters are engaged with [...] is that you don't know where it's coming from."
Co-star Jurnee Smollett, meanwhile, added: "Essentially, our heroes are going on a quest to bring down white supremacy, and we're still on that quest today. Racism is a demonic spirit [and] something we're still fighting off."
The HBO adaptation of the story roughly follows the story of the book. Majors is Atticus Freeman (Atticus Taylor in the book), an Army vet living in Chicago in 1954. After his father Montrose (Michael Kenneth Williams) goes missing, Atticus, his uncle and The Safe Negro Travel Guide publisher George (Courtney B. Vance), and his childhood friend Letitia (Jurnee Smollett).
Atticus is a big fan of Lovecraftian supernatural fiction, monsters from which begin manifesting themselves in the world, meaning they have to fight not only what the book's blurb calls the "mundane terrors of white America," but also supernatural monsters like witches and vampires.
The HBO series follows closely in some aspects to the novel, but differs wildly in others, which might be due to the race and genders of the respective creators—Ruff is a white man, while showrunner Misha Green is a Black woman.
One of the changes, for example, is the addition of a new female villain, the white Christina (Abbey Lee). Green said of this character to the New York Times: "If we're exploring levels of power and using magic as the overlay of that, it just felt right to explore what it means for a white woman who doesn't technically have power to have stolen some of that power."
The novel was inspired by "Shame," a 2006 essay by Pam Noles about how white sci-fi is, and the characters in the TV show discuss the racism of the genre, and particularly that of Lovecraft himself. The author was a known white Supremacist whose letters are full of anti-Semitic conspiracy theories about Jewish plots against "the Aryan race." He also wrote explicitly racist poetry, like 1912's "On the Creation of N******."
Green told the New York Times that it was this that attracted her to the source material: "I have read H.P. Lovecraft, and I understand why he has influenced so much of horror writing. But because of his history, I wasn't a huge fan. When I read Matt's novel, I said: 'Oh, it's legit. Thank god.'"
Lovecraft Country starts on Sunday, August 16 on HBO.