'Lovecraft Country' Ending Explained: What the Finale Means for Season 2
Lovecraft Country has never been a show afraid of a little blood, but the finale of the show (streaming now on HBO Max) had particularly grisly ends planned for a number of characters, whilst also leaving a door open for a potential Season 2.
WARNING: The following contains spoilers for Lovecraft Country Episode 10, "Full Circle"
By the end of the season finale, Atticus (played by Jonathan Majors), Ruby (Wunmi Mosaku) and Christina (Abbey Lee) all seemed to be dead—though in a show like this with so much magic and time travel going on, this does not mean that the characters are dead or gone forever.
At the start of "Full Circle," Tic and co have the Book of Names from Tulsa, and Atticus himself seems destined to die as predicted earlier in the HBO show. Reading from the book, Atticus and Leti (Jurnee Smollett-Bell) dissolve into an upside-down-like ancestral realm, a dimension of fire where they learn the magic they need to defeat Christina in Ardham.
In this realm, Atticus is reunited with his mother, who helps him prepare for his impending death. Before he is able to make his Autumnal Equinox sacrifice, however, the gang needs to collect the skin of Titus Braithwaite (Michael Rose) and the blood of Christina. This means bringing the former back from the dead, which also means he has time to warn Christina of what is afoot.
Christina offers to leave Tic's family alone if he gives her the Book of Names, but he refuses, leaving Christina to get her revenge by taking Leti's invulnerability. Meanwhile, Tic and Ji-Ah (Jamie Chung) reconcile after his cruelty the last time they met.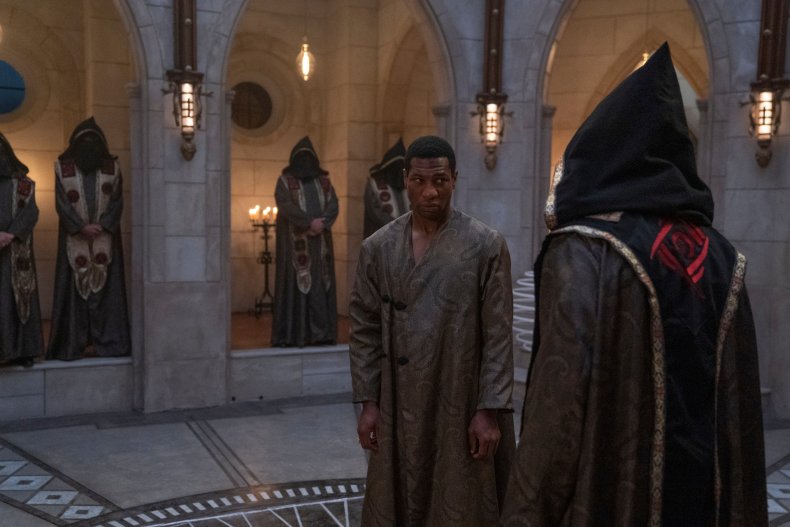 Tic is not the only one trying to reconcile. Ruby and Leti try to make up at their mother's grace, but this is not wholly successful—when the latter asks the former to help her get Christina's blood, the former responds that Leti only wants Ruby to be her sister when she wants something.
However, Ruby does manage to get Christina's blood, and the gang head to Ardham...at least, we think it is Ruby, until it is revealed to be Christina in disguise, who says she has killed Ruby—the first of the Lovecraft Country finale's major deaths.
Of course, we never see Ruby's body, which in TV tends to mean that she is not really dead. This is definitely something that Season 2 could explore, with the season possibly opening by revealing what has happened to the character.
Talking about Season 2, while all of this is happening, Diana (Jada Harris) sees an evolved version of the beasts from the start of Lovecraft Country, suggesting that the cast could have bigger and badder threats to face if there is another season of the show.
While this monster saves Diana from a less evolved version of the monster, Christina and Leti are fighting, leading Leti to be thrown out of the tower where the ritual is taking place. We think that all is lost and that Christina is about to cast the invincibility spell when Leti returns, fully invulnerable again, just in time to see Atticus die as Christina drinks his blood.
Jonathan Majors has confirmed in interviews that his character is definitely dead and showrunner Misha Green has repeatedly refused to confirm if the actor will be back as Newsweek explored in our guide to Season 2), which could suggest that this is the last time we see the character unless there is some necromancy afoot at the top of the next season.
Leti stabs Christina, but it doesn't kill her, and it seems that her invincibility spell is working. However, Ji-Ah is able to use her tentacle powers to connect Tic and Christina, creating a bounding spell that takes away magic from "every white person in the world" according to Leti.
This is another avenue that Lovecraft Country Season 2 could explore: With Green telling Deadline that a potential Season 2 would, "reclaim the genre storytelling space that people of color have typically been left out of," the next set of episodes could explore what this newly-found magic means for people of color in the world of the show.
This is all too late for Tic, however, who still seems to be dead. Our final words from him come via a letter to his estranged father, where he tells him to be a better grandparent to baby George than he was to Tic. Again, this is another potential avenue for Season 2, to explore George's life growing up in a world where the balance of magic has been shifted against white people.
In the final scene of the episode, Diana and her new bionic arm find Christina in the rubble caused by the energy from the spell and kills her. At the very least, it seems that Season 2 of the show will have a new villain.
Lovecraft Country is streaming now on HBO Max.