Lovecraft Country fans are connecting some of the dots throughout the HBO series' first season.
Following Sunday night's thrilling episode, fans took to Twitter with their theories and ideas about what may be headed down the line for Atticus "Tic" Freeman and Letitia "Leti" Lewis, played by Jonathan Majors and Jurnee Smollett, respectively. But the biggest thing boggling the minds of viewers was Jamie Neumann's starring role as Hillary Davenport—the white woman that Wunmi Mosaku's character Ruby shape-shifted into after drinking a magical elixir.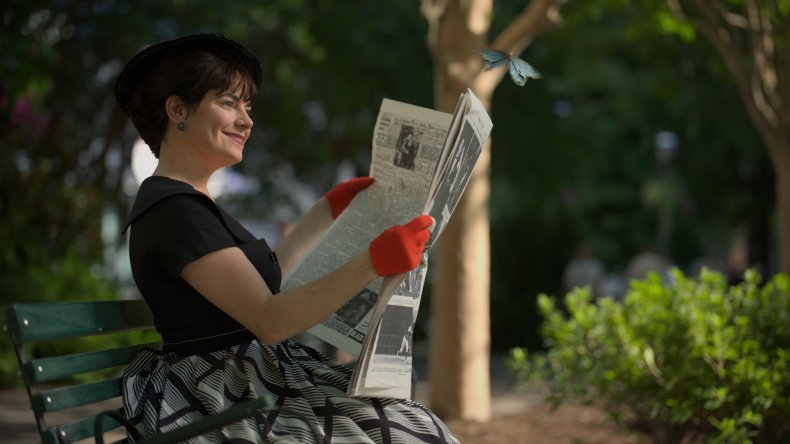 Although the episode marked Hillary's first appearance on the show, many fans were convinced they saw her face before on the show—and they were right.
Neumann was first spotted on Lovecraft Country earlier in the season, during the second episode. She played the role of Dell, a woman working for the Braithwhites' creepy cult. Tic, Lettie and Uncle George (Courtney B. Vance) encountered her while they were roaming around Ardham looking for Montrose (Michael K. Williams). Dell and a pair of vicious hounds were guarding the prison cell where Montrose was secretly being kept.
After a fight in the prison during the heroes' quest to save Montrose, Neumann hadn't appeared on the show again until the opening scene of episode five, when Ruby wakes up as a white woman.
"Me 20 minutes after the episode ended just realizing the lady who was handling the dogs at the Braithwhite place is the same lady playing 'Hillary'/Ruby's White form..." one person wrote on Twitter on Sunday.
Although it took some viewers a while to realize that Hillary and Dell were played by the same actor, Neumann's outstanding performance wasn't lost on fans. People were full of praise for the ease and exactness that she brought to the character that Mosaku had already established.
"@neumann_jamie the actress who played Hillary, had every one of @wunmo (Ruby) movements down to a T!! From the hip sway as she sashayed through that crosswalk, to the look of disgust when she saw that maid outfit in the box. I was outdone!! #LovecraftCountry," one fan tweeted.
In a recent interview with Newsweek, Mosaku praised Neumann for making Ruby's metamorphosis a seamless transition.
"That is really Jamie's genius. She really is an incredibly talented actor with a really open heart. We spent a lot of time together, but it was a lot more of her trying to follow my Ruby rather than it be a collaboration," Mosaku explained. "It was really down to her genius and paying attention and us talking and understanding how Ruby feels, why she does the things she does, her movements, her actions. I would record lines for Jamie. We'd be on set together and watch each other's work, ask each other questions. But she really just attached to Ruby. It was incredible."