Low-Cost Health Care Available for Artists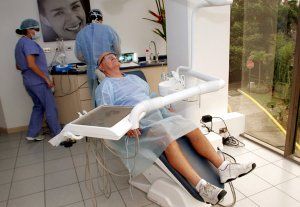 Katherine Edmonson, a singer and songwriter in Austin, Texas, is finding her career on the upswing. Previously, she played regular gigs in bars and restaurants around Austin, but she has graduated to playing shows at music venues and theater spaces throughout the city. But even as she finds more success, she's still trying to make ends meet. "It's the struggle of navigating a career and not having the money to back it up," she says, noting that gigs can still be few and far between. "This is a nasty business."
It's also a business without a health plan. But with the help of the SIMS Foundation in Austin, a nonprofit devoted to providing medical care for musicians, she receives low-cost therapy sessions with mental-health counselors. "Working with someone on a regular basis and expressing myself helps me to maintain a positive perspective," she says.
SIMS is one of a few programs across the country trying to provide creative health services for the creative class. The foundation offers low-cost mental-health and addiction counseling to this population on a sliding pay scale. Generally, musicians are responsible for a copay of $5 to $40 per session to see any one of the 60 participating therapists who take in SIMS patients.
Musicians and artists have specific health concerns, and because they may often neglect regular medical care, they may need it the most. Financial instability is one factor affecting artists' health issues, but the late hours, travel schedules, and proximity to drugs and alcohol can either lead to or exacerbate mental-health problems, says Tricia Forbes, executive director of SIMS.
Across the country, health systems and artists' collectives are trying to find ways to make care more accessible to artists and others in nontraditional work environments. In New York, Brooklyn's Woodhull Hospital has instituted an Artist Access Program, where uninsured artists can use their talents, including photography, painting, and storytelling, to earn hospital credit. Each hour of service earns them $40 of credit and can be used at Woodhull and its clinics to pay for appointments, lab tests, and medical procedures. More than 600 artists have participated since the program began in 2005. "Most participants use their points for regular checkups, gynecological services, and dental services," says Lynn Schulman, a senior associate executive director for business affairs at the hospital.
The ability to be proactive about her health was a main draw for G.V. Maldonado, an actress who has been with Artist Access since April. "If you don't do checkups, how do you know you're not going to get something bad along the way?" she says. Due to the cost of copays, Maldonado says she did not receive checkups since losing her health-insurance plan in February. But thanks to Artist Access, she uses her credits toward doctor appointments and prescriptions. "It's a relief," she says. "I can go to the doctor when I need to go to the doctor."
In Portland, Maine, artists and musicians can find access to health care through a community service exchange organization. Hour Exchange Portland participants give an hour of their time providing a service for someone in need of help, whether it's winterizing homes or tutoring English as a second language. In return, they receive an hour of someone else's time for any needed service, including medical care. Of the 15,000 to 20,000 hours exchanged each year, a third are used for health-care services, says Lesley Jones, executive director of Hour Exchange. Out of 650 members in the program, 200 are medical practitioners, offering such services as counseling, physical therapy, and holistic care.
Kymberly Dakin-Neal, a performing artist, trainer, and audiobook narrator, says she joined Hour Exchange in 1997 because she liked the idea of service exchange. When she discovered she could receive health care by using the time credits she earned through gardening, window washing, and personal shopping, she felt excited. "It was a relief that I had access to health care through this model," she says. Though she and her husband currently have health insurance, patches of unemployment previously forced them to pay full price for certain medical costs. "There were periods of time when we had minimal coverage, [and] at various junctures we had no coverage," she says. "It was really becoming cost-prohibitive." But in exchange for her work through Hour Exchange, Dakin-Neal scheduled gynecological checkups and chiropractic appointments for lower-back pain, and experimented with acupuncture therapy at a local alternative-care clinic, which does not take insurance plans.
Hour Exchange is open to all Portland residents, and people from all careers participate, including health professionals like Jennifer Lunden, a mental-health and substance-abuse therapist. She, too, uses the exchange for health care not covered by her insurance, proof that while artists may lead less traditional lifestyles, the need for more affordable health care is hardly out of the mainstream.
Editor's note: This article originally identified Hour Exchange as a barter program. In fact, it is a community service exchange organization, which has different legal and tax implications than a bartering program.