Low-Key Climate Confab in Cancún Holds Some Promise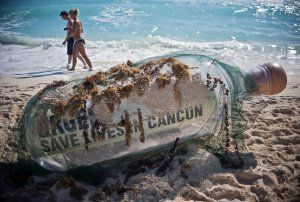 Compared with the epically seismic United Nations climate summit last year in Copenhagen, this year's meeting in Cancún could well be considered a pothole—a small, hardly noticed international meeting to, yet again, pursue an elusive agreement to cut global greenhouse gases. Neither network newscasts, nor morning shows, have devoted significant time to the 2010 conference. Last year, the BBC determined that globally, almost two thirds of people who considered climate change "very serious" would be watching delegates closely in Copenhagen. The number of folks interested in this year's conference is undoubtedly lower—but no polling company has asked.
That might be for the best. For all the hype in Copenhagen, which featured high-profile visits from several heads of state, including President Obama, the result was little more than a nonbinding agreement to disagree. An effort to limit global deforestation gained traction, as did an acknowledgment that developing countries in low-lying areas bear the brunt of a changing climate. But despite a dramatic showdown among Obama and Chinese, Indian and Brazilian heads of state, the needle hardly moved on the pursuit of a binding global treaty.
Cancún won't be much different. But the lack of media attention has good implications. "No one expects that we'll come out of this with a treaty," says Heather Coleman, senior policy analyst with advocacy group Oxfam International, who's in Cancún. "But that might help us make incremental progress in several issue areas." She's talking about something like a global climate escrow fund to assist poor countries affected by rising seas or more extreme weather. Finding money to finance new energy technology research also appears promising among every country–including the U.S.–that refuses to restrict growing industries.
At a closed-door strategy meeting Wednesday night, the State Department's Jonathan Pershing, who's currently leading the U.S. delegation, told NGO heads that the U.S. still has high hopes for a global treaty, but is focusing much of its effort on pushing developing giants like China and India toward financing agreements. The U.S. still wants a comprehensive agreement, but is committed to smaller progress this time around, Pershing told delegates, according to two sources present who paraphrased his comments. Earlier in the day, he told reporters that the U.S. was "prepared to be pragmatic and flexible, but others must be too." Pershing and other administration officials also were adamant that the U.S. wouldn't agree to financing in developing countries unless those countries committed to making mitigation efforts, rather than use the money as economic sustenance.
It's a piecemeal approach going on mostly in private, away from cameras. And while throngs of protesters on Cancún's beaches have decried the lack of global attention, the delegates don't seem as concerned. Later next week, as the conference wraps up, Agriculture Secretary Tom Vilsack is expected to attend several sessions, as are Energy Secretary Steven Chu, White House Council of Environmental Quality chair Nancy Sutley, and the administration's special envoy on climate change, Todd Stern. The only people missing? Pundits scrutinizing every word.