14 Low Maintenance Outdoor Plants for People Who Kill Everything
Not everyone is born with a green thumb and picking up a garden shovel for the first time might feel like a scary prospect. But even those who kill everything they try to grow will be glad to know some plants require little attention to thrive.
Speaking to Newsweek, author and house plant expert Lisa Eldred Steinkopf said: "Many plants are easy to grow as long as they are placed in an area that is conducive to their needs," including their light, soil and water requirements.
"What is easy outside is different inside because we are completely in charge of the care of our houseplants," Eldred Steinkopf notes, adding that keeping outdoor plants alive depends on the soil, light and the time you want to spend on them.
Pleasant explains there are 10 defined climate zones, with huge variations in temperature and rainfall. Depending on the needs of the plant, some grow better in certain areas than in others.
For example, did you know that the "Miss Kim Lilac"—a Korean lilac—is hugely popular in the U.S.? It will grow and bloom in climates too warm for regular lilacs, Pleasant told Newsweek.

Eldred Steinkopf says among the outdoor plants good for easy growing outside the Midwest and the eastern part of the U.S. include shrubs (such as Panicle hydrangeas varities, Rose of Sharon, quince, spireas, viburnums, barberry, fothergilla, and ninebark) as well as perennials.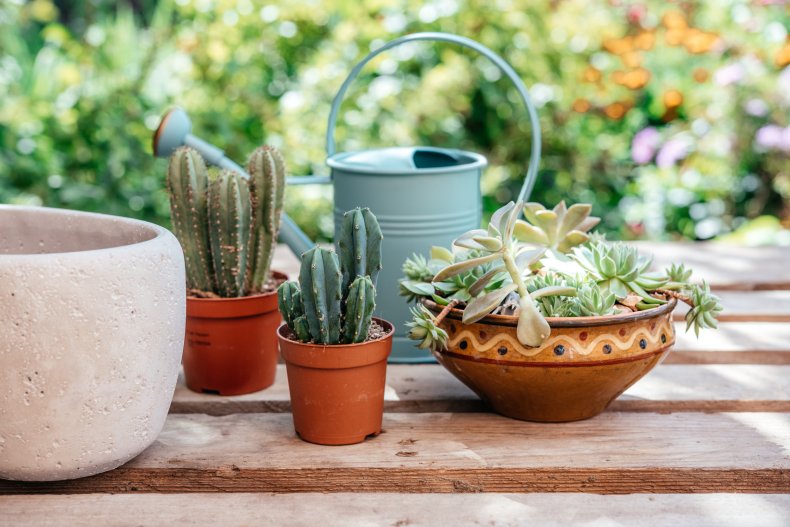 Below we take a closer look at these and other low maintenance plants for gardening newbies that are nearly impossible to kill.
Ghost plant
Native to Mexico, ghost plant (Graptopetalum paraguayense) are evergreen plants with light blue to gray, pink foliage that give it a "ghostly" appearance due to a powdery coating known as pruinose that covers the plant's leaves, the University of Florida Institute of Food and Agricultural Sciences (UF/IFAS) explains.
Author and plant expert Barbara Pleasant told Newsweek: "Hardy succulents like ghost plant have become popular because they require little care."
With "no maintenance necessary," ghost plant are easy to grow, according to the "Native and Adapted Landscape Plants" guide published by the Austin city government website.
They require a very low amount of water during its growing season. Watering is needed only occasionally if there has been no significant rainfall for a month. They tend to bloom more in the sun but require less water in part shade.
Their succulent leaves easily break off and re-root but if your plant appears to be losing an excessive amount of leaves, you may be overwatering it.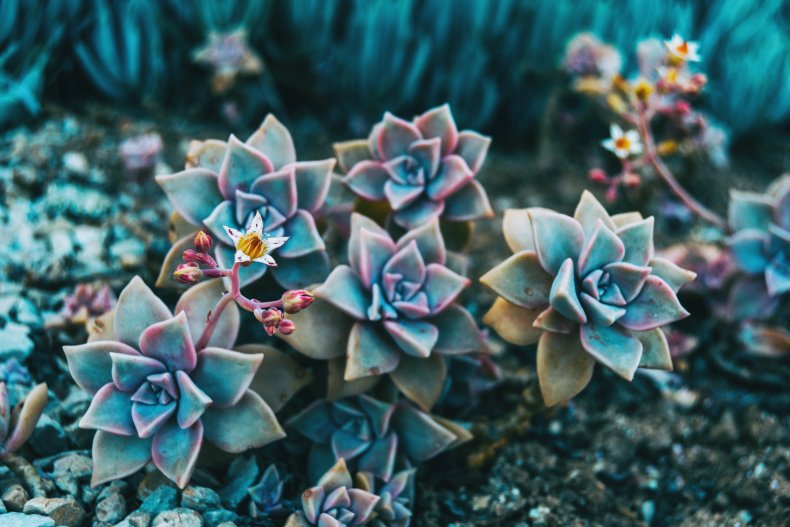 Petunia
New gardeners may find it easy to work with seasonal bedding plants, such as wave petunias who "don't know how to stop blooming," Pleasant told Newsweek.
Easy to grow in the garden as well as in containers, petunias are among the most popular flowering plants.
Lighting is the most vital factor for growing petunias, which require at least five to six hours of good sunlight and grow even better when in full sunlight all day, advises the University of Michigan.
Many varieties of petunias will thrive even if the soil is not rich and their watering requirements are undemanding, it adds.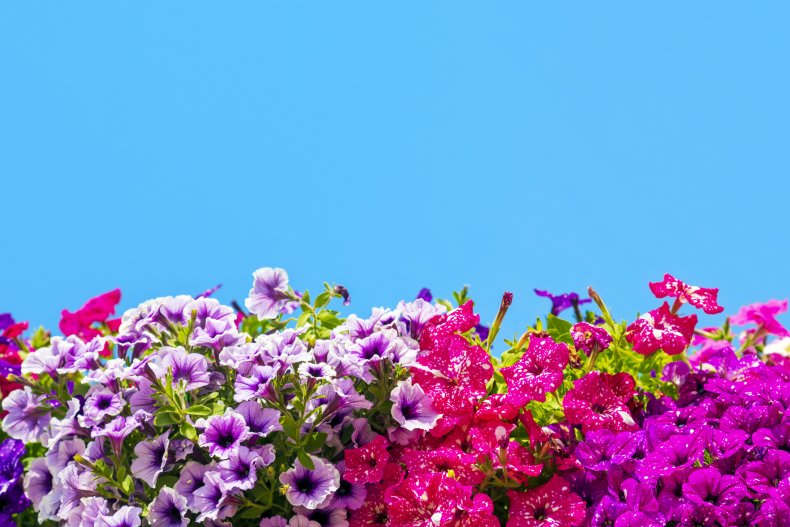 Angel wing begonia
If you want to look like "you know what you are doing, even if you don't," angel wing begonias will do the trick, according to Pleasant.
Sometimes known as cane-like begonias, angel win begonias are named after their asymmetric-shaped leaves, which come in various colors and patterns.
Pleasant told Newsweek: "A pot of angel wing begonias will make anyone think you know what you are doing, even if you don't."
Native to the tropics, they prefer areas with high humidity and plenty of filtered sunlight but can also grow well indoors. Their white, pink, orange or red flowers generously bloom from early spring through autumn and occasional light pruning will stimulate growth and flowering, says the UF/IFAS.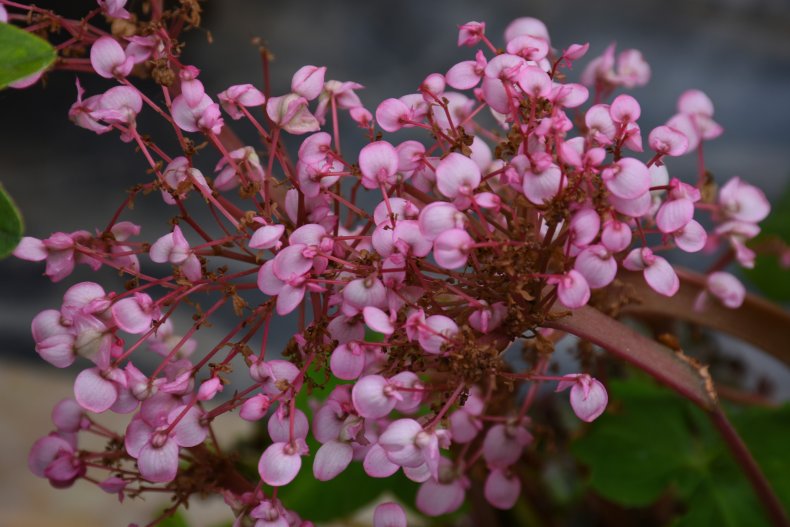 Daffodil
Winter is a very tricky time of year to grow plants even for the best of gardeners. However, daffodils and other spring-flowering bulb plants make an easy growing option in winter.
Pleasant said: "The one thing anyone can do this time of year [winter] is plant daffodils (narcissus) and other spring-flowering bulbs.
"The tissues for next spring's blooms are already waiting in the dormant bulbs, so every one of them will bloom. Deer and squirrels eat tulips, but nothing bothers daffodils," Pleasant explained.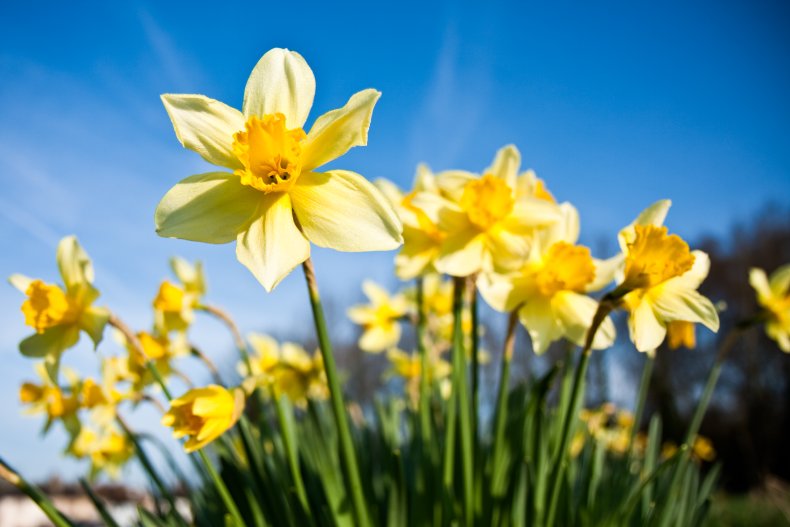 Panicle hydrangea
Limelight and "Quick Fire hydrangeas are among the Panicle hydrangeas (paniculata) varieties that are easy to grow, Eldred Steinkopf told Newsweek.
Quick Fires prefer "loamy [a mixture of clay, sand and silt], fertile, well-drained soil," while their flowers are not affected by soil PH. It's best to plant hydrangeas where they have room to grow and spread, which allows them to bloom for years at a time without requiring pruning, according to an article by the Iowa State University.
Blooming later than most hydrangea (around mid-summer), Limelight hydrangea are "winter hardy and drought tolerant," and prefer "part sun to sun in good loamy soil,"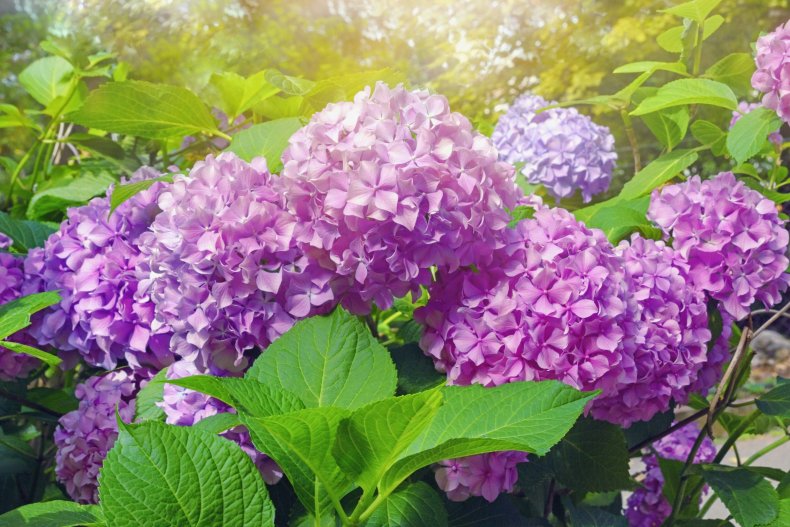 Rose of Sharon
Despite their name, these low maintenance shrubs have no relation to roses, instead bearing large, tropical looking, five-petaled flowers.
Growing in full sun to partial shade conditions, Rose of Sharon plants are "tolerant of neglect" as well as drought, wet soil and air pollution, North Carolina State University explains.
They do best in moist, well-drained soils but can tolerate any type of soil except for extremely wet or dry ones.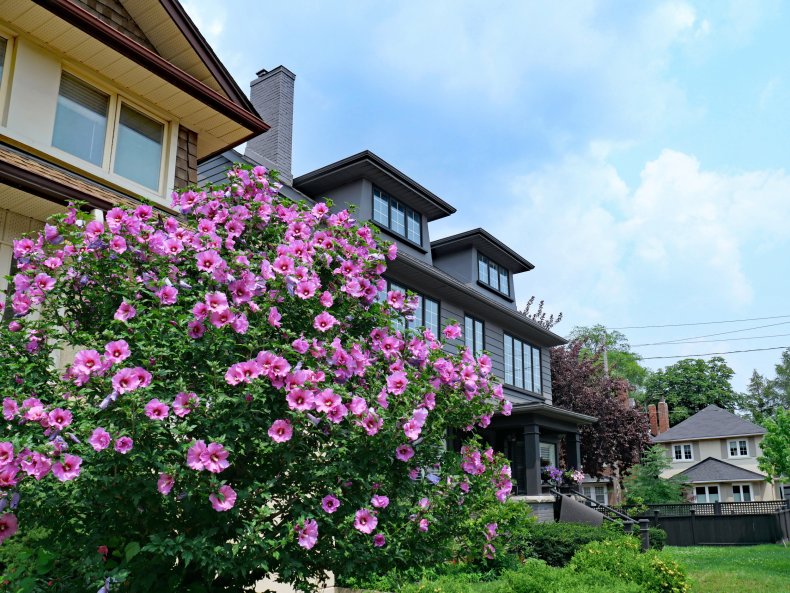 Quince
Bearing a large, aromatic yellow-hued fruit, quince trees are easy to take care of and are not prone to many of the more common fruit problems, the U.K.'s Royal Horticultural Society (RHS) says.
They can tolerate a range of soils and grow best in deep, fertile, moisture-retentive soil and do especially well if planted near a pond or stream, the RHS says.
Quince trees work well in gardens of varying sizes and can also be grown in large containers if space is limited.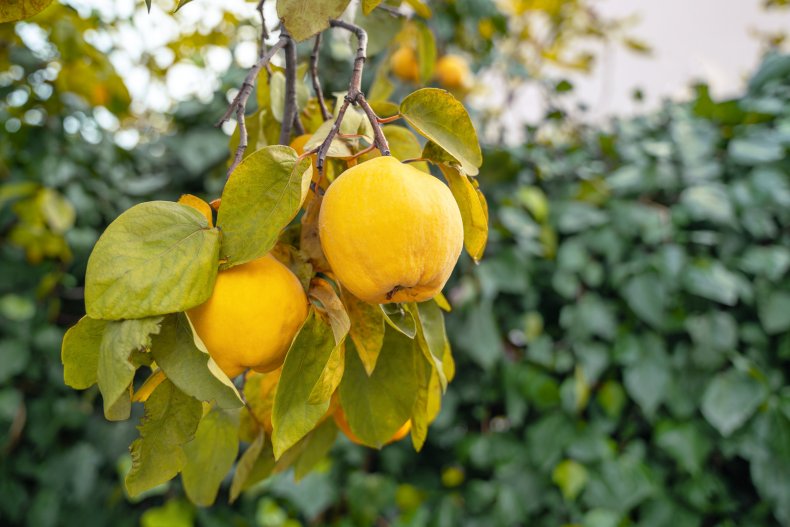 Spirea
Spirea (also spelled spiraea) are among the easiest flowering shrubs to grow. They can tolerate partial shade settings but should be grown in full sun for the best flowering, according to the Home & Garden Information Center (HGIC) of Clemson University's College of Agriculture, Forestry and Life Sciences.
Tolerant of most soils except ones that are extremely wet, spireas grow best and produce more blooms with full sun exposure. They are also easy to dig and transplant to new sites.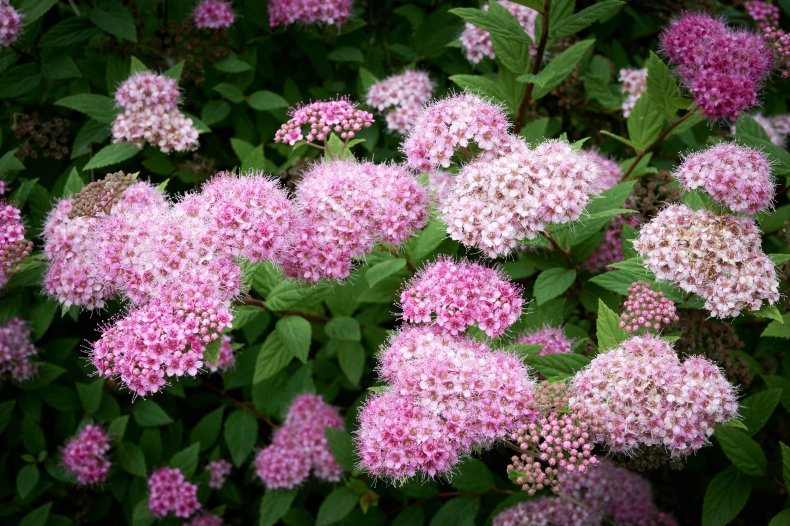 Ninebark
This deciduous shrub with white cup-shaped flowers is drought tolerant and requires little maintenance, the U.S. National Garden Association (NGA) says.
They thrive in acidic, well-drained soil in full sun to partial shade settings, but can also adapt to different soil conditions, the NGA says.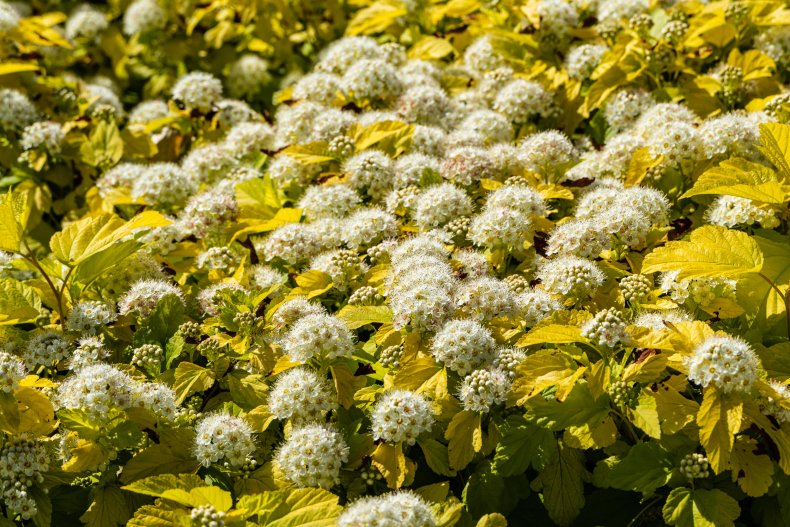 Viburnum
Producing "intoxicatingly fragrant flowers," these low maintenance shrubs prefer full sun exposure to part shade settings and are resistant to disease and pests, the Missouri Botanical Garden says.
"Viburnums are a steady addition to the home garden because they have very little pest or disease pressure. Their gorgeous flowers, full-leaved habit, and fall and winter interest can be a valuable staple of your home landscape," the garden says.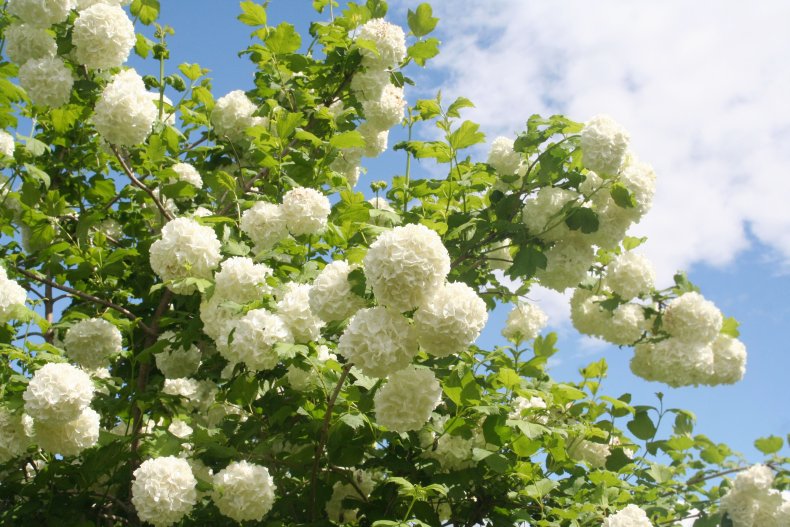 Barberry
Barberry (also known as berberis) are hardy plants that can tolerate all but dry soils. The slow-growing plants prefer full sun exposure and moist soil.
They provide good ground cover for birds, whilst their thorns provide a barrier for safe nesting sites, the U.K.'s Royal Society for the Protection of Birds (RSPB) explains.
While they may not be the best looking of plants, they look best planted in a group with other shrubs, with Berberis darwinii being among the more attractive varieties, the RSBP says.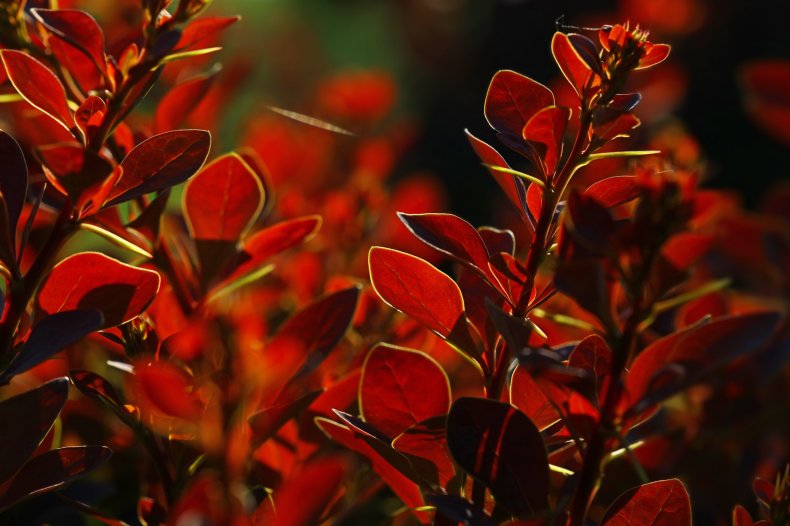 Fothergilla
This genus of low and dense slow-growing shrubs is native to the woodlands and swamps of the southeastern region of the U.S.
The Wisconsin Horticulture division of the University of Wisconsin-Madison says: "This shrub has no significant insect or disease problems and is not favored by deer or rabbits. It requires little maintenance other than light pruning to remove any unwanted suckers or damaged branches immediately after flowering."
Fothergilla should be grown in full sun to light shade settings in rich, well-drained soil that is slightly acidic. Full sunlight exposure is better for flowering and autumn colors. But they may do better in late afternoon shade in hotter climates.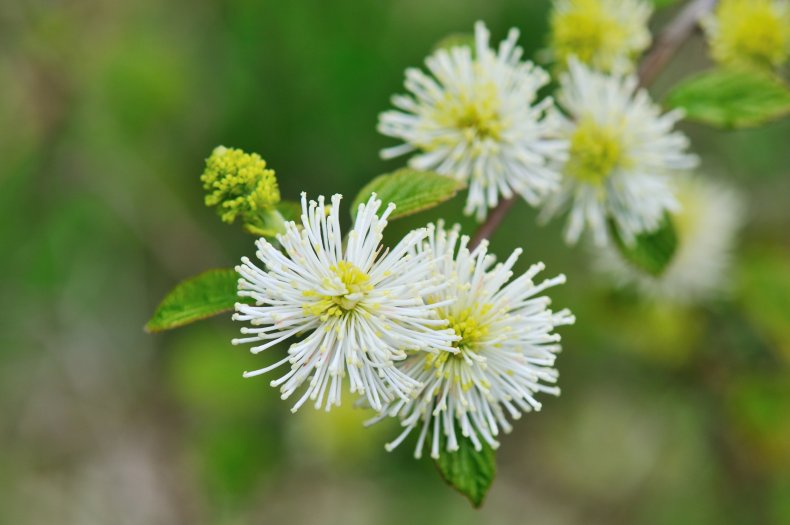 Perennials
Perennials, such as Coneflowers, Hostas, ferns, baptisia, peony, are also great low-maintenance plant options for beginners, Eldred Steinkopf told Newsweek.
Perennials remain on the ground year after year and once they're established, they require minimal up-keep in terms of watering and fertilizing, as their roots are more far-ranging than the roots of annual plants (which grow for only one season), the NGA explains.
Perennials grow for more than two years and are usually categorized into two types - woody plants and herbaceous perennials. The woody type includes trees, shrubs and vines whose parts above the ground persist over the winter and continue their growth in the spring.
The herbaceous kind (non-woody plants) die back to the ground every autumn but their roots survive the winter and the plants re-sprout in the spring.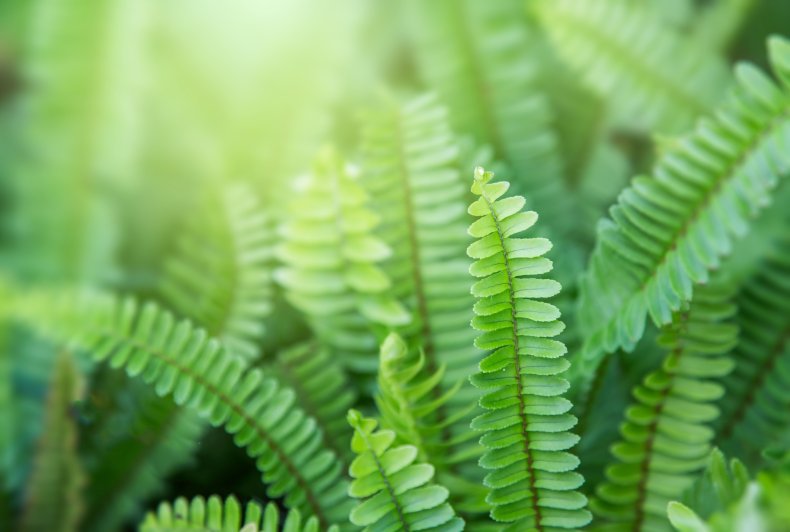 Alliums, such as Millenium, phlox, grasses, astilbes and rudbeckias, are among other easy perennials to grow, Eldred Steinkopf told Newsweek.
Growing best in well-drained soil, alliums thrive with full sun exposure and are drought tolerant. Those grown in the ground don't usually require watering or need any special care over winter.
Regular feeding is also not necessary but a balanced fertilizer is recommended for poor soils.
Sedums
Featuring fleshy, succulent leaves topped by starry flowers in late summer and fall, sedums are also marked by their easy care and low maintenance qualities.
They work best in very well-drained soil but can tolerate dry soils and grow in full sun to light shade conditions, the NGA says.