Lower-Seeded Teams Win 13 of NCAA Tournament's First 32 Games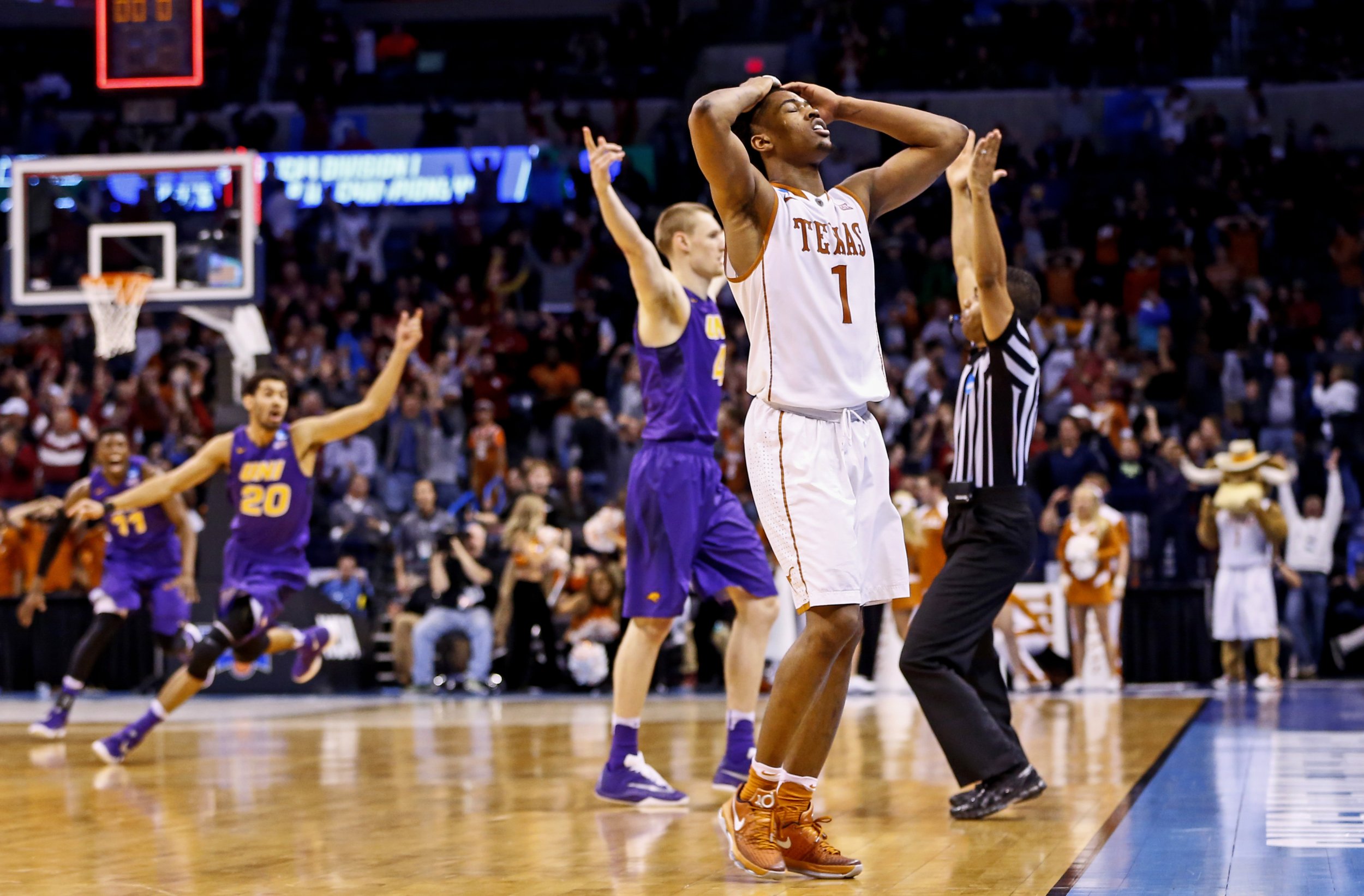 Get ready to slip on the glass footwear! In the first round of the NCAA tournament, 13 of the 32 schools that advanced were lower-seeded teams. While the truest of all Cinderellas—i.e., a 16-seed team—failed to appear, a 15 seed, a 14 seed and a 13 seed advanced, as did three 11- and nine-seed teams and two 12 and 10 seeds. Shockers abounded, and far beyond the confines of the Wichita State bench.
When the clock struck midnight on Friday, the magic was only beginning. In an 8-9 game between a pair of Eastern Time Zone schools, Cincinnati and St. Joseph's, playing in Spokane, Washington, the Hawks prevailed when it was ruled that a game-tying dunk by the Bearcats' Octavius Ellis had left his hands just after the buzzer sounded. If it did, Ellis's tardiness was measured in hundredths of a second.
Moments earlier, in Oklahoma City, Isaiah Taylor of Texas drained an eight-foot floater to knot the score at 72-all with Northern Iowa with 2.7 seconds remaining. The Panthers inbounded the ball to Paul Jesperson, who took one dribble and from beyond halfcourt launched the truest bankshot that you will ever see, the ball going through the net just as the red light framed the backboard. Northern Iowa 75, Longhorns 72. Deep in the heart of Texas, their hearts are broken.
Now the bad news: In terms of games played, we are already more than midway through March Madness. Between 12:15 p.m. on Thursday, when Duke tipped off versus UNC-Wilmington in Providence, and just after midnight on Friday, when the final buzzer sounded for Cincinnati and St. Joe's, 32 of the the NCAA tournament's 63 games were played.
Newsweek subscription offers >
The first 36 hours of the tourney are dizzying. Who can keep track of it all, from Iona to Iowa, from Utah to (Iowa's Jarrod) Uthoff, from California to (Kentucky coach John) Calipari, and from Oregon State freshman Tres Tinkle to No. 16 seed Austin Peay? We even met a player named Giddy Potts, an introduction that left us...overjoyed.
Potts was one of the instigators of the most shocking upset of the first round, scoring 19 points in 15th-seeded Middle Tennessee's 90-81 upset of No. 2 Michigan State. Potts missed three games at the end of February due to a concussion, but he was back on Friday in St. Louis to lead the Blue Raiders to their greatest victory in school history. Giddy is gritty.
But, like Baylor's Lester Medford in the final seconds against Yale on Thursday, we are getting a little ahead of ourselves and dribbling out of control. Let's slow down and review the entire first round—Thursday's and Friday's contests—of the NCAA tournament. Here then, is our compendium of March Madness's opening bout of hysteria. Enjoy.
Thursday
Newsweek subscription offers >
• Duke freshman Brandon Ingram breaks the seal on this year's tournament 0:33 into the game with a short jumper to give the Blue Devils a 2-0 lead. That Ingram, a spidery 6'9" prodigy who may be the first overall pick in June's NBA draft, scores the first points of this year's tourney for the defending national champ is fitting.
• The Blue Devils trail the Seahawks of UNC-WIlmington by three at halftime. Duke may have as many as three future first-round picks in its rotation (Ingram, guard Grayson Allen and freshman center Chase Jeter), but it is senior center Marshall Plumlee who leads the charge, finishing with a game-high 23 points. The 7'1" Plumlee is headed not to the NBA but to a career as a U.S. Army officer upon graduating this spring.
• In the second half of the Yale-Baylor game, CBS commentator Chris Webber refers to Yale as "Princeton."
• As Yale is in the midst of upsetting the Bears, Tony Bennett, the coach of No. 1 seed Virginia, collapses momentarily on the sideline due to dehydration. A pundit on Twitter notes that the tourney has both an Ivy League participant and an IV league participant. Later in the evening, Bennett's namesake, the 89-year-old musical legend, tweets, "I wanted to let all my fans know that Im ok. Glad to hear UVA coach Tony Bennett is fine after his fall. Congrats @UVAMensHoops on the win!"
• After Yale, making its first tourney appearance since 1962, upset five-seed Baylor, the Bears' Taurean Prince is asked, in a somewhat challenging tone, "How did Yale out-rebound Baylor?" Prince's response (above) is one for the ages.
• Big Ten schools likely wrecked your bracket. Besides Michigan State's loss to MTSU, number five seed Purdue squanders a 13-point lead in the final 3:33 to University of Arkansas-Little Rock (UALR) and loses 85-83 in double overtime. The Trojans rallied from a 65-62 deficit thanks to a pair of Stephen Curry-range three-pointers from 6'1" senior guard Josh Hagins, the last with 0:04 on the clock in regulation. Hagins and Yale's 6'0" point guard Makai Mason each scored 31 points in their teams' victories, the highest point totals on the day.
• USC's pep band wins a halftime dance-off against Providence's pep band, but the Friars defeat the Trojans in the final seconds when USC leaves a Providence player wide open on an inbound play beneath the basket. USC's players and fans are dumbfounded by the mental lapse, figuratively gluing their palms to their craniums in this epoch's signature contortion of despair. USC: University of Surrender Cobra.
• Arizona coach Sean Miller sweats so profusely during the first half of Arizona's upset loss to Wichita State in Providence that by halftime #SeanMillersShirt is trending on Twitter. Miller and the Wildcats, who never traveled farther east than Boulder through their first 33 games, discover the hard way that even in winter in New England, it is not a dry heat. No one has perspired that much while working in a dress shirt since Albert Brooks attempted to do the weekend report in Broadcast News. Arizona loses, 65-55.
Halftime Note: Here is a list of the schools in this year's tournament that have won exactly one NCAA championship apiece: Oregon (1939), Wisconsin (1941), Utah (1944), Holy Cross (1947), California (1959), Villanova (1985), Michigan (1989), Arizona (1997), Maryland (2002) and Syracuse (2003).
FRIDAY
• Before you are even able to say "harbinger," No. 15 seed MTSU jumps out to a 15-2 lead on No. 2 seed Michigan State. The Blue Raiders never trail, even though the Spartans were often within one or two points in the second half. Sparty's early exodus wreaked destruction amidst brackets coast to coast. According to Yahoo! Sports, 99.1% of the thousands of people in its pool predicted the Spartans, who were the second-most popular pick to win it all, would defeat MTSU. At CBS Sports, 42% of those playing in their tournament had Sparty playing in the national championship contest. R.I.P., your bracket as you rip up your bracket.
• Trailing Iowa by three with two seconds remaining, Temple's Quenton DeCosey is fouled on a three-point shot attempt with two seconds remaining. DeCosey, his Owls' season on the line, calmly buries all three free throws. The Hawkeyes win in overtime when seven-footer Adam Woodbury gets away with a shove from behind under the basket and tips in Mike Gesell's missed jumper just as time expires.
• Hawaii, a 13 seed, scores its first win in NCAA tournament history with a 77-66 takedown of California. Even though the Rainbow Warriors played at the farthest west regional site in this year's tournament, Spokane, they still traveled the greatest distance—nearly 2,900 miles—of any of the 64 teams.
• His name is Thomas Walkup, as in, "Walk up to the free throw line and swish a pair of free throws." Walkup, the leading scorer at 14-seed Stephen F. Austin the past two seasons, drains 19 of 20 free throws in the Lumberjacks' 70-56 upset of No. 3 seed West Virginia. The muscular 6'4" senior finishes with 33 points, the tourney high thus far. Walkup also sports a fine strawberry blond beard, a look that makes him appear to be the team mascot's doppelganger. "Everyone wants to look like the Lumberjack," says Walkup afterward, noting that he last shaved on November 1.
• In a rematch between the 1939 (Oregon) and 1947 (Holy Cross) national champs, top-seeded Oregon prevails, 91-52. It is the only first-round contest between former champions this year, but the second year in a row that the Ducks have opened the tournament with a win against a school that cut down the nets in the 1940s (last year it was Oklahoma State, which won in 1945 and '46).
• Notre Dame overcomes a 13-point first half deficit to defeat Michigan, 70-63. Earlier this season the Irish overcame a 15-point deficit to beat North Carolina and eight days ago they overcame a 16-point hole to knock out Duke in the ACC tournament. Both the Tar Heels and Blue Devils play Saturday in second-round action.
• Finally, when Northern Iowa's Paul Jesperson harvested that half-court game winner versus the Longhorns, he confirmed that all three schools from the Hawkeye State (Iowa, Iowa State and NIU) would advance to the next round. The state of Iowa has more teams in the second round of the tourney than the Pac-12. Now that, in this election year, is an Iowa caucus that we can all get behind.
Lower-Seeded Teams Win 13 of NCAA Tournament's First 32 Games | Sports