Lower Stimulus Checks, Unemployment Benefits: Key Differences in Biden, GOP Relief Plans
As negotiations continue over a third coronavirus relief package, a small group of Republicans are bringing a new proposal to the table.
Ten conservative members of Congress will meet with President Joe Biden on Monday afternoon to pitch their scaled-back proposal for a relief package—a $618 billion bill that is roughly one-third the size of what the president has put on the table.
"With your support, we believe Congress can once again craft a relief package that will provide meaningful, effective assistance to the American people and set us on a path to recovery," the group wrote in a letter to Biden on Sunday.
But their counteroffer has some key differences, including the size and scope of benefits such as direct cash payments and unemployment insurance.
The GOP proposal would reduce the size of a third round of stimulus checks from $1,400 per individual to $1,000. It would also lower the income threshold for eligibility, meaning that fewer Americans would be able to receive the benefit.
Under the Republican plan, direct cash payments would be limited to individuals making $50,000 or less and families making $100,000 or less. For the previously approved $600 stimulus check, individuals earning less than $75,000 a year and married couples earning less than $150,000 were eligible for the full amount.
As for unemployment insurance, the Republican lawmakers want to keep the extra benefit at $300 through the end of June. Biden, on the other hand, wants to increase the benefit to $400 and extend it through September.
Also missing in the Republican plan is Biden's push for a $15 minimum wage, $350 billion in aid for state and local governments, an increase to the child tax credit and $25 billion in rental assistance.
The similarities between the two proposals include a total of $160 billion for coronavirus vaccine development and distribution, as well as testing, treatment and protective equipment supplies. Like Biden, the 10 Republicans also support $4 billion for behavioral health and substance abuse services.
The GOP plan also includes additional relief for food assistance programs, small businesses and reopening schools, but it generally offers less funding than Biden's proposal.
White House press secretary Jen Psaki responded to the proposal on Sunday night, before all of the details were available, by saying that Biden's "American Rescue Plan" is "badly needed."
"As leading economists have said, the danger now is not in doing too much: it is in doing too little," Psaki said in a statement. "Americans of both parties are looking to their leaders to meet the moment."
Newsweek reached out to the White House on Monday for additional comment on the Republican proposal but did not receive a response before publication.
The GOP group consists of Senators Susan Collins of Maine, Bill Cassidy of Louisiana, Thom Tillis of North Carolina, Mike Rounds of South Dakota, Mitt Romney of Utah, Shelley Moore Capito of West Virginia, Lisa Murkowski of Alaska, Rob Portman of Ohio, Todd Young of Indiana and Jerry Moran of Kansas.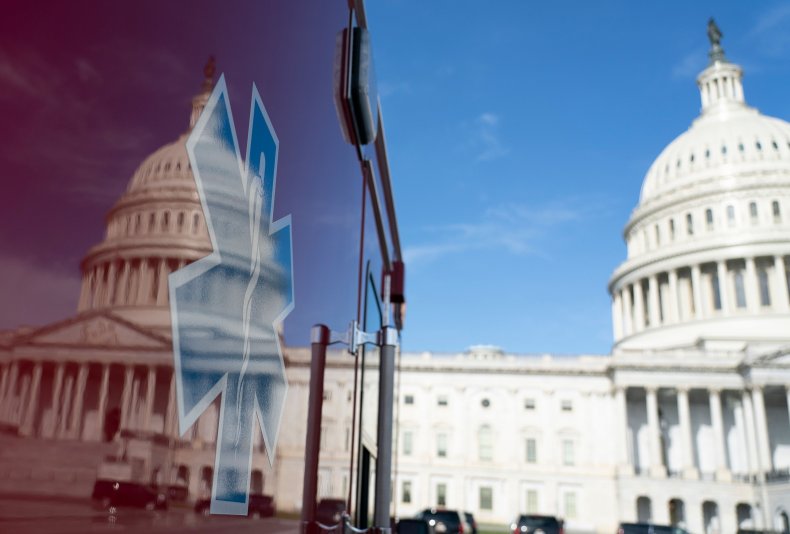 Biden's meeting with the Republican group comes as congressional Democrats prepare to move forward with an expedited legislative process, known as budget reconciliation, that would not require any GOP votes to pass the president's sweeping package.
House Speaker Nancy Pelosi (D-Calif.) announced last Thursday that her chamber would bring a budget resolution to the floor this week, the first step in the reconciliation process, but said she hoped it wouldn't be needed.
"We want it to be bipartisan always, but we can't surrender," Pelosi said at her weekly press conference.
While the White House has said it would prefer that a relief package gets passed in a bipartisan manner, Psaki told reporters last week that budget reconciliation remains an option.
"Reconciliation is a parliamentary process. It's a way to get legislation through. It's a way to get relief to the American people," Psaki said. "The president wants this to be a bipartisan package regardless of the mechanisms. Republicans can still vote for a package even if it goes through with reconciliation. There's no blood oath anybody signs. They're able to support it regardless."