For Profit Prison Stocks Struggle As ICE Pulls Back on Border Detentions
Politics, lawsuits and company structure have combined to pummel the stock of publicly traded, for-profit prison companies. The downdraft creates uncertainty, the bane of investors – and the presidential election is unlikely to alter the sector's ongoing challenges.
"The stocks have been in decline since May 2017, but have fallen dramatically since June 2020," said Manish Shah, CEO of Miami-based Tollbooth Strategy. "Investors should avoid the stocks for at least a few years."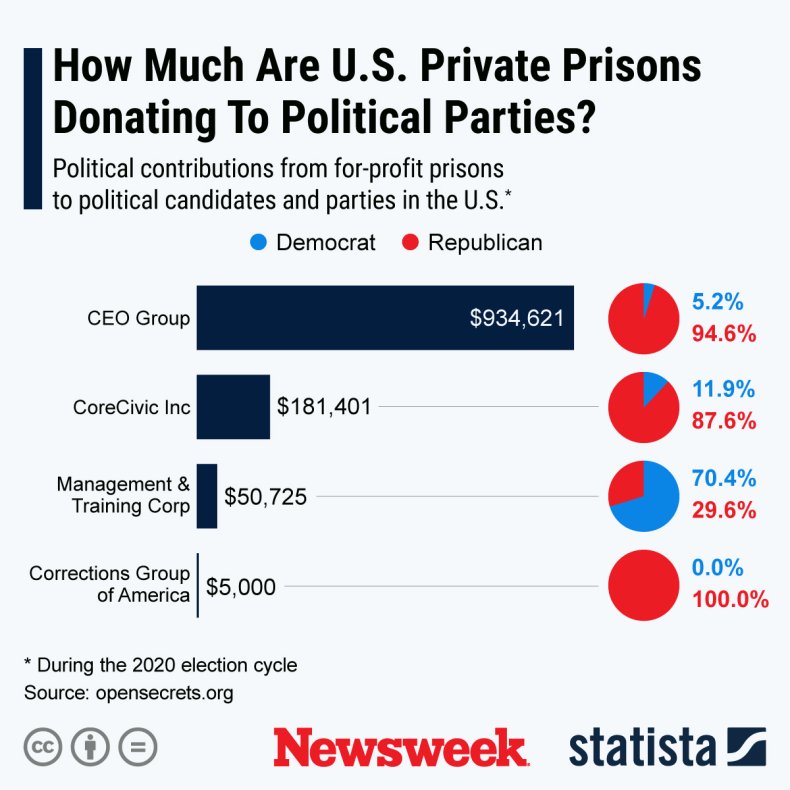 Last year, many Wall Street analysts stopped covering U.S. the stocks of private prison operators following public outcry over President Donald Trump's detention policies of illegal immigrants on the southern border. Analysts will no longer offer buy, sell or hold recommendations for GeoGroup and CoreCivic, the major publicly traded companies in the sector.
That will make it difficult for investors to assess the future prospects of the companies and it appears many are abandoning the sector.
Geo Group's stock on Monday changed hands at $11.25 a share, down 38.93 percent from its 52-week high. CoreCivic recently fetched $7.89 a share, down 56.15 percent from its 52-week high.
In June, CoreCivic announced the suspension of its quarterly dividend, citing the coronavirus pandemic and the need to reassess its corporate structure. While Republicans generally support the use of for-profit prisons and Democrats typically oppose them, the election won't resolve the continuing controversy.
Critics argue that privately run prisons create an inherent conflict of interest and incarceration shouldn't be a for-profit business. Proponents argue that private prisons free the government from the cost of health and retirement benefits and are run in accordance with government standards. But law enforcement, including U.S. Immigration and Customs Enforcement, remains in government hands and backers of private prisons say the companies only hold those arrested by others.
The companies have been structured as a Real Estate Investment Trust (REIT), and that requires them to pass 90 percent of net income to shareholders to avoid tax liability. The tax-free pass through attracts a large number of investors who are focused on dividends rather than stock appreciation, and that makes the private prison companies dependent on the stock market because they have no reserves, Shah said.
"They have to build new facilities to drive revenue and earnings growth," he said. "This isn't a problem when the market is rising, but when the market is volatile or declining, access to capital is cut off."
A REIT can offer diversification and reduce risk, making it a key component in a fixed-income portfolio. In general, REITs own or manage income-generating commercial real estate such as office buildings, shopping malls or apartments.
Some REITS may hold the underlying mortgages on the properties. A REIT can be held individually, through a mutual fund or an exchange traded fund.
In a research report, Standard and Poor's revised its outlook for CoreCivic to "stable" from "negative" based on its expected debt repayment. It expects revenue to decline 5 percent to 8 percent this year and a low single-digit decline in 2021. CoreCivic's board of directors recently voted to become a taxable corporation to avoid the REIT dividend obligation. The change hasn't boosted its stock price.
Reviewing Geo's prospects, S&P said,"While the level of uncertainty should moderate following the 2020 U.S. presidential election, we expect the sector's headline risks and disparate views related to the morality of private prisons to continue to weigh on the industry."
Last year, the Trump administration issued a new rule that said migrants who entered another country on the way north must seek asylum there rather than at the U.S. border. The all but ended the likelihood of those from El Salvador, Guatemala or Honduras to be granted asylum in the United States.
In July, a federal judge in San Diego tentatively approved California's ban on private prison contracts. In a lawsuit, GEO Group argued that Assembly Bill 32 was a "transparent attempt by the state to shut down the federal government's detention efforts within California's borders." It would phase out existing detention facilities by 2028. The Trump Administration counter-sued, arguing that California's law unconstitutionally interfered with the federal government's enforcement of immigration law.
Earlier this month, Boca Raton, Florida-based Geo Group declared a quarterly cash dividend of 34 cents a share. The company said it owns or manages 125 "secure facilities, processing centers and community re-entry centers" with about 93,000 beds in the United States, Australia, South Africa and the United Kingdom. Geo Group said it has about 23,000 employees worldwide. In 2019, revenue totaled $1.37 billion.
In a statement, George Zoley, Geo's chief executive officer said,"During the fourth quarter of 2019, we completed the ramp-up and 3,600 previously idle beds and entered into several new contracts at the federal level which are expected to drive future earnings and cash flow growth."
Brentwood, Tennessee-based CoreCivic operates about 50 correctional centers and 29 residential reentry sites with about 78,000 beds. In 2019, the company reported earnings of 35 cents a share on revenue of $1.9 billion.
Fewer immigrants being incarcerated meant lower revenues for the company, the CoreCivic CEO said.
"While we experienced positive growth trends for the full year 2019, our fourth quarter included lower utilization by Immigration and Customs Enforcement than forecasted," CoreCivic CEO Damon Hininger said. "We believe our efforts to diversity the company's business, including through (merger and acquisition) activity and new state contracts will mitigate the normalization of ICE utilization."