Lowe's Black Friday Ad 2018: Deals Available All November on Refrigerators, Washers, Dryers
Holiday shoppers have been eagerly awaiting the Black Friday ads from their favorite stores this month and Lowe's was one of the earliest stores to announce sales that were happening before Black Friday even arrived. Lowe's released their Black Friday deals and some of those deals were already available Monday.
The company plans to be closed on Thanksgiving so that their shoppers don't have to show up on Thanksgiving or the day after to see the sales and make any snap decisions. "Navigating last-minute deals can be a daunting task, so we are thrilled to be able to deliver early savings that give customers extra time to plan, shop and save," the Chief Marketing Officer of Lowe's, Jocelyn Wong, said in a press release.
Starting November 1 the store was offering shoppers up to 40 percent off on select appliances. The store was also offering deals for shoppers who purchased two or more major appliances. Depending on the appliance shoppers would earn up to $600 in a gift card to Lowe's. "We hope that by providing our customers with excellent opportunities to save from November 1 onward, they'll feel more prepared for holiday gatherings and special time with friends and family ahead," Wong said.
Lowe's was offering special pricing on some Samsung french door refrigerators and on some CRAFTSMAN tools. Some customers will be eligible for a gift card when they bought an artificial tree through November 7.
Lowe's wasn't giving away all of its deals at the start of the month though. New daily deals were set to be released throughout the month so shoppers looking for a deal should check back on the store's website through the month.
There were deals available on everything from flooring to ceiling fans and power drills and circular saws. Those in the market for tools would probably find what they needed online during the early sales.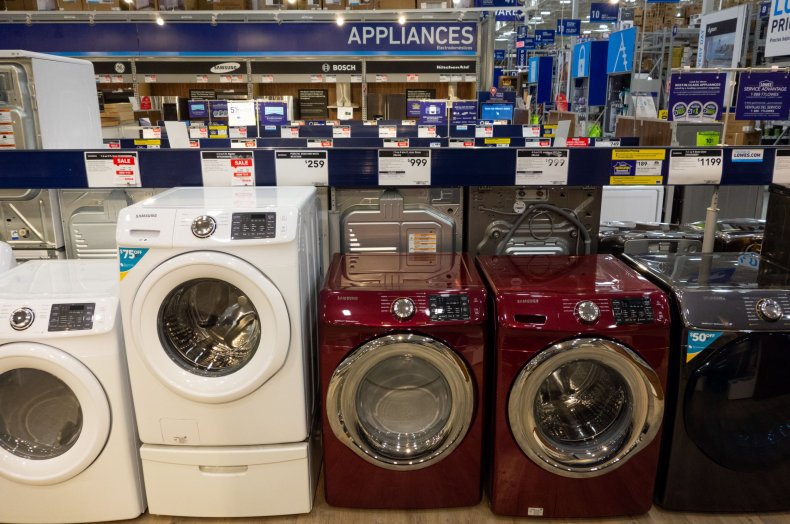 What's on sale at Lowe's now:
Washers and Dryers - There are a number of washers and dryers on sale for the holiday at Lowe's including washers and dryers from Maytag, Whirlpool, Samsung, LG and GE. Both front and top load washers are on sale as well as some stackable options. Prices range from roughly $430 to $1,200.
Refrigerators - Your standard top-freezer fridge costs about $400 from Lowe's with the holiday discounts but the side-by-side ones with water and ice dispensers cost more nearly double that. Brands like Frigidaire and Samsung have their fridges on sale and many of them come with free delivery as well.
Tools - Though CRAFTSMAN has many tools on sale other brands do as well like DeWALT and Bosch. Everything from ladders to storage bins and full tool sets are on sale. The prices range from item to item but most are at a significant discount.
Home goods - Other items shoppers might be looking for of their homes, like mirrors and rugs are also on sale. There's also furniture, window treatments like curtains and blinds and other home items like vacuums and more on sale.
​