Loyal Dog Keeps Injured Owner Warm for 13 Hours While Awaiting Rescue on Snowy Mountain
The saying that a dog is man's best friend couldn't be more true for one Croatian hiker when his dog wouldn't leave his side as they waited for help after he was injured from a fall on a snowy mountain.
Late on New Year's Day, the mountaineer, his Alaskan Malamute named North and two friends were hiking up the Velebit trail on Mount Velebit along the Adriatic seacoast in Croatia when things took a turn for the worse.
The Total Croatia News website reported the group was starting to descend the trail when the dog started to slide on the path covered in ice. The owner tried to grab the dog's leash, but the dog slipped and dragged his owner, falling roughly 500 feet (150 meters), said Josip Brozičević, head of the local Croatian Mountain Rescue Service (CMRS) branch.
The pair waited in the dark for help to arrive as temperatures began to drop, but North wouldn't leave the climber's side and kept him warm while they waited.
CMRS received a call about the incident around 6:30 p.m., and a team of 27 members left to start the rescue mission up the treacherous mountain.
The rescuers arrived around midnight and found the pair cuddling for warmth.
"The dog was curled up next to the owner in the pit the entire time; he warmed his owner with his body, thus preventing the mountaineer's significant hypothermia," Brozičević was quoted by Total Croatia News.
Rescuers pulled the man and the dog out of the pit and put him on a stretcher. The dog refused to leave his side and curled up on top of the injured man as rescuers lowered them down from the mountain.
"Friendship and love between a man and dog know no boundaries," the CMRS posted on its Facebook page on Tuesday.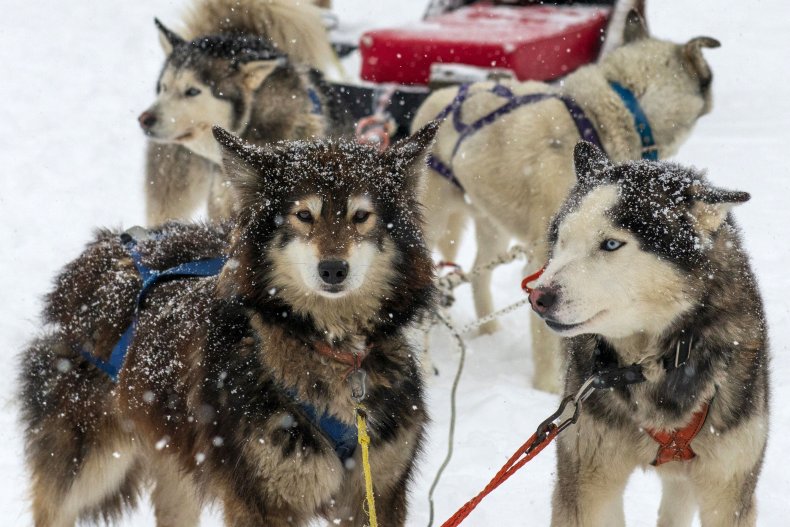 The hiker fractured his lower leg and injured his ankle from the fall but the dog was uninjured.
"(North) curled beside him and warmed him with his body," the rescue service's post said. "His loyalty didn't stop even when the rescuers came, he was one of us, guarding his man for 13 hours."
Rescuers said the overnight operation was particularly difficult because of snow, ice and broken tree boughs that blocked access to the spot. The CMRS handed over the hiker to medics at about 8 a.m. on Tuesday.
"This example could teach us all how to care about each other," the rescuers said.
The Associated Press contributed to this report.