Loyal Elderly Dog Who Waits Patiently Outside Station Every Day Charms Chinese Social Media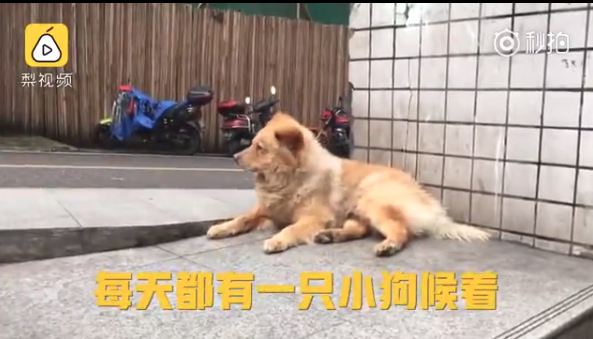 Chinese social media users have gone barking mad for a loyal elderly dog who faithfully waits outside a subway station in the country's southwest every day for his owner to come back from work.
Pear Video, a popular clip-sharing platform, posted a video of 15-year-old Xiongxiong–"Little Bear"– last Wednesday. The footage shows the dog waiting quietly outside Liziba Metro Station in Yuzhong District, Chongqing, for 12 hours until his owner returned from work.
The video has received over 10 million views and tens of thousands of comments and shares. Some fans have even traveled to Chongqing to visit the pooch since he became a viral sensation, reported South China Morning Post.
Xiongxiong's owner, who was not named in the video, said he had been caring for the dog for the last eight years. "He's always been like this," he said.
Residents who were interviewed by Pear Video say that Xiongxiong is friendly and non-threatening.
"He is very good," one local said, while stroking the pooch. "He won't eat anything you give him. He appears around seven or eight o'clock every day, when his owner goes to work… and he waits, he just waits really happily."
In recent weeks, Xiongxiong has become so popular social media users have started posting pictures and clips of their own sightings of him to Weibo, a popular Chinese microblogging platform.
"This is a very touching affair," one user wrote. "We can draw so much morality from this."
Although most people have praised the obedient dog, some citizens have also called into question whether Xiongxiong's freedom to roam free could put him in danger.
"The owner should take better care of it; it is his responsibility to the public, and what a true lover of dogs would do," one user commented.
Others have hailed him as the modern day Hachiko, a famous Akita dog from the 1920s who was known for meeting his master at a railway station every day. Nine years after Hachiko's master's death, the dog still made the trip to the platform.