Claire McCaskill: Republicans Say Donald Trump Has 'No Intellectual Curiosity,' Is 'Weak,' Behind His Back
Outgoing Democratic Senator Claire McCaskill of Missouri unleashed on President Donald Trump while speaking Thursday on MSNBC's Morning Joe.
McCaskill said Republican senators who were publicly loyal to the president disparaged Trump behind his back, calling him "nuts" and "weak," saying he "doesn't really understand government," has "no intellectual curiosity" and "asks and says the most unbelievable things in meetings that clearly shows he doesn't understand the subject matter.
"I believe history will judge, down the line, those members of the Republican Party who have silently looked down and think they can just wait this out—without even speaking up about the level of lying that goes on," she said. "Think about this—the president this morning tweeted there's nothing wrong with paying off a porn star that you had an affair with in order to win the presidency...That's what he basically said! I mean, that's crazy."
She said she hoped that more of her colleagues would denounce the president, but that many were unsure how to best deal with him. "I really think there is a lot of my colleagues who feel trapped by the political reality of Donald Trump."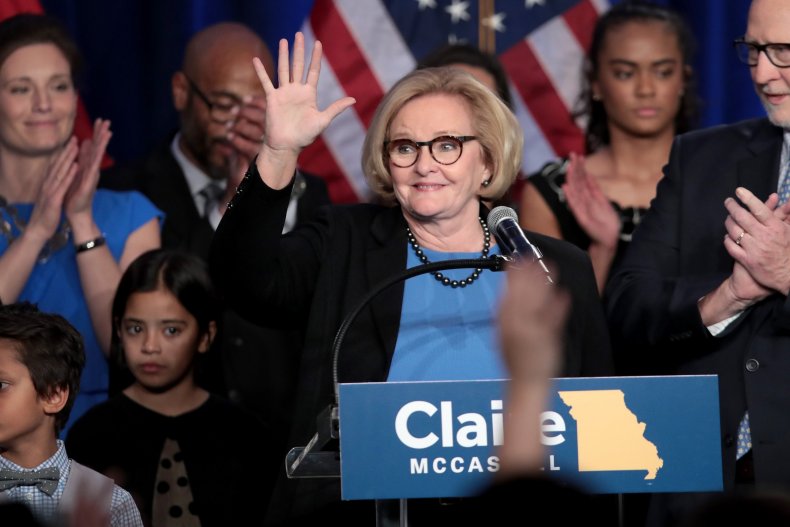 McCaskill, a red-state Democrat, has voted in line with Trump's positions 45.7 percent of the time, according to FiveThirtyEight.
Democratic senators in states that voted for Trump in 2016, such as Heidi Heitkamp of North Dakota and Joe Donnelly of Indiana, sided with the president's stance more frequently.
Both McCaskill and Heitkamp voted against Supreme Court Justice Brett Kavanaugh, who was accused of sexual misconduct by three women. McCaskill declared she would vote against the nominee after the first woman came forward to accuse Kavanaugh but said that the "troubling" allegation did not affect her decision, Politico reported.
"He has revealed his bias against limits on campaign donations, which places him completely out of the mainstream of this nation," she said. "Judge Kavanaugh will give free rein to anonymous donors and foreign governments through their citizens to spend money to interfere and influence our elections with so-called 'issue ads.'"
After her loss to Republican Josh Hawley, McCaskill said the Democratic Party had neglected more centrist voters in the middle of the country.
"This demand for purity, this looking down your nose at people who want to compromise, is a recipe for disaster for the Democrats," she told NPR. "Will we ever get to a majority in the Senate again, much less to 60, if we do not have some moderates in our party?"