LSAT Prep Questions Ridicule 'Ronald Thump' and President Backing 'Racist Policies'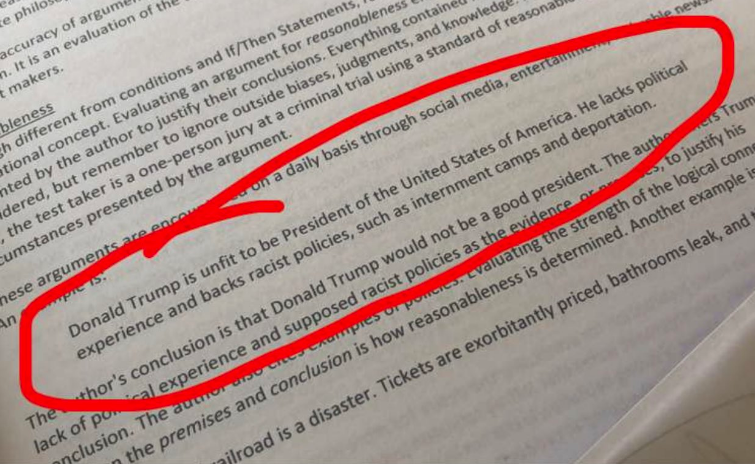 Two Law School Admissions Test preparation book questions used disparaging references to President Donald Trump to illustrate to law school hopefuls how reasonable conclusions could be drawn from biased statements.
A 2016-2018 edition of the LSAT Prep Book included two questions about Trump. One was an example of a biased hypothetical statement about the president, while the other was a multiple- choice question about a thinly veiled "President Ronald Thump." While the test prep questions evaluating deductive reasoning skills placed Trump in a negative light, the U.S. Law School Admissions Council told The College Fix that the test booklet was not officially recognized by the national education agency.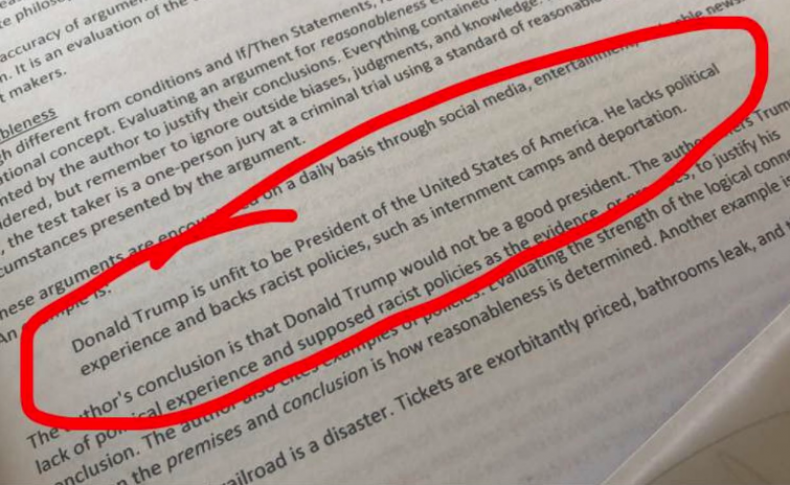 The first example included Trump is a question about "reasonableness." It asked the potential law school attendee to ignore outside biases, judgment and knowledge and play the role of a "one-person jury at a criminal trial using a standard of reasonableness under the circumstances presented by the argument." The example read: "Donald Trump is unfit to be President of the United States of America. He lacks political experience and backs racist policies, such as internment camps and deportation."
The LSAT booklet's hypothetical statement, presented as one typically "encountered on a daily basis through social media, entertainment, and cable news," was first obtained by The College Fix.
A second Trump reference in the same test-prep booklet used a multiple-choice question that asked those preparing for the LSAT to evaluate a statement that read: "Ronald Thump will be the next President of the United States. His cutthroat business tactics will be quite effective as the nation's top executive. Mr. Thump's manipulation of tax and bankruptcy loopholes helped grow his father's fortune."
The LSAT test-taker is then asked which of the following statements the author would most likely agree with:
a. Businessmen always make the best presidents.
b. Ronald Thump is the most successful businessman of all time.
c. Manipulating tax and bankruptcy loopholes is always advisable.
d. Ronald Thump's fortune would not exist without his father.
e. Business experience is directly relevant to succeeding as president.
Law School Admission Council spokesperson Wendy Margolis told the conservative College Fix website that the book's publisher, Test Prep Books, was "not an officially recognized provider of LSAT prep material." She added that all verified test-prep booklets are "governed by strict guidelines to avoid bias, and all content undergoes multiple reviews to ensure that there is no bias."
Law School Admissions Council data published earlier this year found the number of law school applicants across the country had increased by 8.8 percent since Trump took office. Additionally, law school applications shot up by 10 percent from the 2017-2018 school year deadline.