LSU and Clemson to Face in College National Championship: Date and Matchup of Tigers
A Tiger Bowl will happen in New Orleans for college football's national championship now that two semifinals played out Saturday.
No. 1 LSU crushed No. 4 Oklahoma, and No. 3 Clemson held off No. 2 Ohio State to set up a championship of Tigers, both who call their homes "Death Valley."
LSU, ranked No 1 in the CFP bracket, will face No. 3 Clemson in the national championship on January 13, 2020, in New Orleans, Louisiana, which is just an hour drive from Baton Rouge.
The 2020 game is scheduled for January 13 at 8 p.m. ET inside the Mercedes-Benz Superdome in New Orleans. LSU has now made the national championship game each of the last four times New Orleans has hosted college football's biggest game.
LSU defeated Oklahoma after the 2003 season and then beat Ohio State after the 2007 season. The Tigers then lost to Alabama in a conference rematch after the 2011 season.
As for Saturday's games, the top-ranked LSU Tigers dominated the No. 4 Oklahoma Sooners in Saturday's opening playoff game, 63-28. LSU and its Heisman Trophy quarterback Joe Burrow shattered CFP records in the first half, and the game, while crushing the Big 12 champion Sooners.
Burrow passed for seven touchdowns in the first half, including four to wide receiver Justin Jefferson, as the Bayou Bengals advance to their first national championship appearance since 2011, when they were blanked by Alabama. Burrow accounted for eight touchdowns after he plunged into the end zone for a score in the third quarter.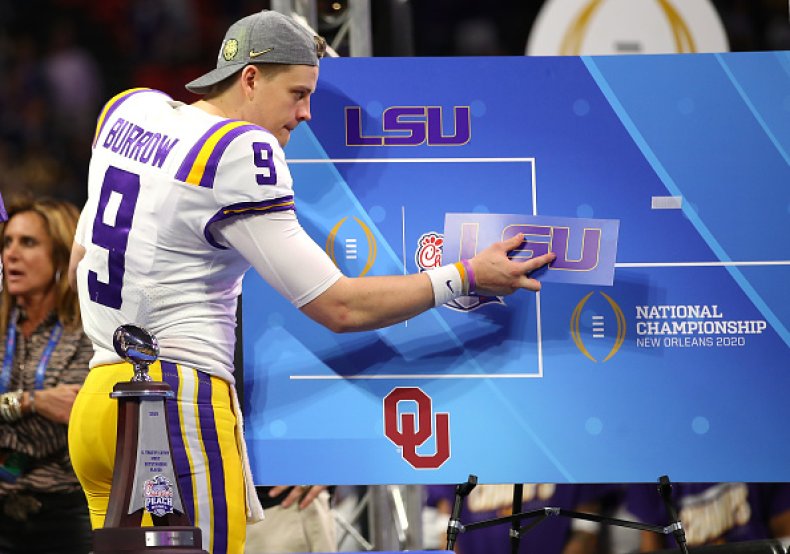 Ohio State took a 16-0 lead over Clemson midway through the second quarter Saturday before the defending national champion Tigers came clawing back. Clemson scored 14 points before the half, including a 67-yard touchdown run by quarterback Trevor Lawrence to tighten the game at 16-14 at intermission.
Lawrence tossed a short pass to running back Travis Etienne that went for a 53-yard touchdown in the third quarter to give Clemson a 21-16 lead to set up a fourth-quarter showdown.
Ohio State scored a touchdown when quarterback Justin Fields connected with Chris Olave on a 23-yard touchdown pass on a fourth down to give the Buckeyes a 23-21 lead with 11:46 to go in the game.
The teams traded possessions before Clemson took the ball at their own 6-yard line with 3:05 remaining and needing just a field goal to win it. The Tigers quickly marched 94 yards, culminated by a soft pass from Lawrence to Etienne over the middle for a 34-yard scoring pass. Clemson went for a two-point conversion for the first time in 26 games, and Lawrence found Tee Higgins in the back of the end zone to give Clemson a 29-23 lead.
Ohio State got the ball with 1:49 remaining, and Buckeyes quarterback found running J.K. Dobbins for a pair of passes to get the ball near midfield. Ohio State worked the ball inside the Clemson 30 with two more passes and a Fields run. On a first down and under a minute to play, Fields avoided a sack and escaped for a 4-yard gain.
Fields then threw a pass in the end zone that was intercepted by Clemson's B.T. Potter with 1:49 to go, and Clemson extended their winning streak to 29-consecutive games. Fields had thrown just one interception all season, but he threw two on Saturday.
Both teams looked exhausted by the game's end.
"It's a good thing that the winner of this game will get 15 days because they've given it everything they've got," ESPN's lead announcer Chris Fowler said during the fourth quarter, which got quick agreement from color analyst Kirk Herbstreit.
Clemson has now won 29-consecutive games. And despite being No. 1 early in the 2019 season, the Clemson Tigers slipped to No. 3 after a narrow win at North Carolina, combined with wins over ACC opponents not ranked in the top 25 and big wins by both LSU and Ohio State over ranked teams.
LSU and Clemson have only one common opponent this season. Clemson defeated Texas A&M, 24-10, after the Aggies scored a late touchdown to make it a two-score game. LSU ran through the Aggies early and often, defeating A&M, 50-7, in Baton Rouge just last month.