LSU Football Shined in 2019, But Its Fans Glowed With Alcohol Sales Across the South This Season
LSU football fans typically begin setting up their tailgates for Tiger football games a couple of days before kickoff, especially when the game is in Baton Rouge. Fans park their campers and RVs at designated spots sold months ahead of time.
The party usually starts with seafood, gumbo, jambalaya, TV sets, purple and gold decorations and, of course, lots of booze. There's typically beer in the daytime and liquor at night. The scene is raucous all day and night with LSU fans chanting "LSU, LSU, LSU!"
The tailgates with food and alcohol are so well-known that they sometimes make it into dialogues on ESPN's College GameDay and sometimes into the game broadcast itself.
"They start drinking that brown liquor earlier than any other fan base," GameDay Desmond Howard has said on more than one occasion.
The Southeastern Conference began allowing beer sales in its stadiums for the 2019 season, and LSU ranked No. 1 in the nation in beer sales while its team soared to No. 1 in the nation on the field.
Tiger fans made more than 280,000 alcohol purchases in the public areas of Tiger Stadium that generated more than $2.259 million—this doesn't count alcohol sales in private club areas that already sold alcohol in previous years. LSU played just seven homes games this year, meaning they averaged 40,000 alcohol sales per home game.
Then there was a Sept. 21 contest at Vanderbilt, when Tiger fans invaded Nashville, Tennessee, for the team's first SEC game of the 2019 season, and an overwhelming amount of LSU fans made it feel sort of like a home game. LSU fans did not disappoint.
Tiger fans drank Vanderbilt Stadium dry—by halftime. LSU fans waited on the concourse levels and gave a standing ovation for beer vendors who replenished the stock. That game's announcers made note of it during the game.
Oh, Tigers fans also drank one Nashville hotel out of vodka by 10 a.m. that same morning, according to whiskeyriff.com.
And speaking of drinking a hotel dry of bottled beer, LSU fans did the same thing at the Atlanta Marriott Marquis last month during the night before the Peach Bowl against Oklahoma, which was the first national semifinal.
The LSU Tigers are the No. 1 team in college football, and they will play for a national championship on January 13, 2020, against No. 3 Clemson, which has won two of the last three national championships.
The game will be in New Orleans, Louisiana, at the Mercedes-Benz Superdome. New Orleans, its hotels and the Superdome are most likely equipped to handle big events like this, and it's a city well-prepared to handle the drinkers.
Whether or not Tiger fans will celebrate in the French Quarter with a fais do-do next Monday night remains to be seen. Even if they do, it'll probably be just a dry run for a city getting ready to host another Mardi Gras next month.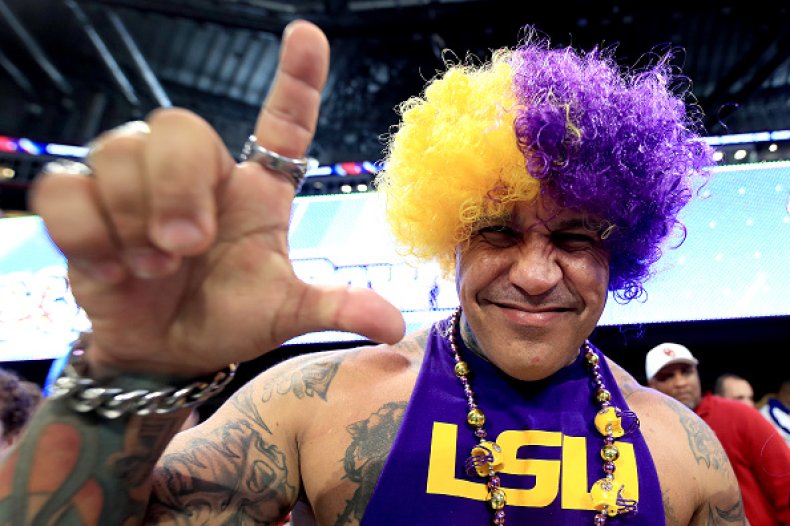 LSU Football Shined in 2019, But Its Fans Glowed With Alcohol Sales Across the South This Season | Sports