LSU Generates Over $2 Million In Alcohol Sales During 2019 Football Season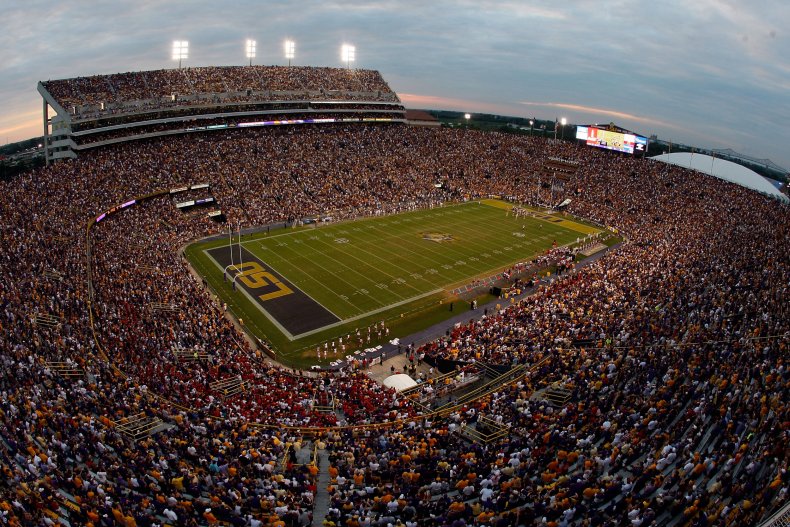 In LSU's debut year of selling alcohol at football games, the school generated over $2 million from the sale of nearly 300,000 alcoholic beverages.
"LSU Athletics generated more than $2.259 million in net revenue* from the sale of 280,000+ alcoholic beverages in the public areas of Tiger Stadium in 2019. (not including alcohol sales in premium areas)," Robert Munson, LSU's Senior Associate Athletic Director, shared on Twitter Monday.
According to Munson, Michelob Ultra was the most popular beer with 128,627 units sold, while pinot grigio was the most popular wine sold with 3,700 total units.
LSU's alcohol sales may seem like a lot, but it seems than Tiger fans may have slowed down on alcohol consumption since the start of the season. During the Tigers' game against the Florida Gators, LSU had a record day in concession sales with 54,794 units of beer and wine sold.
With this number in mind, combined with the eight home games LSU played, Tiger fans were on pace to drink over 400,000 units of alcohol, but as Munson's data shows, they did not.
Despite Tiger fans decreasing their pace of alcohol consumption, they still generated more revenue from alcohol sales than a number of other college stadiums. Indiana University, also in its debut year of selling alcohol in its stadium, reported a generated revenue of over $470,000, according to HoosierSportsReport.com. However, the Hoosiers' stadium holds considerably fewer fans at just under 53,00 while LSU's Tiger Stadium can seat over 92,000.
LSU's high-ranking football team and its success this season may have helped with alcohol sales compared to Indiana (8-4), but it still serves as a good reference point for how much Tiger fans actually drink on game day.
Not only did LSU (13-0) take the number one ranking in the College Football Playoff from Ohio State, but Tiger fans also beat the Buckeyes in alcohol consumption. In 2016, Ohio State reported over $1.1 million in alcohol sales in their first year of selling alcohol at football games.
Following the report released by Munson, Ross Dellenger of Sports Illustrated joked that the amount of money spent by LSU fans on alcohol could pay the salary of the team's defensive coordinator, Dave Aranda. Aranda's latest contract makes him the highest-paid assistant coach in college football, earning $2.5 million annually.
"#LSU can basically cover Dave Aranda's salary with its alcohol sales," Dellenger wrote on Twitter.
Munson's data also shows that despite the mass amount of alcohol purchased during the Tigers' 2019 season, water remains the number one item sold at "roughly 190,000" units.