LSU Gymnast Olivia Dunne Could Become First Million Dollar College Athlete With New NIL
The NCAA this week paved the way for its student athletes to profit off their name, image and likeness (NIL). The projected top earner right away isn't a top football or basketball player, but a sophomore gymnast on the Bayou.
LSU gymnast Olivia Dunne, who's from New Jersey, has 1.1 million followers on Instagram, which is one platform in which athletes can potentially earn money. Throw in her TikTok followers (3.9 million), and she has more than 5 million combined followers.
Those two social media platforms are just a few direct paths in which athletes can make money through the new NIL guidelines.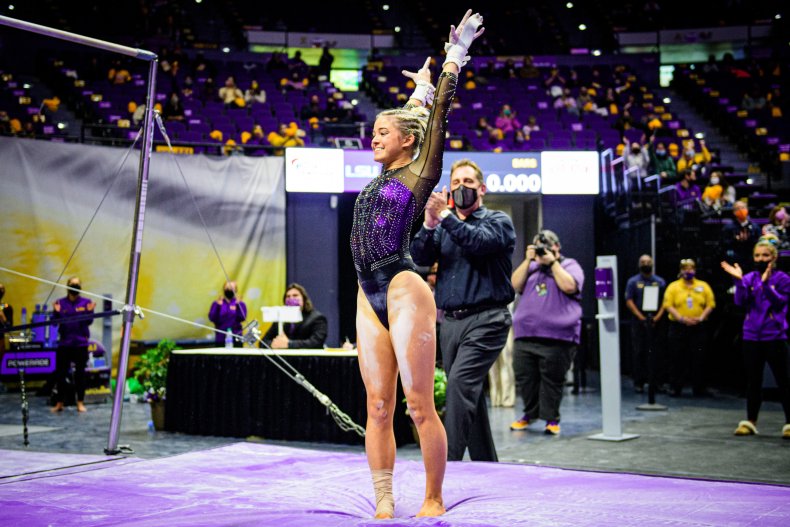 Louisiana state law allows college athletes to profit off their names, images and likenesses. Athletes can get endorsements for their social media activity. Here's a sample breakdown of how much athletes can potentially earn, according to Blake Lawrence, the CEO of Opendorse.
Instagram—up to $20 per follower
TikTok—$3-4 per follower
Twitter—$10 per every 1,000 followers
YouTube—$4-7 per follower
Several athletes have begun working with companies similar to Opendorse to become paid influencers.
Dunne goes by the name "Livvy" on both her TikTok and Instagram channels.
Meanwhile, identical twin basketball players Haley and Hanna Cavinder at Fresno State University have awaited the day they could profit from their TikTok videos that combine dancing with basketball. The "cavindertwins" on TikTok have 3.3 million followers.
"We have discovered you can, like, monetize all your accounts and you can create a profit off them, and then partnering with brands is really a cool, eye-opening thing," Hanna told the Associated Press. "A lot of brands have reached out, but we obviously cannot work with them because of the rules and eligibility."
Sister, Haley, said "We never knew that could be a thing."
The 5-foot-6 Cavinder players aren't just passing fancies, either. Haley averaged 19.8 points last season while earning the honor of Mountain West Conference player of the year. Hanna averaged 17 points for the Bulldogs.
As for Dunne, she's no slouch, either. She's an all-around performer who helped guide the Tigers to a sixth-place finish at the NCAA championships this spring.
Other ways athletes can earn money are through autograph sessions, taking photos with fans and having their presence on video games—among other opportunities not set in stone, but rather the states and member institutions deciding.
Thursday (July 1) was the first day that athletes could start monetizing their names, likenesses and images. It's something that athletes have long fought for, including 2019 Heisman Trophy winner Joe Burrow at LSU, who led the Tigers to a national championship. The quarterback had one of the best seasons in NCAA football history and was the No. 1 overall draft pick by the Cincinnati Bengals in the 2020 NFL Draft. Here was his reaction to college athletes finally getting paid.