LSU Student Dies After 'Bible Study' Hazing Event. Fraternity Members Sentenced to 30 Days in Jail
Sean-Paul Gott and Ryan Matthew Isto, two former Louisiana State University students, received the maximum jail sentence for hazing charges related to Phi Delta Theta fraternity pledge Max Gruver's death.
In September 2017, about a month after he arrived at college, Gruver died after spending the night drinking at the Phi Delta Theta fraternity house. The night of his death, Gruver was at the house for a hazing ritual reportedly referred to as "Bible study."
Gruver's death prompted Louisiana legislators to pass a law that made hazing activities that resulted in death when a victim's blood-alcohol level was at least .30 punishable by up to five years in prison and a $10,000 fine. Hazing that didn't lead to death would be punishable by up to $1,000 and six months in prison. Organizations, such as fraternities, sororities and athletic teams, that knowingly allow hazing could also face up to $10,000 in fines.
Following Louisiana's lead, in June, Florida Governor Ron DeSantis signed a hazing bill, known as "Andrew's Law." Named after Andrew Coffey, who died during a Florida State University Pi Kappa Phi event in November 2017, it made fraternity and sorority members who plan a hazing event but don't attend criminally liable.
In both Coffey and Gruver's case, if someone had called 911 when the students exhibited signs they needed medical attention, their lives may have been saved. Under "Andrew's Law" the first person to call 911 and anyone administering aid to the victim will not be prosecuted under the hazing law.
On Friday, Louisiana District Judge Beau Higginbotham sentenced Gott, 22, and Isto, 20, to 30 days in jail, the maximum amount of time that could be assigned under the law, according to The Advocate. In September Gott and Isto pleaded "no contest" to the misdemeanor hazing charge, which carried the same weight as a guilty plea, but could not be used against them in the event of a civil suit.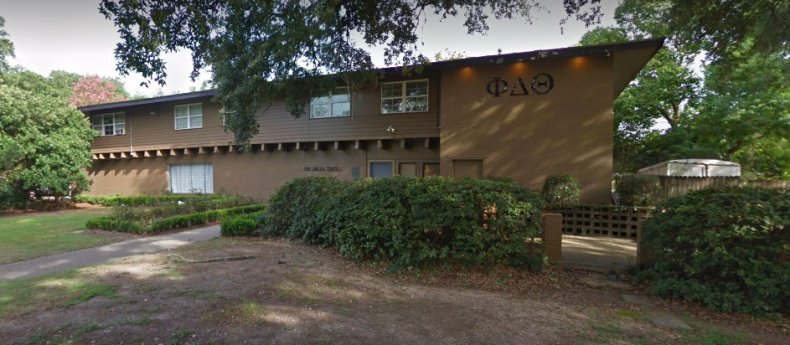 As part of their plea deal, the two former LSU students agreed to testify against fellow Phi Delta Theta member Matthew Alexander Naquin, who was recently convicted of negligent homicide. He faces up to five years in prison.
If Gruver, 18, and other pledges incorrectly answered questions about the fraternity or could not recite the Greek alphabet, active members allegedly instructed them to chug liquor. Isto testified that he witnessed Naquin hand Gruver a bottle of alcohol and ordered him to drink, and the Associated Press reported that witnesses claimed Naquin singled the 18-year-old out.
A lawsuit filed by Gruver's parents claimed around 11:30 p.m. on the night of the incident, Gruver was in "visible need" of emergency medical care, but fraternity members left him on the couch. In the morning, the lawsuit claimed fraternity members instructed pledges to take Gruver to the hospital and tell the hospital staff they found him in his dorm room.
"Max was pronounced dead at the hospital. His blood alcohol content was 0.495 when measured at his autopsy one-and-a-half days later," the lawsuit stated.
Gott, according to the lawsuit, was the one who sent the message inviting pledges to the house for the "Bible study," covered them in mustard and hot sauce, and brought the alcohol. Isto was present for the hazing ritual and the lawsuit charged him with allowing Naquin and Gott to dangerously haze Gruver.
Gott, Isto and Naquin were named in the lawsuit along with the university and the fraternity. On July 19, a judge partially dismissed the lawsuit, although the plaintiff's Title IX claims against the defendants were allowed to continue.
In March 2018, Phi Delta Theta was kicked off LSU's campus until at least 2033.