LSU Players Walk Fine Line With Lit Cigars, Cold Cash After National Championship: Next up, the White House
The LSU football team did not even have 24 hours to celebrate winning the national championship before controversy engulfed the Tigers from the outside looking in. First, there was NFL wide receiver Odell Beckham Jr., who's an LSU alum, handing out cash to players on the field after Monday night's championship. Then there were players smoking cigars in the Superdome, and threatened to get arrested.
Players were not arrested, and initial reports from LSU said the cash was novelty money. But all-everything quarterback Joe Burrow said Wednesday the cash was, indeed, real money.
"I'm not a student-athlete anymore, so I can say yeah," Burrow, a senior, said on a Barstool Sports episode of "Pardon My Take."
LSU head coach Ed Orgeron said at a New Orleans press conference Monday night he was unaware of OBJ handing out cash to anyone from LSU's roster.
The video of OBJ went viral on Twitter, only to be downgraded to "private" on the social media platform. The damage had been done, so LSU released a statement Wednesday saying it is looking into the situation, and that they have also contacted both the NCAA and SEC.
"We are aware of the situation regarding Odell Beckham Jr. interacting with LSU student-athletes and others unaffiliated with the team following the championship game Monday night," the statement read. "Initial information suggested bills that were exchanged were novelty bills. Information and footage reviewed since shows apparent cash may have also been given to LSU student-athletes.
"We were in contact with the NCAA and the SEC immediately upon learning of this situation in which some of our student-athletes may have been placed in a compromising position. We are working with our student-athletes, the NCAA and the SEC in order to rectify the situation."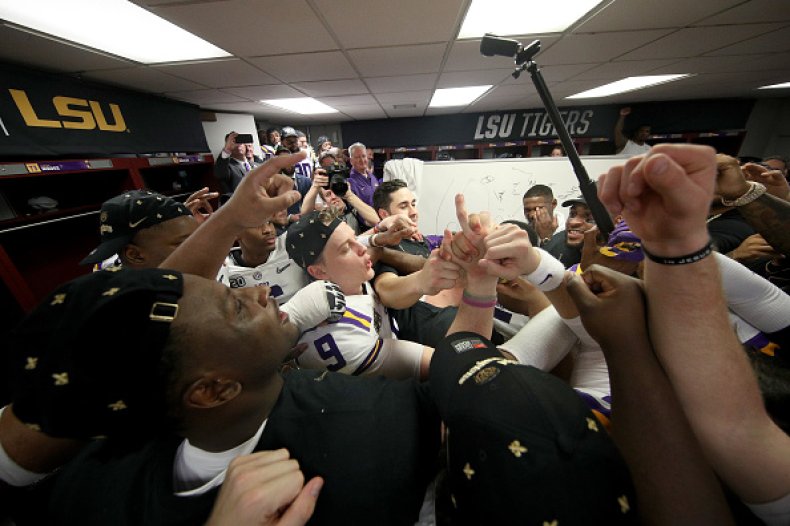 LSU defeated the Clemson Tigers, 42-25, Monday night at the Mercedes-Benz Superdome in New Orleans to cap a perfect 15-0 season.
Burrow has been the quarterback the last two seasons at LSU after transferring from Ohio State. What Burrow accomplished the last 16 games has been astounding, unprecedented and perhaps never again matched.
The last time Burrow lost a game was the epic 74-72 loss at Texas A&M. That game went seven overtimes and led to changes in college football's overtime rules. Since then?
LSU's postseason game following the 2018 season was a 40-32 Fiesta Bowl win on New Year's Day over the University of Central Florida, which snapped a 25-game winning streak by the Knights. LSU's win over Clemson on Monday snapped a 29-game winning streak by Clemson.
LSU beat seven teams in the 2019 season that were ranked in the top 10 when LSU played them, which was unprecedented. And before listing the records LSU broke in 2019, here are the quarterbacks Burrow beat head-to-head in the 2019 season:
Sam Ehlinger (Texas)
Jordan Love (Utah State)
Kyle Trask (Florida)
Bo Nix (Auburn)
Tua Tagovailoa (Alabama)
Kellen Mond (Texas A&M)
Jake Fromm (Georgia)
Jalen Hurts (Oklahoma)
Trevor Lawrence (Clemson)
Then there were the records Burrow set in the season, along with the team records his Tiger mates helped set:
Burrow's 60 TD passes are the most in college football single-season history
Burrow's 65 total TDs responsible for is a record
Burrow's five touchdown passes against Clemson are the most in any CFP championship game
Burrow received 841 of 885 possible first-place points in the 2019 Heisman Trophy voting with a landslide victory
Burrow's Heisman Trophy speech highlighted his time growing up in a poverty-stricken area of Ohio, in which half a million dollars was raised for the local food bank after his speech
Burrow's seven touchdown passes in the first half of the Peach Bowl are:
Most ever thrown in the first half of any bowl game in history
Most thrown during any college playoff game (including the entire game)
Ties a Peach Bowl record (for an entire game)
Most touchdowns thrown by an SEC quarterback during any game in history
So, Burrow grabbed some OBJ cash and smoked a cigar in the tunnels of the Superdome. His time in the classroom is done. His time in a purple-and-gold uniform is complete. He could have worn that uniform forever, but he can't.
Don't dog on Burrow if he wanted to celebrate. He's the son of a former college football coach, and he knows the rules. Had Burrow done these actions after the win over Alabama, the SEC title game or the Peach Bowl victory, then go after him.
Burrow pulled off perhaps the greatest season ever by a quarterback, or even any other individual player.
Heck, he's 2-0 in front of the President of the United States of America while the Alabama Crimson Tide and Clemson Tigers are a combined 0-2.
Speaking of President Donald Trump, the Tigers are expected to visit the commander-in-chief Friday at the White House. Last year during a government shutdown, the president served nothing but fast food to the Clemson Tigers, and it was surprisingly a big hit. But these are the LSU Tigers from the bayou, where fast food is for tourists and gator bait.
If the food is bland in Washington, D.C., then it's just a matter of hours before LSU will be back in Baton Rouge, Louisiana, for a full-fledged Tiger celebration with parade and party on Saturday.