LSU Quarterback Joe Burrow Wins Heisman Trophy in Record Fashion, Shattering His Emotions Along the Way
Joe Burrow must have felt a lot like Charlie Brown when it came to becoming a football legend. Though greatness was aspired, the ball kept getting pulled from him when it looked like he was ready to make the big move.
Burrow, who was a standout high school quarterback from Athens, Ohio, wanted big-time college football opportunities. Ohio State University was the only school to offer him a big-time chance, but he had to sit and learn behind other players in that system for three years while he was there.
Then, the Charlie Brown of coaches took Burrow under the wing. Now they sit with a treasure trove of trophies after the 2019 season.
Burrow on Saturday night in New York City was named the 2019 Heisman Trophy winner. He was a displaced quarterback who transferred from The Ohio State University to the Louisiana State University. Playing in the Southeastern Conference (SEC), Burrow on Saturday in NYC defeated two other quarterbacks—Oklahoma's Jalen Hurts and Ohio State's Justin Fields— who also suited up in the SEC in previous seasons before transferring themselves out of there.
Burrow spent his last two years of college eligibility in Baton Rouge, Louisiana, with the LSU Tigers, a team that usually relied heavily on running, high on history and an unwavering reliance on a defense that could keep them in games.
Though he had some memorable games in 2018—the season-opening win against Miami and wins over Auburn and Georgia—a blowout loss to Alabama and a seven-overtime loss to Texas A&M helped accentuate the fact that LSU football was not on track. Even after LSU stopped Central Florida's winning streak in the Fiesta Bowl following the 2018 season, a change seemed inevitable in Bayou Country.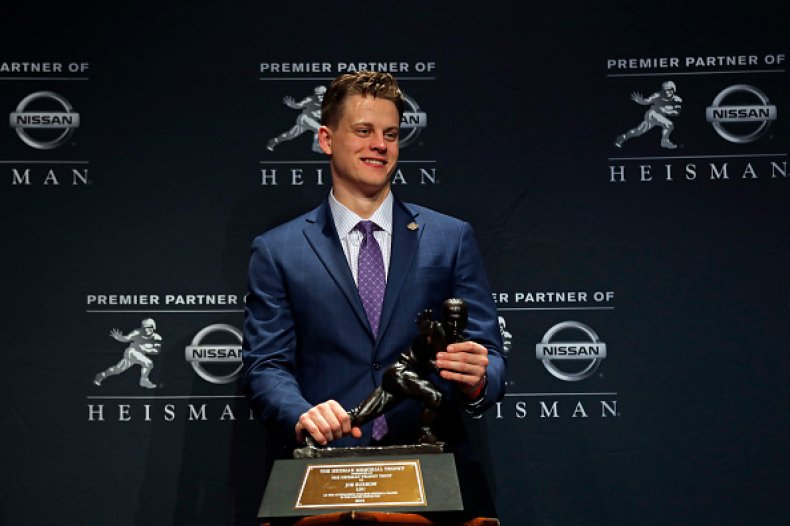 Then there's Ed Orgeron, the current LSU coach.
Orgeron was an assistant coach for the Tigers when the university fired longtime coach Les Miles, who won a national championship in 2007 and played for another in 2011. The school wanted to hire then-Florida State coach Jimbo Fisher, who said FSU was the place for him. LSU wanted the hot, up-and-coming Tom Herman from the University of Houston. But the Texas Longhorns would win that bid.
Instead, LSU hired Orgeron, a lifelong Louisianan and quintessential cajun from Lafourche Parish. He ended up playing offensive line at Northwestern State University in Natchitoches, a school just south and east of Shreveport. This was before Interstate-49 was built to connect Shreveport to Lafayette and Cajun Country, by way of Alexandria.
Orgeron's playing career turned into a coaching gig, and he was both an interim coach (Southern Cal) and head coach (Ole Miss) before getting back into assistant coaching jobs, which ultimately brought him to LSU.
When Orgeron was hired, he said the offense needed an overhaul and, "We need to beat Alabama."
After the 2018 season, Orgeron hired the New Orleans Saints' 20-something-year-old Joe Brady as LSU's new passing game coordinator. The results have been off the charts.
The LSU Tigers not only set school records in 2019 with Burrow passing in Brady's scheme, but Burrow quickly catapulted himself in national lore.
Burrow crushed SEC records, including these:
4,715 — passing yards
48 — passing touchdowns
And these school records:
5,004 — total offense in yards
342 — completions in single season
362.6 — passing yards per game
384.9 — total offense per game
He broke Colt McCoy's 2008 national record (76%) when he completed 77.9 percent of his passes this season.
On Saturday night, Burrow became the only the second player in LSU history to win the coveted Heisman, doing it 60 years after Billy Cannon galloped his way to the award after one of the most-memorable Heisman moments—the kick return against nemesis Ole Miss on Halloween night.
Burrow won the Heisman with 2,608 total points, which was in overwhelming fashion hardly seen before. Here's how dominant Heisman voters thought of the new Bayou Joe.
1,846 — his margin of victory was the largest in Heisman history
93.8 — largest percent of possible points in history of Heisman voting
90.7 — highest percentage of first-place votes
95.5 — highest percent of a name on ballots in history
Burrow is typically stoic and unflappable, but he broke down during his acceptance speech Saturday night in New York.
"My journey ... I wouldn't have traded it for anything in the world," Burrow said before directing attention to Orgeron and fighting back the tears. "You have no idea what you mean to my family. You know I didn't play for three years and you took a chance on me, not knowing if I could play or not and I am forever grateful for you."
Burrow and the Tigers, ranked No. 1 in the College Football Playoff, will now face No. 4 Oklahoma in the national semifinal Dec. 28 at the Chick-fil-A Peach Bowl in Atlanta.
Before this weekend, Burrow was named the AP Player of the Year, the Davey O'Brien winner for best quarterback, the Maxwell Award winner for best player in the nation and the Johnny Unitas Golden Arm award winner.
Meanwhile, Orgeron was named national coach of the year, and several other Tigers players won major national awards.