LSU Sells Over $400,000 Worth of Alcohol in One Game
On Saturday, LSU football fans set a record for concession sales, tallying a total of 54,794 beers sold, according to school officials.
Drinking beer and watching football is a tale as old as time, but LSU fans took it to another level during their game against the Florida Gators. The game was a sellout with an announced attendance of 102,231.
LSU athletic director Robert Munson reported that those in attendance combined to spend a total of $1.75 million at the stadium's concession stands. While it's unknown how much of that total was spent on alchohol, the revenue generated for concessions marked a record for the school.
What is known is that LSU and Florida fans purchased 54,794 beers or glasses of wine during the game and, according to LSU's athletics website, alcoholic beverages cost $8 for domestic beers and $9 for premium beers and wine.
The number of sales was limited to general seating areas only, but the breakdown of items purchased was tweeted by Munson.
Other collegiate conferences have been selling alcohol for years inside its stadiums, but perhaps not at the rate that LSU did on Saturday.
For reference, the University of North Carolina at Chapel Hill set a school record for concession sales on their September 28 game against Clemson. Reported by news outlet WRAL in Charlotte, the university sold nearly 16,000 units of alcohol during the game. This record was blown out of the water by LSU and Florida fans who drank over 38,000 beers more than UNC.
LSU even broke their own record from their game against Georgia Southern on August 31. Reported by KSLA.com, the university sold 27,235 beers during that contest. Prior to this game, LSU hired more than 200 additional staff members and opened up 40 new portable concession locations to meet anticipated demand.
In 2016, Ohio State reportedly made over $1.1 million in alcohol sales in their first year selling alcohol in the stadium. For perspective, if every unit of alcohol sold at the LSU-Florida game was an $8 purchase, the two fanbases spent $438,352 - nearly 40 percent of OSU's 2016 revenue.
It's the first season where LSU has sold alcohol in any of the school's athletic facilities. The university, along with six other schools in the Southeastern Conference (SEC), began selling beer this season after the conference lifted its ban on the practice over the summer. No other school in the SEC has released information on alcohol sales so far this season.
"This policy is intended to enhance the game-day experience at SEC athletics events by providing our schools the autonomy to make appropriate decisions for their respective campuses while also establishing expectations for responsible management of the sale and distribution of alcoholic beverages," said Harris Pastides, current chair of SEC presidents and chancellors in a press release.
This was somewhat of a late decision by the SEC considering that just about every professional sporting event and concert sell alcohol.
LSU heads to Davis Wade Stadium to take on Mississippi State this Saturday and will return to Death Valley in two weeks in a matchup against the Auburn Tigers.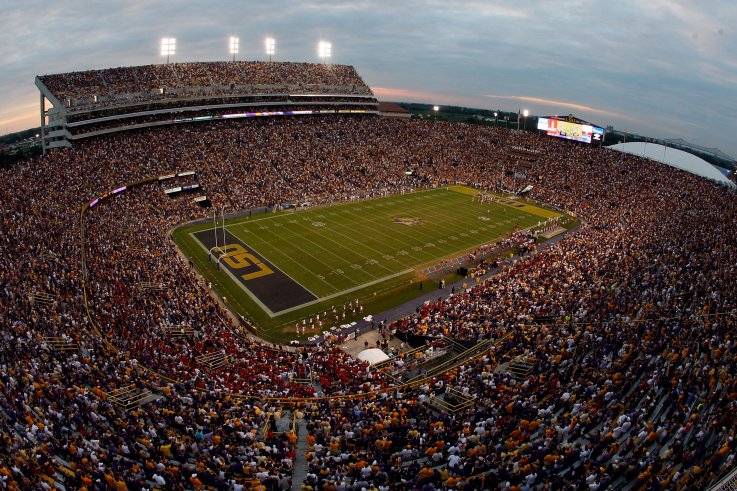 LSU Sells Over $400,000 Worth of Alcohol in One Game | Sports