LSU Star Confident in Matchup Against Oklahoma, 'We're Gonna Dominate Them'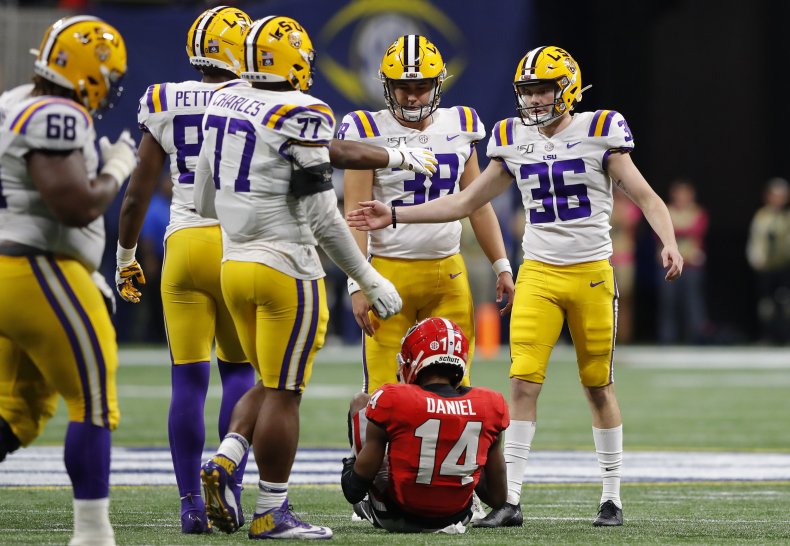 With just two days to go until LSU and Oklahoma face off in the College Football Playoff (CFP) semifinal, one Tigers star has remained confident in his team's ability to win.
"I feel like with this game plan we got, we're gonna dominate them," LSU linebacker Patrick Queen said in a video posted to Twitter by Brandon Drumm of 247Sports. "I am very confident in what we got."
Queen also spoke about the different aspects of the Oklahoma Sooners football team and why he thinks LSU will dominate them.
"The O-line is not great, running back is not great, but they still make it work," Queen said. "Jalen Hurts is a great quarterback...I feel like if we can just get the ball out of Jalen's hands and try to make other people make plays, I feel like our defense is gonna make plays in space."
The two teams are set to play each other in the Chick-fil-A Peach Bowl with the Tigers predicted as heavy favorites. LSU enters the game as SEC conference champions and the No. 1 ranked team in the nation, while the Sooners, ranked No. 4, enter as BIG 12 champions and the only team in the CFP Top Four with one loss.
Like Queen says, Hurts has been a great quarterback, with 32 touchdowns and 3,634 total passing yards on the season, but he will have a strong opposition in the LSU defense. Led by freshman cornerback Derek Stingley Jr., who has six interceptions this season, while Queen and safety JaCoby Stevens combined for 7.5 sacks on the season.
While Queen believes that he and the Tigers' defense will "dominate" the Sooners, many believe that the Tigers' offense is what sets them apart. Led by Heisman Trophy winner and projected No. 1 overall NFL Draft pick Joe Burrow, the quarterback has led LSU throughout their incredible season. He leads all of college football in touchdown passes with 48 and is second in total passing yards with 4,715, while also scoring at least 50 points in three out of the Tigers past five games.
Queen's claim may seem bold, but a number of different sportsbooks seem to agree with him. LSU is favored by 13.5 points on Fanduel and DraftKings, while Bovada has them listed as 14-point favorites.
Not only are the Tigers favorited to win their semifinal game against the Sooners, but they are the outright favorite to win the CFP National Championship. Fanduel lists the Tigers at +150 odds to win, DraftKings gives them +135 and Bovada lists them at +115.