LSU vs. Clemson: How to Watch, Live Stream College Football Playoff National Championship
Two teams are left standing in college football, with one set to be crowned national champion on Monday night as LSU takes on Clemson in New Orleans, Louisiana.
Rarely as the showpiece event of the College Football Playoff been so eagerly anticipated, but the hype surrounding the title decider is completely justified.
Both sets of Tigers have emerged as the standout programs during the regular season and their showdown at the Mercedes-Benz Superdome—where LSU won its last national title—could prove to be an instant classic.
The No. 1 and No. 3 team in the CFP rankings, LSU and Clemson arrive into the game on the back of 14-0 record seasons, both boasting dominant offenses and stud quarterbacks.
The two programs rank first and fourth in scoring offense during the regular season at an average of 48.9 and 45.3 points per game and first and third in total offense.
LSU quarterback Joe Burrow has developed into arguably the brightest star of college football and a first overall pick-in-waiting at the NFL draft in April following a record-breaking season.
The senior signal caller has completed 77.9 percent of his passes, throwing for 4,715 passing yards and 48 touchdowns in the regular season—both SEC records—and threw seven touchdown passes as the Tigers buried No. 4 Oklahoma 63-28 in the CFP semifinal.
With a win over Clemson, Burrow would become only the 16th player in history to win the national title and the Heisman Trophy—which he captured in a landslide last month—in the same season.
Trevor Lawrence, his Clemson counterpart, can't match Burrow's jaw-dropping production this season but is 25-0 since taking over under center for Clemson two seasons ago and could add a second national title to his trophy cabinet in two years.
Lawrence was instrumental in the CFP semifinal, as Clemson came back from a 16-0 deficit to defeat No. 2 Ohio State 29-23.
The different strength of schedule between LSU and Clemson has been arguably the only discernible difference between the two programs this season. Ed Orgeron's men have defeated five ranked teams this season, while Clemson's first meeting with a top-25 team only came against Virginia in the ACC conference championship.
While the reigning national champions have enjoyed an easier schedule, it is worth remembering they are undefeated in 29 games and last tasted defeat against Alabama in the CFP semifinal in January 2018.
With a win over LSU on Monday, Clemson will become the first program in college football history to go 15-0 in consecutive seasons.
Throughout the season, Clemson coach Dabo Swinney has had to fend off questions over his team's relatively easy schedule and a perceived lack of respect.
Ahead of the matchup against LSU, geography was the latest storyline to emerge as a potential disruption for Clemson, as the Mercedes-Benz Superdome is only 80 miles away from LSU's campus in Baton Rouge.
Swinney, however, appeared far from troubled by the prospect of playing in a hostile environment.
"It's going to be like a road game," he told ESPN.
"I know our fans will show up and they'll be passionate just like they are everywhere we go on the road. But it'll be an awesome, awesome atmosphere.
"We've had a wonderful year. We've had an unbelievable decade, and I'm excited to finish strong Monday night and then set our eyes on what's next."
While Clemson is making its fourth appearance in the CFP title game since the playoff's inception in 2014, LSU last competed for the national title nine years ago, losing 21-0 to Alabama in the BCS National Championship Game, as it was called then.
Orgeron, however, insisted the chance of ending an 11-year wait for the national title will not add pressure to his players' shoulders.
"We talked about we have to prepare to beat Clemson, one game at a time, just like we've done," Orgeron told reporters on Friday, as per Sports Illustrated. "We have trusted the process.
"We have to continue to work up through game time. They [Clemson] are going to make plays. We're going to make plays. We have to work for 60 minutes and focus on winning the game and not worry about all the other stuff, block out all the noise just like we did all year."
Here's everything you need to know ahead of Monday.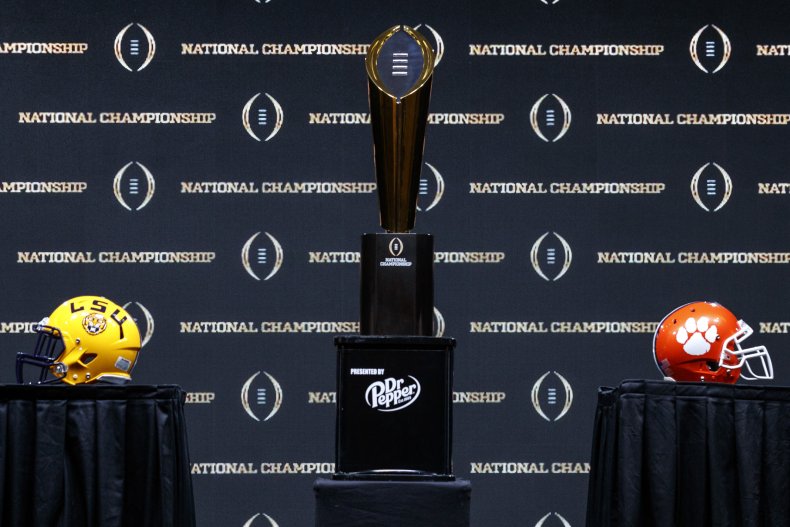 When and where is the CFP championship game?
LSU takes on Clemson at the Mercedes-Benz Superdome in New Orleans, Louisiana.
It is the first time since 2012 that the home of the New Orleans Saints has hosted a national title game.
Kick-off is scheduled for 8 p.m. ET on Monday, January 13.
TV coverage
The game will be broadcast nationally on ESPN.
Live stream
A live stream will be available via ESPN's digital platforms, WatchESPN and the ESPN app.
Series record
The two programs have played each other just three times, with LSU leading the series 2-1.
Odds
According to Oddschecker, LSU is a 5.5-point favorite and is 19/20 to cover the spread, while Clemson is a 17/10 underdog.
The over/under line in terms of total points scored is set at 69.5.
Since the CFP's inception in 2014, the national title game has produced an average of 64.4 points per game.