LSU's Next QB Spends COVID-19 Break Chopping Trees, Bench Pressing Them
Myles Brennan probably won't claim to be the next Paul Bunyan, but a recent video surfaced showing the LSU quarterback doing Bunyan-like things. Brennan already has a bigger task on the bayous of Louisiana—filling the shoes of Joe Burrow.
Brennan is presumably the next starting quarterback at LSU, replacing the vacancy left by Burrow, who won an SEC title, a national title, the Heisman Trophy and just about every major national award last season.
Brennan was a star-studded quarterback from Mississippi who looked to be the next shoe-in as the signal caller for the Bayou Bengals. But Burrow came along as a transfer in 2018 to win the job, and he eventually led the LSU Tigers in 2019 to one of the best college football seasons in history.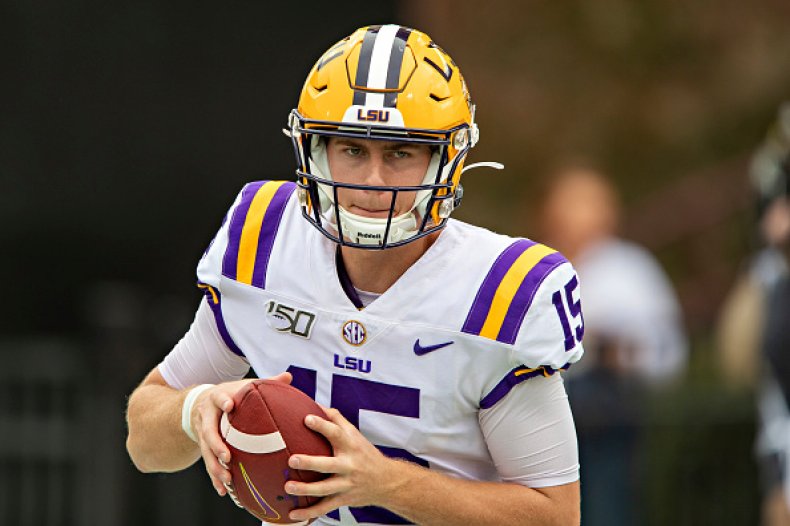 The journey to replace Burrow might seem like a Herculean—or Paul Bunyan-like—task. Brennan had a trajectory that showed he had promise of doing Burrow-like things.
Joe Burrow went from a backup at Ohio State to a transfer hopeful at LSU. After a 10-3 season in 2018, he led the Tigers in 2019 to a wins over Alabama, Auburn, Clemson, Florida, Georgia, Oklahoma, Texas and Texas A&M, shattering records along the way.
In April, Burrow was the No. 1 overall pick in the NFL draft by the Cincinnati Bengals. The draft was held virtually because of the rapid spread of COVID-19, also known as coronavirus.
Much of LSU's spring practice, and the spring game, was canceled because of the virus, which hit hard in south Louisiana after Mardi Gras in late February. Students were forced to take their classes online, and so many athletes were forced to go back home and train on their own.
This is where Brennan's family comes in. They set up obstacles courses and throwing stations in the woods. Here's where the woodsman in Brennan kicks in, though.
Brennan did an interview with the LSU media crew, and he told them how he went from budding starter in spring drills to swinging an axe and doing workouts with trees on his back while at home for most of the coronavirus quarantine.
"My parents set up pretty much an obstacle course," Brennan said. "So they had to have like, targets spray painted onto the trees. They had gone and bought these nets, they had cones set up, they had trash cans to throw balls into. Then I was walking across the property one day just cutting down trees, and just cut down that tree and just use that as, like, I could lift it and bench it and put it on my back and squat it and stuff.
"I just tried to make it the best with what I had."
This video shows Brennan bench pressing and squatting pieces of chopped wood, but the weight amount of the wood is not known.
LSU's 2020 season of defending their championship remains in limbo while not only the Southeastern Conference decides on the league's fate, but also as the Louisiana governor grapples with pulling the state into a restart mode, which includes the state's schools.
Brennan has waited patiently in three years at LSU. He was regarded as one of the nation's top quarterback prospects coming out of high school not far down the road in Long Beach, Mississippi. Brennan played sparingly in the 2017 season, and then received a redshirt in 2018, which was Burrow's junior season as a transfer. Brennan, who is a pro-style pocket passer, played backup in 2019 to Burrow, and entered many games because of lopsided scores.
LSU's tentative 2020 schedule will allow the Tigers to once again get tested early. After opening Sept. 5 at home against UT-San Antonio, the Texas Longhorns visit Baton Rouge on Sept. 12. The LSU-Texas game in 2019 was when Burrow first became a bonafide Heisman prospect, and when the nation took notice of LSU's offense.
The Tigers then play Rice in Houston, and have home games against Ole Miss and Nicholls State before the first road test of the season—Oct. 10 at Florida.
In their last five games, LSU will get Mike Leach's Mississippi State, Nick Saban's Alabama and Will Muschamp's South Carolina at home before finishing with road games at Auburn and Texas A&M.