Lt. Col. Alexander Vindman, Impeachment Witness, Marks 1st Anniversary of Trump's Ukraine Call: 'I Did My Duty'
Lt. Col. Alexander Vindman, a key witness in President Donald Trump's impeachment trials, remembered the July 25 phone call that precipitated the federal inquiry on its first anniversary.
"One year since The Call," Vindman wrote on Twitter Saturday morning, referencing the phone call between Trump and Ukraine President Volodymyr Zelensky, which took place on July 25, 2019.
"Much has changed for me and so much more has changed for our country. I rest well knowing I did my duty," he continued.
The contents of Trump and Zelensky's call were central to the impeachment investigation, which assessed concerns originally raised in an August 2019 whistleblower complaint. The complaint alleged Trump solicited foreign intervention to benefit his presidential reelection campaign.
It specifically said Trump asked Zelensky to launch an investigation into political competitor Joe Biden, as well as a debunked theory about Ukranian interference in the 2016 election, and threatened to withhold military aid from the Ukraine as incentive. Parts of their conversation appear in a public White House transcript.
Vindman, who overheard the phone call and later reported it to a superior, testified before the House of Representatives during trials.
"I was concerned by the call. I did not think it as proper to demand that a foreign government investigate a U.S. citizen, and I was worried about the implications to the U.S. government's support of Ukraine," Vindman said in his testimony.
The House voted to impeach Trump on December 18, when representatives approved two separate impeachment articles for abuse of power and obstruction of Congress. The latter involved the president's conduct and interactions with administration officials amid trial proceedings. Trump was acquitted by the Senate less than two months later, in early February.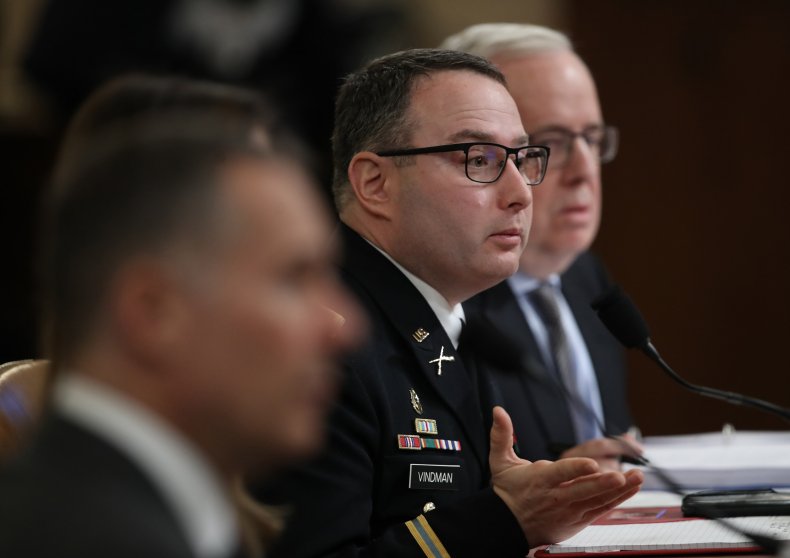 Vindman, the National Security Council's (NSC) former European Affairs Director, was removed from his White House post shortly after Trump's February acquittal. He and his twin brother, Lt. Col. Yevgeny Vindman, were both reassigned. Trump said Vindman was "very insubordinate" and reported details about the Zelensky phone call "incorrectly" when he addressed Alexander's reassignment on Twitter.
Alexander Vindman filed a request for retirement to the U.S. Army in early July.
Friday marked two years since Yevgeny —who did not testify during last year's impeachment trials—joined the NSC alongside his brother.
"I anticipated challenges," he tweeted on the anniversary. "After all defending this nations vast interests around the world is hard work. Never anticipated what eventually came to pass... interesting last year of my life."
Newsweek reached out to the White House for its response to Vindman's tweet, but did not receive a reply in time for publication.