Lt. Col Vindman Gets Standing Ovation at Dem Debate After Biden Says He Should Have Gotten Medal of Freedom Instead of Limbaugh
Lt. Colonel Alexander Vindman received a standing ovation at the Democratic debate in New Hampshire on Friday, after former Vice President Joe Biden suggested that he should have been given the Presidential Medal of Freedom instead of conservative talk show host Rush Limbaugh.
Vindman was a key witness in the House impeachment hearings, with his October 2019 testimony corroborating the allegation that President Donald Trump attempted to use foreign aid to pressure Ukraine President Volodymyr Zelenskiy into launching an investigation of Biden. News that Trump had fired Vindman emerged shortly before the debate began.
"Col. Vindman go thrown out the White House today, walked out," said Biden. "He [Trump] should have been pinning a medal on Vindman, and not on Rush Limbaugh."
"I think we should all stand and give Col. Vindman a show of how much we supported him," Biden added while motioning to the audience. "Stand up and clap for Vindman, get up there... that's who we are, we are not who Trump is."
The audience took Biden's suggestion, rising to their feet to cheer on the Ukraine security expert who had served on the U.S. National Security Council from July 2018 until he was dismissed on Friday.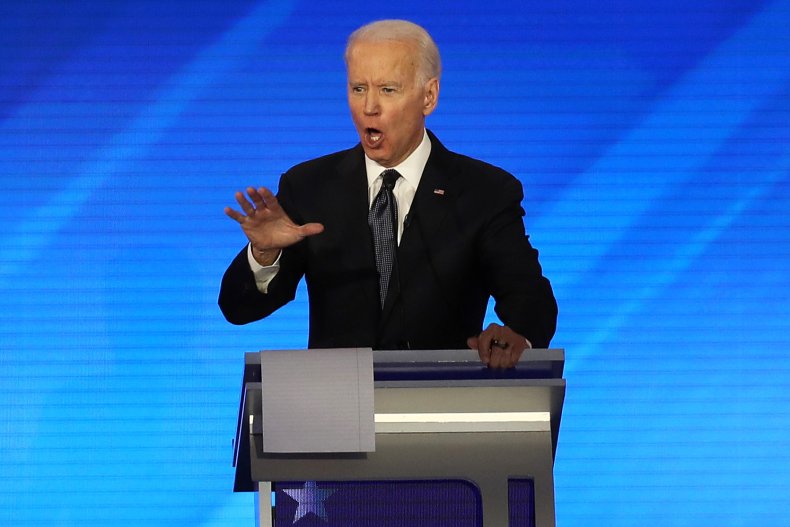 Trump awarded Limbaugh the Medal of Freedom on Tuesday, in an unprecedented move, during his State of the Union address. Biden criticized the choice during a CNN town hall event the next day, suggesting that the controversial talk show host had a history of racism and bestowing the honor was a political ploy by Trump.
Biden's suggestion that Vindman should have been awarded the medal instead is unlikely to be supported by Republicans, some of whom deemed Vindman a "traitor" after his testimony.
"Today, Lieutenant Colonel Alexander Vindman was escorted out of the White House where he dutifully served his country and his President," said Vindman's lawyer David Pressman in a statement. "He does so having spoken publicly once, and only pursuant to a subpoena from the United States Congress."
"The truth has cost LTC Alexander Vindman his job, his career, and his privacy. He did what any member of our military is charged with doing every day: he followed orders, he obeyed his oath, and he served his country... And for that, the most powerful man in the world - buoyed by the silent, the pliable, and the complicit - has decided to exact revenge," he added.
Vindman's brother Lt. Col. Yevgeny Vindman, who also worked in the administration, was fired by Trump as well, along with Vindman's fellow impeachment witness Gordon Sondland, the former U.S. ambassador to the European Union.