How 'RHONY' Star Luann de Lesseps Reinvented Herself Through Cabaret: 'It Definitely Gives Me My Spark'
For the last 11 years, viewers have watched the life of Luann de Lesseps unfold on Real Housewives of New York City. The charming reality star's undeniable penchant for witty humor and a style oozing of regality has led her to become a star on the Bravo reality series, plus she can dish shade out like the best of them. However, it's de Lesseps natural comfortability in sharing her many highs and lows on the show that has made her a fan favorite.
The Countess—as she's long been referred to—is no stranger to scandal. Since RHONY's 2008 debut, she endured a divorce from ex-husband and noble French Count Alexandre de Lesseps, with whom she shares two children. She also faced a heartbreaking split from longtime boyfriend Jacques Azoulay on the show and a number of highly publicized feuds with her catty co-stars. Then there was that one time she fell in the bushes in Mexico.
The last three years of de Lesseps life on camera, however, have been particularly tumultuous. Her whirlwind romance with New York businessman Tom D'Agostino Jr., led to a New Year's Eve wedding in Palm Beach, Florida in 2016, and barely a year later, the pair were divorced. Twelve months after that, the former model's mugshot was plastered on tabloids following her arrest on charges of battery, trespassing and disorderly intoxication in the town where she and D'Agostino exchanged vows. The fall out from that resulted in de Lesseps ringing in 2018 in rehab and despite her efforts to stay sober, the 54-year-old wound up back in treatment for alcohol abuse in July of that year.
Since then, things have seemingly turned around for the better. De Lesseps is diligently maintaining her sobriety—in spite of the accusations claiming otherwise spewed by Ramona Singer at the RHONY Season 11 reunion—and she's primarily focused on the latest invention of herself. Her third act, if you will, as a cabaret star.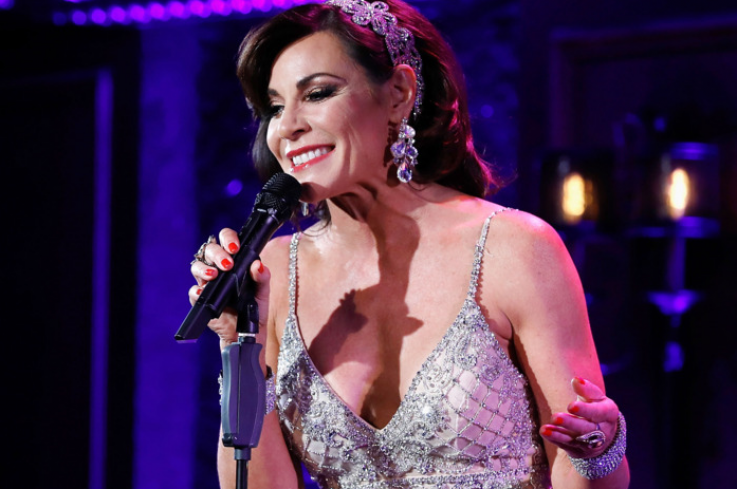 The singer teased a potential career in variety-style live entertainment when she performed her first single, "Money Can't Buy You Class," on the reality show in 2010. Fast forward to present day and de Lesseps' show, Countess and Friends, is a whole Live Nation tour, making stops all around the U.S. Her latest showcase launches on Saturday.
"Well I don't have a man, so cabaret's definitely given me my spark," de Lesseps joked during an interview with Newsweek. "It's just given me an avenue to be creative and sync my energy. It keeps me busy and it's something that I love and I'm passionate about."
De Lesseps said the cabaret show and her dedication to seeing it prosper has changed her life in many ways. Aside from keeping her incredibly busy with a heavy touring schedule—she'll be performing multiple nights in various cities across the country for the next five months—de Lesseps credited the cabaret for helping her unlock a newfound sense of happiness.
"I love doing the show, being on tour and going to cities I've never been to. It's really exciting," she said, adding, "I feel very blessed and fortunate that people love the show and enjoy coming to it and seeing me have a good time with them."
Read Newsweek's full interview with de Lesseps below.
This interview was condensed and edited for length.
Was a career in entertainment, specifically cabaret, inevitable for you?
A friend of mine said, "Luann you love to entertain. You love to host parties and you like to sing for your friends. So you're a cabaret star basically." He wanted to introduce me to a friend of his who is a director, Ben Rimalower. I didn't initially pursue it because I was busy doing other things, getting married, divorced. Finally, I thought I'd call and meet with him and we just hit it off and Countess and Friends was born.
How familiar with cabaret were you before you started your own show?
I've always been a fan of variety and cabaret. Somewhere in the back of my mind I always wanted to something like Carol Burnette—have guests, do skits, sing for my friends.
When did you realize this could be your next career move?
I think the first time I got on stage. I was terrified and had come from a really big low in my life at that time. So it was very scary to not only get on the cabaret stage but also have it filmed for [RHONY]. It was really difficult, but about a half-an-hour into the show, I was enjoying myself and felt very comfortable. It made me realize this was something I could do until I'm 80.
Younger people who weren't even aware of cabaret before you started performing on RHONY come to your shows now. Why do you think your style of old Hollywood, live variety entertainment has resonated with millennials?
When I created the show I didn't imagine there was a void or a disconnect [among generations] in cabaret. I created what I wanted to do and then realized there was a void in cabaret. It came organically, and I think people connect because they really feel like they're in my living room. The world could fall apart and they feel safe with me. They feel like I'm taking them on this journey, and they're all in. It's like the Bravo bubble. I talk about my experiences. I don't specifically talk about the Housewives, but I do talk about my diary entries, which are stories about my past and stories from trips that we've taken. The crowd identifies with it because they're fans of the show. They love to hear my personal stories, and they love to hear my classics because I sing my dance singles from the show. They've only heard them on iTunes and RHONY. To actually be in the theater and see me sing "Money," "Chic C'est La Vie" and "Girl Code" and now "Jovani"—they love it. I was very surprised to learn 80 percent of my audience is women. Of course, my guys, my boys who I love—but it's a lot of women who love RHONY. They love me as a character on the show and they love to hear the music that I sing. That's what makes it successful. It's good, fun entertainment like the old school show biz stuff that I don't think they've really experienced. It's new for them.
When you were younger did you think you'd become someone so many young women would identify with?
Of course as a mother, I've always wanted to be someone that my daughter looked up to. God knows I've made mistakes, but everybody does. That's part of life and that's part of learning. It's what makes you grow. I live life full speed ahead. I try not to have regrets and I keep reinventing myself because that's how I feel you need to be. I'm not a big dweller in the past, so I try to keep reinventing myself and learning from my mistakes.
It seems like you're having fun with this latest reincarnation of yourself.
I am! I'm having a great time. I travel with a load of people. I have road managers, makeup artists and assistants, a full band—Billy Stritch who worked with Liza Minnelli for 25 years is my accompanist. I feel really really lucky because I have a great group of people who work with me and we're on the road. It's a lot of fun.
What do your kids think about the show?
They know I sing for my friends and I entertain love to tell jokes. They know all of that about me, but to actually see it all put together in a cabaret show, they were just like "Mom, really?" Having my children see the show and be proud of me—that was the biggest nod. That meant everything to me.
How has cabaret helped you?
A lot of people aren't doing what they're passionate about. I feel blessed that I found something that I really love and people are loving it. You can love what you do but if nobody's coming to see you it's not that much fun, right? I could fall on my face on stage and it's like, "Oh my God, that was so great Lu! You fell so well!" If you fall, I say make it part of the dance. My fans are so accepting of me and make me feel comfortable.
How do you stay focused on your sobriety in the midst of the entertainment industry's many temptations?
The cabaret has been life-saving for me. If you go down the street from where I live now, there's a liquor store on every corner. There's booze everywhere. There's booze on RHONY, but when I'm on stage and I'm working. I'm removed from the crowd. They're all partying and having a good time, and I'm working. This is my job and I have a duty to my fans to do a good show. That's never been my thing—even when I was drinking I would never drink when I did the show. After the show, for sure, but not before. So the cabaret doesn't really threaten my sobriety.
What's your advice for people who are struggling with alcoholism or dealing with situations that may tempt them to relapse?
If you have to ask yourself, "Do I have a drinking problem?" then you probably do. Being honest with yourself about that is the most important thing. I'm certainly no one to cast judgment. I'm not a psychiatrist, I'm just living by my own experience and I know drinking doesn't help. In my case, I overdrank. I abused it. That's what happens when you are self-medicating when you're not happy. It just clouds your vision even more. So I would say to think twice. Think about the end of the story and the end of the night, how you feel the next day. If you can think that far ahead, it really changes what you're gonna do next.
What's the biggest thing you've learned about throughout your experience on RHONY and now cabaret?
I've learned not to take yourself so seriously. Life is a cabaret if you so choose to see it that way. We got one shot, so take chances and don't be afraid.
How 'RHONY' Star Luann de Lesseps Reinvented Herself Through Cabaret: 'It Definitely Gives Me My Spark' | Culture