'Luca': 10 Fun Facts About Our New Fishy Friend on Disney+
Luca is like any other teenage boy. He yearns for adventure, he's full of energy and has a vibrant imagination. The main difference, however, is that he's a sea monster living by the Italian Riviera.
Pixar's latest film Luca is released on Disney+ today, telling the story of an unlikely friendship that grows between a human and a sea creature disguised as a human.
If you'd like to get to know Luca better ahead of watching it on Disney+, here are 10 fun facts to whet your appetite.
1. Luca is voiced by Jacob Tremblay
One of film's hardest working teenagers, Jacob Tremblay voices the titular Luca Paguro. His big break was in 2015's Room before getting leading roles in the likes of Wonder and Good Boys.
Director Ernest Casarosa is delighted with the casting. In Luca's press notes, he said: "There's an earnestness about Jacob. He's a master at playing anxious and polite—someone who's timid and wants to please. He's an amazing actor."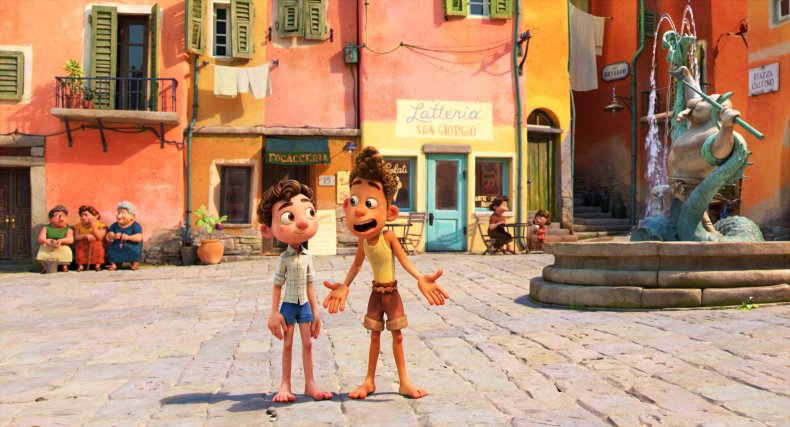 2. Luca's family are hilarious
Luca is part of the Paguro family, and each of them have a comedy background. Luca's mom Daniela is voiced by Saturday Night Live and Bridesmaids actress Maya Rudolph. Comedian Jim Gaffigan (The Jim Gaffigan Show) voices his dad Lorenzo.
His Uncle Ugo is voiced by Borat star Sacha Baron Cohen, and editor Catherine Apple says his improvising often changed a scene. She said: He wanted to try a bunch of approaches to see which one worked but it was hard to decide which way to go—and the scene got a little bigger once he recorded."
3. The look of Luca
Pixar isknown for their amazing attention to detail and imaginative character design. They've outdone themselves once again when you look at Luca in his sea monster form. Don't try to count them, but he has an impressive 3,436 scales on his body.
4. Authentic burping
When Luca gobbles up his first plate of pasta, he unleashes a burp after he's done. Tremblay was happy to perform this sound effect himself as burping on command is apparently a special skill of the actor.
5. Underwater chores
One of Luca's chores underwater on his family farm, is herding goatfish. This is especially appropriate for the film's location, as there are several real-life species of goatfish, with some found off the coast of Italy.
6. Pixar Easter eggs
Pixar fans have come to expect a lot of crossover between the films, lending credence to the so-called Pixar Universe. Luca is no different and there are small nods to other Pixar properties within.
The iconic yellow, red and blue ball can be spotted on a rooftop as the Portorosso Cup bike race gets underway, and a Toy Story's Pizza Planet truck makes a cameo in the form of a Piaggo Ape parked on the streets of Portorosso.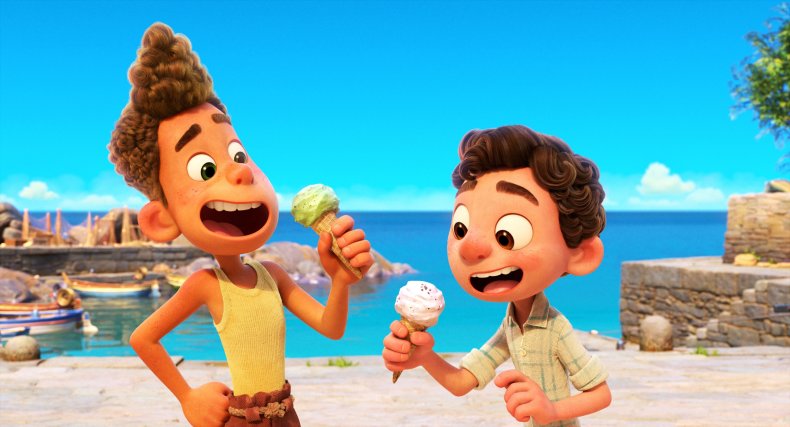 7. Classic cinema references
Cinema buffs will spot animated posters for classic movies. Outside the Portorosso cinema, there's an ad for Walt Disney's 20,000 Leagues Under the Sea.
Director Casarosa says he was inspired by Italian-based films from the 1950s. In tribute, La Strada and Roman Holiday posters appear in Luca too.
8. Help from the locals
A lot of work often goes unrecognized within a big-budget film. One group that deserves a mention are the background voice artists who provided the voices for the kids in the film. All of these voices in Luca are recorded by local children in Italy.
9. Director's second Pixar movie
This is Casarosa's first attempt at directing a feature film for Pixar, but it's not time directing. He wrote and directed the 2011 short film La Luna which was paired with the release of Brave. La Luna was later nominated for an Academy Award for Best Animated Short Film.
10. It was supposed to be out in cinemas
Luca was supposed to be released in cinemas in the U.S. on June 18, 2021. However, due to the ongoing COVID-19 pandemic and the uncertainty around theaters, it was decided that it would be released direct-to-streaming on Disney+ on the same date.
In countries where Disney+ isn't available, the movie will still be released in theaters.
Luca is available to watch for free for Disney+ subscribers now.